This post may include Amazon links. As an Amazon Associate I earn from qualifying purchases.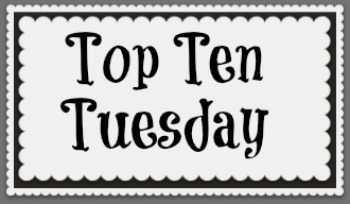 I thought it was about time I took on Top Ten Tuesday, created and hosted by The Broke and the Bookish. This week's topic is a perfect one for me to get started with since it's all about books that were recommended to you. I'm lucky enough to count many people among my friends and family as readers. Over the years, they have given me countless outstanding book recommendations. Included here are ten books recommended by ten different people I love.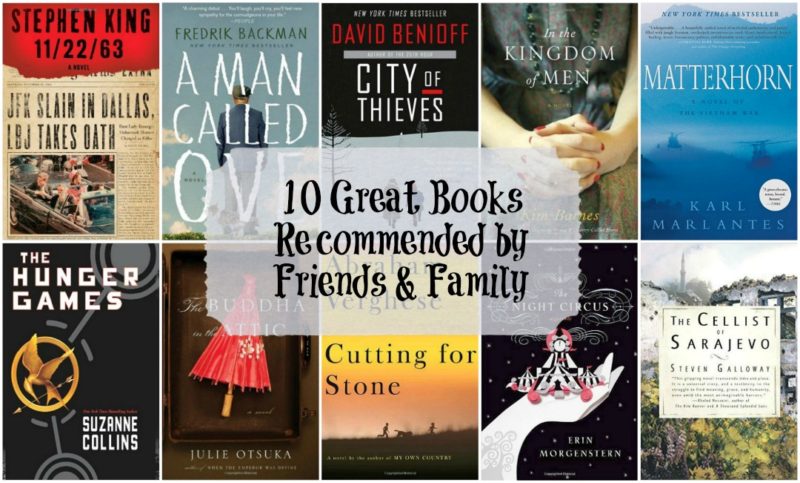 The Night Circus by Erin Morgenstern – given to me by my friend, Leilani, as a must read. I had looked at this book and been reluctant to read it because the premise seemed so odd. Leilani was right! I loved it.
Matterhorn by Karl Marlantes – initially I gave this book as a birthday gift to my all-things-military loving father-in-law, Norm. He raved about it so much that I had to read it for myself. It really was a great gift for both of us.
The Hunger Games (all 3 books) by Suzanne Collins – recommended by my friend and fellow teacher, Allison. She is very wise and knew that even though I don't typically go for young adult books, I would go for these. I did.
City of Thieves by David Benioff – my son, Matt, tipped me off to this very different WWII story set in Russia. Matt is not a huge reader, so when he tells me I should read a book, I listen!
11/22/63 by Stephen King – I'm usually the one giving my sister, Lori, book recommendations, but somehow she got to this one before me. It was a can't put down novel for both of us.
A Man Called Ove by Fredrick Backman – my friend, Janet, is every bit as big a reader as I am and she was certain I would like this quirky story. At first, I wasn't so sure, but by the end I was most enamored with Ove!
The Buddha in the Attic by Julie Otsuka – my Aunt Joan has been a huge reader her whole life and even in her 80's is still in two different book clubs. Her recommendations always carry weight with me and this one was no exception.
In the Kingdom of Men by Kim Barnes – Meg and I have been best friends since the first day of high school. Reading is one of the many things we have in common. This book is among the best she ever shared with me.
The Cellist of Sarajevo by Steven Galloway – when my mom gave me this book I was skeptical. A war story? She insisted it was so much more and I should have known, Mom was right! It's a beautiful portrait of a city at war.
Cutting for Stone by Abraham Verghese – I had looked at this book dozens of times, never feeling it was for me. When my number one book reading friend, Nancy, told me she'd been amazed by it, I knew I had to give it a try. I couldn't put it down.
Disclosure: There are Amazon Associate links included in this post.