This post may include Amazon links. As an Amazon Associate I earn from qualifying purchases.
You might remember that last month I reached a bit of a crisis point (or as much of a crisis point as books can cause!) when I realized that the quality of books I've been reading seemed to have deteriorated. I wrote about it in my post Heading Down the Rabbit Hole With Books. One of the "fixes" I talked about there was to DNF books more often and sooner. That can be a challenge for me because I often feel like if I read one more chapter the book will suddenly become amazing. Not finishing a book is a skill I'm still working to get better at. Despite that, I didn't have much trouble coming up with ten recent books I just couldn't finish.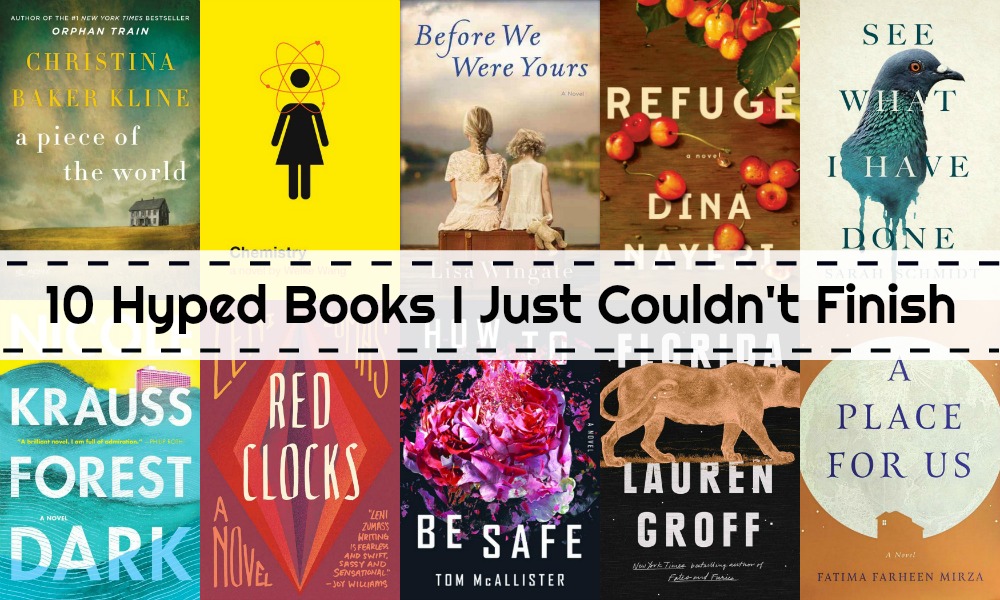 Top Ten Tuesday hosted by That Artsy Reader Girl.
A Piece of the World by Christina Baker Kline – I loved Baker's previous book, Orphan Train, but A Piece of the World just dragged for me. The premise of a story was right in my wheelhouse: historical fiction, about a woman, art. But in the end, none of that mattered. It was just too slow.
Chemistry by Weike Wang – I'm drawn to quirky debuts like a bee to honey, but unfortunately there was just no chemistry between this debut and me. My dislike was so strong that I think I'd have a hard time trying another novel by Wang.
Before We Were Yours by Lisa Wingate – Dual timeline stories can be tricky and Before We Were Yours is a perfect example of that. The story in the past was great and I wanted to keep going with it, but I just couldn't stomach the modern day part of this novel. It felt forced and fake and is why I quit on this one.
Refuge by Dina Nayeri – Refuge was one of my most highly anticipated novels of last summer and perhaps my biggest disappointment. I had expected a book centered on relationships, but there was so much else going on in Refuge that those quickly became lost for me.
See What I Have Done by Sarah Schmidt – I'd looked forward to this debut for months, but even before I tried it I'd begun to see some really mixed reviews. That may have tainted my feelings. I hope not, but I did quit early on this dark reimagining of the Lizzie Borden murders.
Forest Dark by Nicole Krauss – Forest Dark was on so many "best of fall" lists last year and I was eager to read this story of two unlikely strangers who meet in Tel Aviv. Despite a valiant effort on my part, I just couldn't care about either of the main characters in this book.
Red Clocks by Leni Zumas – This was one of those cases of "I like it. I don't like it. I like it. I don't like it." I gave Red Clocks a good long try (almost to 50%), but finally had to get off the teeter-totter.
How To Be Safe by Tom McAllister – For me, How To Be Safe suffered in that it just didn't live up to its marketing. Purported to be "a feminist howl" and "darkly funny," McAllisters novel simply didn't deliver, or at least didn't deliver soon enough for me.
Florida by Lauren Groff – I've mentioned this HIGHLY anticipated collection of short stories several times recently, so was a little disappointed in myself when I couldn't make it past the third story. This may be less of an indictment on the collection and more of a reflection on me and short stories. I had a similar reaction to Curtis Sittenfeld's You Think It, I'll Say It.
A Place For Us by Fatima Farheen Mirza – Not out until next week and I've already quit on A Place For Us. I'm feeling very iffy about my decision, so look forward to seeing others' opinions. I could be convinced to pick it up again, but for the time being this book was too much of a character study and not enough of a story for me.
Have I made mistakes? Are there books on this list I should give another try?
Disclaimer: There are Amazon Associate links contained in this post.