This post may include Amazon links. As an Amazon Associate I earn from qualifying purchases.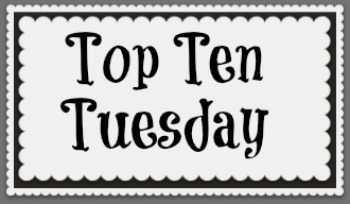 The theme for this week's Top Ten Tuesday, hosted by The Broke and the Bookish, is a great one and one that has me asking myself, "Why?" It's 2016 Books I Meant to Read, but Didn't Get To. For me this list could have been much, much longer. I can never read anywhere near all the books that sound interesting to me. That can be frustrating, but it's actually a good thing. Isn't it wonderful that there are so many amazing writers out there? And, aren't we lucky to have the "problem" of not being able to get to all their books? So, these are 10 of the 2016 books that I'm most hoping to read one day soon.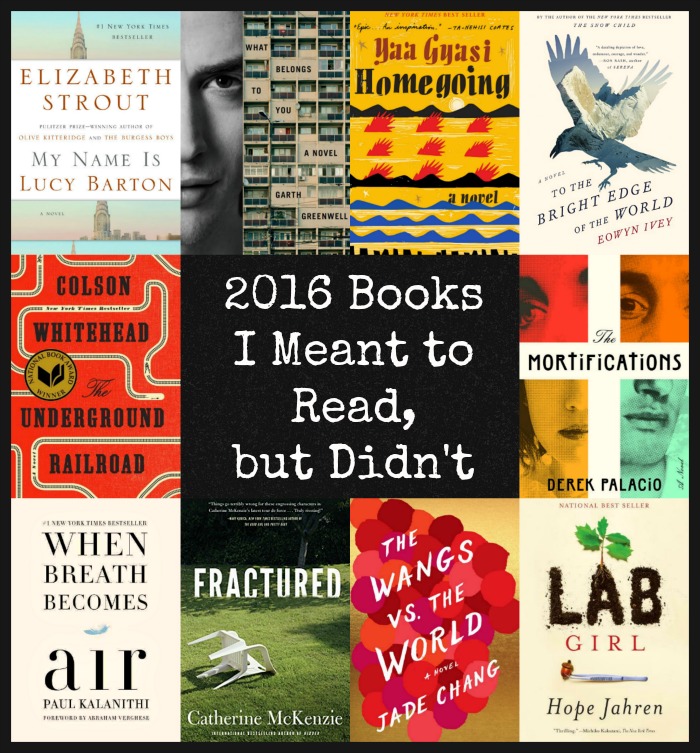 Fractured by Catherine McKenzie – I really enjoy a good psychological thriller now and then, but I have to be in the right mood for one. I had read a few earlier in the year and when Fractured came out last fall, I just wasn't ready for another. It's still high on my list for next time I am feeling like a thriller!
Homegoing by Yaa Gyasi – This book was on so many best books of the year lists that I know I've been a fool not to read it! I'm not sure why I never picked it up, but I recently added it to my Kindle. Now, there is no good excuse for not reading Homegoing in the very near future.
Lab Girl by Hope Jahren – I actually read a sample of this nonfiction, but then got distracted and moved to something else. It wasn't that I didn't enjoy the little I read. It's just that I read it on a plane and had no wifi connection! Instead, I started another book and never got back to Lab Girl. I should rectify that soon.
My Name is Lucy Barton by Elizabeth Strout – I know exactly why I kept turning away from this book: I'm one of the very few people who didn't like Olive Kitteridge. Every time I'd turn to My Name is Lucy Barton, I'd think about that. However, with all the accolades it's garnered and with a companion novel, Anything is Possible, coming out in April, I'm more determined to overcome my hesitations.
The Mortifications by Derek Palacio – This book is the saga of a Cuban family torn apart during the Mariel Boatlift. The appeal here was that I've read very few books tied to Cuban refugees. I also liked that this book promised to highlight the family members' longings to return to the land of their birth. I'd still like to read it.
The Underground Railroad by Colson Whitehead – The Underground Railroad won the National Book Award and so many other honors. For those reasons alone, I should have read it, but that's actually why I haven't.  Sometimes when a book gets a lot of hype, I'm resistant to reading it. I know it's an important book and I do want to read it, but think I'll wait awhile.
The Wangs vs. the World by Jade Chang – This book was high on my fall reading list. Then I read a few reviews that weren't as good as I'd expected, so I bumped it down a little. Since then, I've seen some more positive takes on The Wangs vs. the World. I'd like to read it for myself. I'll let you know what I think.
To the Bright Edge of the World by Eowyn Ivey – I absolutely loved Ivey's first book, The Snow Child and was thrilled when I saw she had a new book coming out. I'm not sure what happened, but I never got to it. I've read high praise for this book that I think has probably not had as much recognition as it deserves. (And I certainly have been of no help on that front!)
What Belongs to You by Garth Greenwell – Nominated for the National Book Award, What Belongs to You, has also garnered a lot of attention. This book sat on my TBR list all year, but it was never one I was dying to get to. That changed recently when I saw it so highly placed on many best book lists. At a slim 208 pages, I hope to pick it up soon.
When Breath Becomes Air by Paul Kalanithi – There is nothing I can say about this book that hasn't already been said by many, many people. I don't naturally gravitate toward nonfiction and I know this is a very sad book, but from all I've heard, it's brilliant. I. Just. Need. To. Read. It!
What 2016 books are you still hoping to get to?
Disclosure: Amazon Affiliate links are included within this post.