This post may include Amazon links. As an Amazon Associate I earn from qualifying purchases.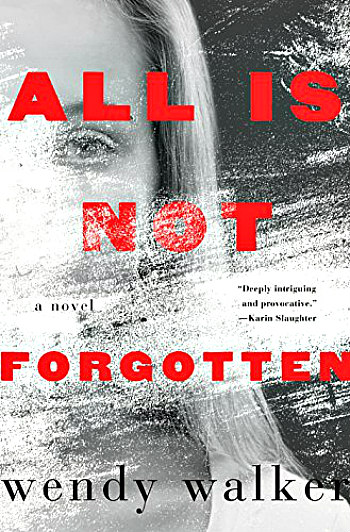 All is Not Forgotten by Wendy Walker
Publisher: St. Martin's Press
Release Date: July 12, 2016
Length: 320 pages
Buy on Amazon
Single Sentence Summary: The psychiatrist in a small, upscale Connecticut town uncovers everyone's secrets and vulnerabilities after a teenage girl is brutally raped.
Primary Characters: Jenny Kramer – 15-year old girl who is raped as the story begins. Alan Forrester – the psychiatrist who treats almost every other character in the story. He also is the narrator. Charlotte Kramer – Jenny's domineering mom who has her own troubled history. Tom Kramer – Jenny's weaker, more emotional father. He's out for justice. Sean Logan – an army veteran who sees Dr. Forrester to try and recover lost memories from Iraq.
Review/Synopsis: All is Not Forgotten is a suspense-filled novel that centers on the horrific rape of 15-year old Jenny Kramer. The start of Wendy Walker's book is a little difficult to read because of this, but the rape is also the reason that Jenny's parents opt to let the doctors give her a medication that results in Jenny not remembering what happened to her. Jenny's mom, Charlotte, was the one who made the call in favor of the medication. Her father, Tom, didn't want Jenny to get the medicine because he wanted her to be able to help find the rapist. As it turned out Jenny not remembering only made things worse for her, to the point where several months later things become unbearable. This is the point where Dr. Alan Forrester became involved with the Kramer family and with the investigation into finding Jenny's rapist. He works with Jenny to try to help her recover her memories from that night in the hopes that she can cope with those more easily than with the ghost of not knowing that haunts her now. He works with Charlotte and Tom because they're Jenny's parents, but they have their own issues, too. Charlotte has dark secrets that she has hidden from her marriage, and Tom has grown up believing he deserves little in life and at the same time is obsessed with finding Jenny's rapist. When Dr. Forrester has Jenny start coming to a trauma group, she meets another patient, Sean Logan, who like her is trying to recover lost memories. As he and Jenny support one and other, he, too, becomes desperate to find Jenny's rapist. All these people, Jenny, Charlotte, Tom, and Sean, are in the hands of their psychiatrist and as the reader begins to suspect early on, Dr. Forrester isn't quite the man he appears to be. I think of him as a puppet master.
Wendy Walker did a brilliant job of exploring memory and the powers of manipulation through Dr. Forrester's character. I learned a lot about how memory works as I read this novel. Though I thought the end of All is Not Forgotten was very satisfying, I can't say that I was truly surprised by it. I found the novel compelling throughout and finished it quickly, but I would have liked to see it tied up with a messier bow. Grade: C+
If you liked this book you might also enjoy:
Disclosure: There are Amazon Affiliate links included within this post.