This post may include Amazon links. As an Amazon Associate I earn from qualifying purchases.
Before the murder of George Floyd, I though I was a pretty good antiracist. I live in a very liberal state and like it that way. I work with a population that includes Black, Brown, Red, Yellow, and White kids. My sympathy and horror have always followed the brutal killings of Black bodies by police. I've donated to antiracist organizations. I've spoken out about racist comments. I believed I understood racism in America pretty well. I thought I "got it." Watching the protests that followed Floyd's murder, reading articles online, taking in the heartfelt words on Twitter and Instagram from Black voices I don't personally know, but none-the-less heard, all made me realize that clearly, "I don't really get it."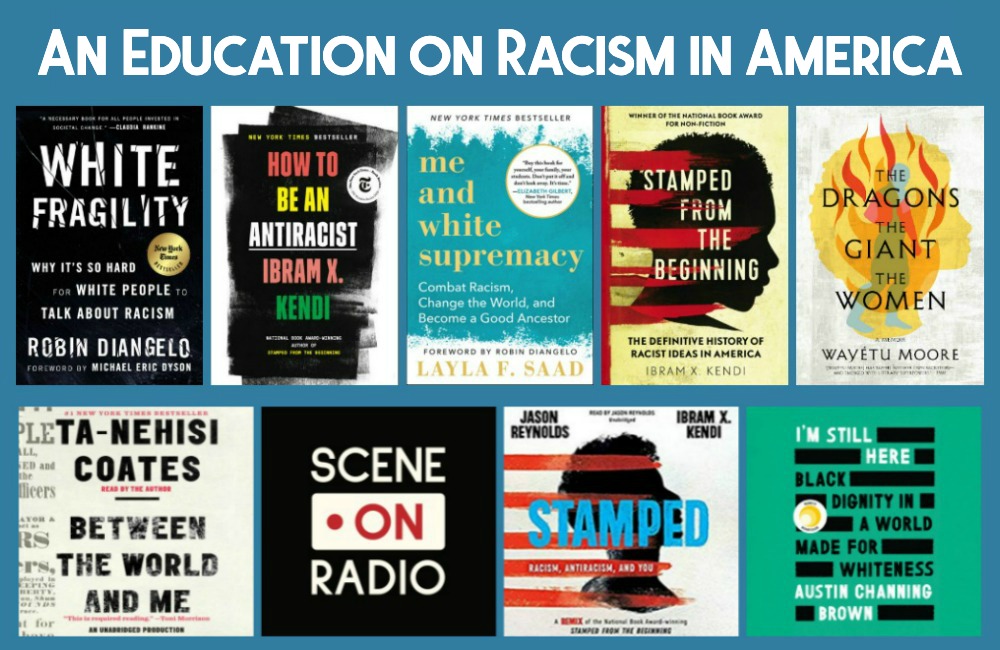 It quickly became overwhelmingly obvious that as a privileged White woman in America I had A LOT to learn about racism. So, I set off on a journey to become more educated, to be the student. Today, I'm simply sharing the learning path I've been on so far which has mainly been books (of course). These are not reviews, because I am in no position to review books on race. These are just what I've read and a little of what I've learned from each.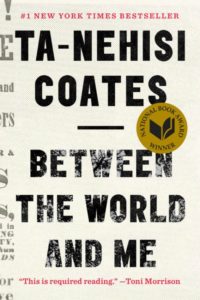 Between the World and Me by Ta-Nehisi Coates
Narrator: Author
Publisher: One World (Random House Audio)
Release Date: July 14, 2015
Length: 176 pages (3 hrs. 35 min.)
I began my journey with listening to Between the World and Me, a book the author wrote as a message to his adolescent son reflecting on his own and others' experiences living in a Black body. His writing was deeply moving, and a wonderful balance of personal and historical accounts of the dangers faced by people of color that Whites never have to even consider. On finishing the audiobook, I ordered a print copy, knowing I wanted to own the book and share it with others.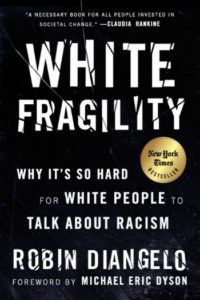 White Fragility by Robin DiAngelo
Publisher: Beacon Press
Release Date: June 26, 2018
Length: 192 pages
This book made it clear from the start that every single White person in America has privilege whether they believe so or not. It's impossible to live in America and not to have been granted that privilege and it's also not something we necessarily chose, but it's never-the-less ingrained, as is the racism that naturally follows. DiAngelo pointed out differences between prejudice and racism, the need to accept and change the conscious or unconscious racism we hold, and most of all to be willing to be called out and grow. From reading White Fragility on my Kindle, I learned that for the rest of my study, I'd need books in print. I realized I needed to be able to highlight, to underline, to easily go back to.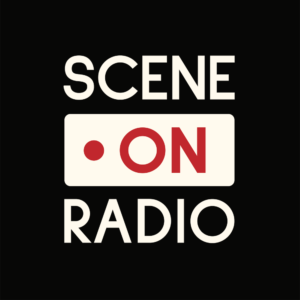 Scene on Radio Podcast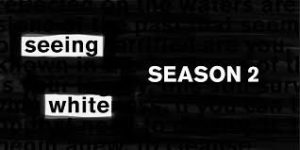 Season 2: Seeing White
Episodes: 14, starting on February 15, 2017
While I was reading White Fragility I saw on Instagram that Traci from @thestackspod was going to be speaking with the women from @theladygang about the book on first their podcast and then on hers. I listened to both episodes and on one, Tracy mentioned the series Seeing White that had aired a few years back on the Scene on Radio podcast. Her recommendation was high and so I decided to listen, and boy was she was right. The idea behind the series is that we can't really understand race or racism in America if we don't understand what goes along with the history of being White. Believe me, there's a lot to learn on this front! I've been listening to this series over the last few weeks and again find myself shocked be all I don't know.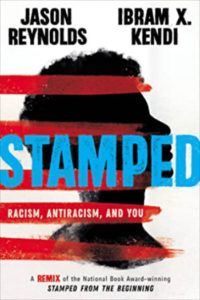 Stamped: Racism, Anitracism, and You by Jason Reynolds and Ibram X. Kendi
Narrator: Jason Reynolds
Publisher: Little, Brown Books for Young Readers
Release Date: March 10, 2020
Length: 320 pages (4 hrs. 11 min.)
I was a little overwhelmed by the length of Ibram X. Kendi's full length book, Stamped From the Beginning, so decided to start off with this YA version on audio. I was immediately drawn in by Reynolds' excellent narration and even more so by all the history of racism that I NEVER learned in school and my kids never learned in school and the students I teach aren't learning in school. I don't teach social studies, but sent links to Stamped to some of my friends who do. It would be a great book for schools to use. It left me wanting to know more, to dig deeper, so I ended up ordering a print copy of Stamped From the Beginning.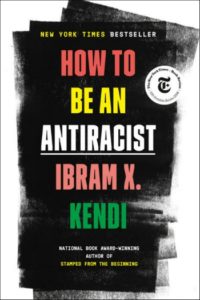 How to Be An Antiracist by Ibram X. Kendi
Publisher: One World
Release Date: August 13, 2019
Length: 320 pages
I had to wait a couple weeks to get a print copy of How to Be An Antiracist, but I'm so glad I did. This was a book that had a lot of new information for me. It was one I needed to read slowly, mark up and consider the words carefully. I ended up doing a chapter a day, so I could keep my focus on that day's lesson. More than anything I learned from this book that being an antiracist is hard. There are so many ways to get it wrong and so much is ingrained into us. We are in the habit of making assumptions and generalizations. I appreciated that Kendi shared how he has had to overcome some of his own racist beliefs. The importance of self-awareness and being open to the suggestions of others again stood out as being key.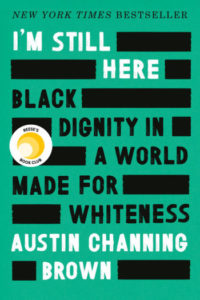 I'm Still Here by Austin Channing Brown
Narrator: Author
Publisher: Convergent Books (Random House Audio)
Release Date: May 15, 2018
Length: 192 pages (3 hrs. 54 min.)
This short, but powerful memoir has been the perfect follow up to White Fragility and Between the World and Me. In it, Austin Channing Brown does not hold back in sharing her experiences growing up in a mostly White community, and then slowly coming to fully understand and embrace Blackness and all that comes with it, the great and the awful. She's a Christian and has worked with churches, in the areas of social justice, and corporate/business "diversity". This short book packed a lot into its short length. I feel like Channing Brown taught me a lot about ways my own thinking is skewed by the world I live in. And, I was especially touched by both a college trip she took to the south and a letter she wrote to her unborn son.
So, those are the steps I've taken so far. The learning curve has been steep, but feels so essential. I am in no way done, and have a long list of books I plan on reading this summer and fall. Below are three at the top of my list, though there are MANY more I want to read. In this post, my focus has been nonfiction, but we all know much can be learned from fiction, too. I've not included any fiction here since those generally get reviewed in a blog post.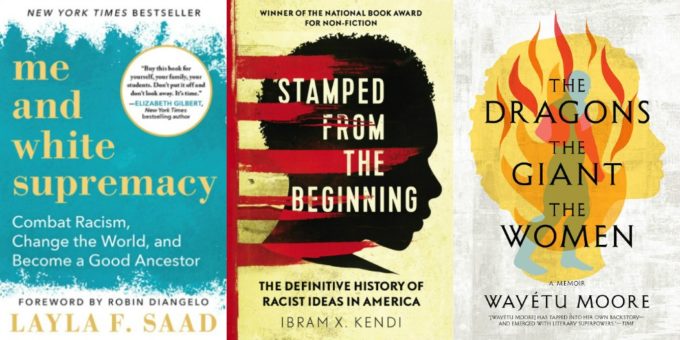 Me and White Supremacy by Layla F. Saad – "This eye-opening book challenges you to do the essential work of unpacking your biases, and helps white people take action and dismantle the privilege within themselves so that you can stop (often unconsciously) inflicting damage on people of color, and in turn, help other white people do better, too." I already have my journal ready to do the hard work along with this book.
Stamped From the Beginning by Ibram X. Kendi – "The National Book Award winning history of how racist ideas were created, spread, and deeply rooted in American society." I'm eager to dive deeper into the history I got a taste of in both Stamped and How to Be An Antiracist.
The Dragons The Giant The Women by Wayetu Moore – "An engrossing memoir of escaping the First Liberian Civil War and building a life in the United States." I had really hoped to read this in July, but I'm not sure I'm going to make it!
I know there are SO many other great books to continue my education on racism in America. What books would you recommend?
PIN THIS POST

⇓