This post may include Amazon links. As an Amazon Associate I earn from qualifying purchases.
A Double Life by Flynn Berry
Our House by Louise Candlish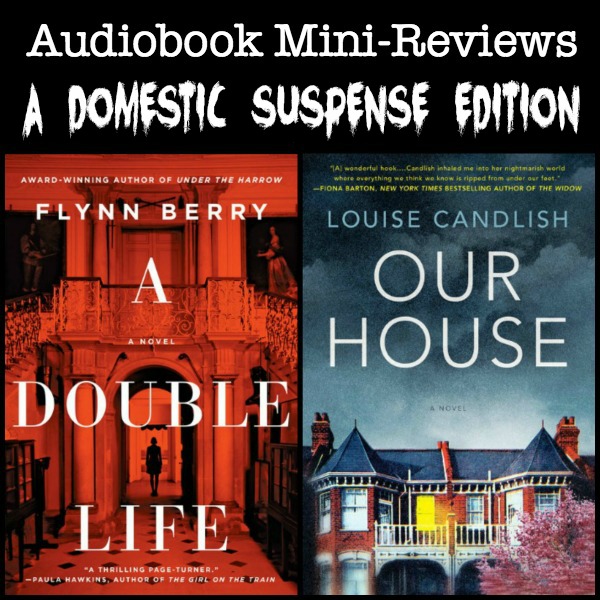 When I was putting this pair of reviews together I really wanted to name it "A Domestic THRILLER Edition." After all,  domestic thriller is more of a recognized sub-genre than domestic suspense, but I just couldn't do it. Thriller implies edge-of-your-seat, gasping-for-breath type suspense and that's just not how either A Double Life or Our House played out. Entertaining? Twisty? Suspenseful? Mostly, but not quite thriller!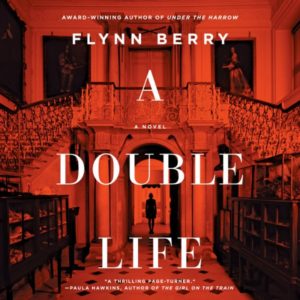 A Double Life by Flynn Berry
Publisher: Viking (Penguin Audio)
Narrator: Fiona Hardingham
Release Date: July 31, 2018
Length: 272 pages (7 hrs. 3 min.)
Amazon
From the Publisher: "Claire is a hardworking doctor leading a simple, quiet life in London. She is also the daughter of the most notorious murder suspect in the country, though no one knows it….The first lord accused of murder in more than a century, he has been missing ever since. When the police tell Claire they've found him, her carefully calibrated existence begins to fracture.
My Thoughts: Thirty-four year old Claire is haunted by a horrific murder that happened when she was only eight. Her father attempted to kill her mother and in doing so Claire's nanny, Emma, instead lost her life. After the attack, her father simply vanished, leaving Claire in a constant state of fear. Despite many years passing, Claire was always on the lookout for men who might be her father. So, when a detective shows up at her door notifying Claire of yet another possible sighting, Claire decides she's had enough, beginning her own search for the truth.
A Double Life alternated between Claire's parent's pasts, what had happened since the murder, and Claire's hunt for her father. I liked that Claire had never strayed far from wanting to find the father who terrified her. All her life she kept tabs on his friends, hoping to find the truth of where he was. I found the strategy she finally found success with a little difficult to buy into, as is often the case for me in suspense novels. The resolution of Claire's story had similar flaws and the ending was just a bit too neat and tidy. Though A Double Life was definitely a fun summer book, in the end its melodrama left me feeling a little less than satisfied. Grade: C
Narrator: I found the tone and pace of Fiona Hardingham's reading to be very pleasant to listen to. However, I did think her voice sounded young for a 34-year old and that sometimes got in the way of the story for me. This was especially true when covering dialogue between Claire and the daughter of one of her father's friends. That young woman sounded like a 15-year old "Valley Girl!"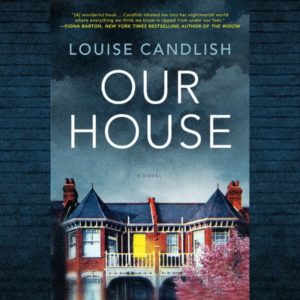 Our House by Louise Candlish
Publisher: Berkley (Penguin Audio)
Narrators: Elizabeth Knowelden & Eliot Hill
Release Date: August 7, 2018
Length: 416 pages (12 hrs. 40 min.)
Amazon
From the Publisher: "When Fiona Lawson comes home to find strangers moving into her house, she's sure there's been a mistake. She and her estranged husband, Bram, have a modern coparenting arrangement: bird's nest custody, where each parent spends a few nights a week with their two sons at the prized family home to maintain stability for their children. But the system built to protect their family ends up putting them in terrible jeopardy."
My Thoughts: The premise of Our House is what first drew me in. Can you imagine coming home from a trip and finding strangers moving into YOUR house? Terrifying! I had to know how this happened to Fiona Lawson and what she'd do about it. That story involved a crumbling marriage, an unconventional parenting plan, and a completely feckless husband. Said feckless man, Bram, nearly tanked Our House for me. Candlish's story was completely dependent on Bram making one awful decision after another. The seventh grade boys I teach have more foresight and impulse control than Bram did. This quickly grew frustrating and was THE major flaw with Our House.
I really enjoyed the way Candlish chose to build suspense with the structure her latest book. Told mainly in first person by both Fiona and Bram, the story also slipped into third person for some parts. Fiona told her story via a Serial-like podcast called "The Victim" and Bram told his through a very long Word document that formed his suicide note. I liked the back and forth and seeing the view each character had of their lives. I knew from reading another review that the ending of Our House had a surprising twist and found myself revising my theory of what that would be over and over again. Had I not been awaiting this twist, I may have given up on Bram's antics. So, in the end was the twist worth the 12+ hours of this audiobook? Yes, it was! (But I also think the book could have been a little more tightly edited.) Grade: B-
Narrators: Elizabeth Knowelden did a great job reading Fiona's side of the story, but Eliot Hill fell a little short for me. It can be hard to separate a character you don't like from its narrator and that is likely part of the problem here, however pace was another. I found Hill's reading slow and listened to the last half of the book on 1.25 speed which was fast for Knowelden's parts, leaving me a little unsatisfied with either speed.
Disclaimer: There are Amazon Associate links contained in this post.