This post may include Amazon links. As an Amazon Associate I earn from qualifying purchases.
So many great sounding books come out every year that it's impossible to get to all of them. I'm something of a mood reader, so sometimes when a book gets released, I'm just not in the right frame of mind for it. I always mean to get back to those books, but too often that just doesn't happen. In 2017, I actually have fewer books I've missed than usual, but as part of this week's Top Ten Tuesday I didn't have much trouble coming up with 10 I'd still really like to get to.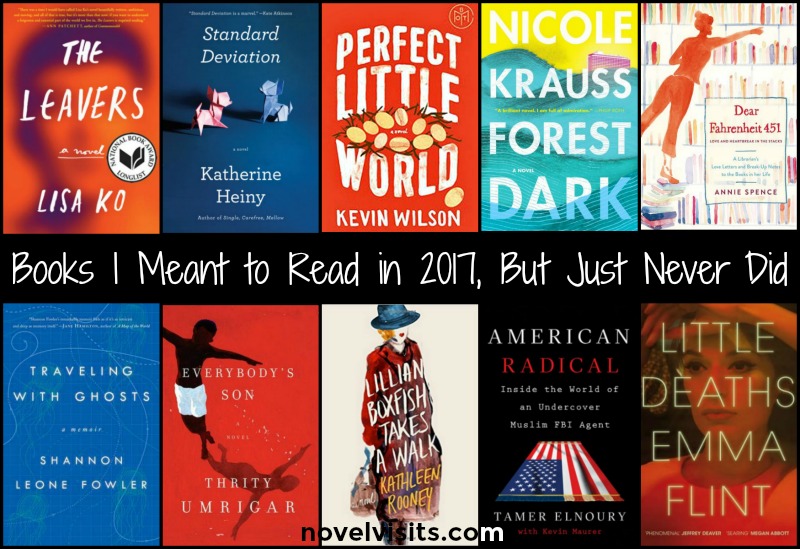 American Radical by Tamer Elnoury – Renee @itsbooktalk, raved about this nonfiction account written by a Muslim FBI agent working in the fight against terrorism. I can say with absolute certainty that American Radical will make it off this list because I'm currently listening to the audio. The narration by Peter Ganim is top notch and I'm completely captivated by this memoir.
Dear Fahrenheit 451 by Annie Spence – I'm still kicking myself about this one. I had an ARC copy, but didn't download it in time and poof! It was gone. So many people raved about Spence's book of letters to individual books that I want to read it more than ever.
Everybody's Son by Thrity Umrigar – This book was already on my radar, but after reading Catherine's review @gilmoreguidetobooks, I was even more intrigued. She called this story of a young black boy adopted by a prominent judge, "a novel for our times and a challenge to complacency."
Forest Dark by Nicole Krauss – When this book came out in September, I'd already read several serious books in a row and i just wasn't in the right frame of mind to tackle another one. I'd still like to get to this story of two people reconnecting with themselves in the same Israeli desert.
The Leavers by Lisa Ko – Ko's debut was one of the most highly lauded books of 2017. It was on my TBR list from the very start and still I never read it. I'm not sure why, but every time I look at this book, I still feel I want to read it. I'm waiting for the perfect moment to tackle her immigrant/mother-son story.
Lillian Boxfish Takes a Walk by Kathleen Rooney – Released nearly a year ago,  this book is still at the top of my TBR list. The story of an 85 year old woman reminiscing about her life while walking around NYC on New Year's Eve 1984 sounds to be unique, humorous, and heartwarming. An ideal combination!
Little Deaths by Emma Flint – Mixed reviews about this book may have scared me away, but not enough to take it off my list of books to read. I still want to judge for myself this book about a mother whose life is put under the microscope when her two children first go missing and then are found dead.
Perfect Little World by Kevin Wilson – As the year moved on I sort of forgot about Perfect Little World, but in looking at it once more I find I'm still intrigued by the blurb. The story of a young pregnant woman who moves to a sort of utopian commune sounds like a perfect change of pace book.
Standard Deviation by Katherine Heiny – I actually read a few pages of Standard Deviation and then put it aside, always planning to get back to this story of a man in a quirky marriage. I never did, but still want to, especially because Sarah @sarahsbookshelves has raved about it.
Traveling With Ghosts by Shannon Leone Fowler – Fowler's memoir tells of her journey toward healing after her  fiancé was killed by a jellyfish sting, as they traveled in Thailand. Travel and self-discovery are both themes I find appealing, so Traveling With Ghosts remains high on the list of books I still want to read.
Disclosure: There are Amazon Associate links included within this post.