This post may include Amazon links. As an Amazon Associate I earn from qualifying purchases.
As some of you may already know, normally at the end of the month I do a Wrapping It Up! post summarizing books I read for the month and sharing favorite bookish links. While there was much I liked about those wrap ups, there was MUCH more that I didn't. They took me forever to write and didn't really do that well. So, I'm letting them go this year and starting a new feature, Clearing the Shelves. I've done a few Clearing the Shelves posts over the last year. Those came up whenever I got really backed up with reviews. For 2019, I'm going to try and be more systematic, doing one Clearing the Shelves post at the end of each month. Some months that may only be a couple of reviews, but today It's four!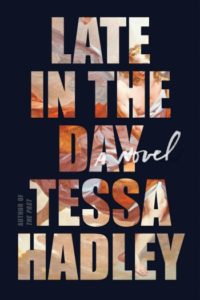 Late in the Day by Tessa Hadley
Publisher: Harper
Release Date: January 15, 2019
Length: 288 pages
Amazon
From the Publisher: "Alexandr and Christine and Zachary and Lydia have been friends since they first met in their twenties. Thirty years later, Alex and Christine are spending a leisurely summer's evening at home when they receive a call from a distraught Lydia: she is at the hospital. Zach is dead."
My Thoughts: Alex and Christine, Zach and Lydia have a complex relationship. They're best friends, both as couples and singles. They also have a complex history. In her early 20's Lydia pined after Alex, the dashing young writer, but her interest was never returned. Christine dated Zach for a couple of years, but they parted as friends. As two married couples they shared a close bond, everything in balance and standing strong. Then, Zach suddenly died and for the trio remaining all balance was lost.
I loved the first half of the story as Hadley moved between the present where Alex, Christine and Lydia were just trying to find a new footing, and the past where she slowly revealed the complexities of their many relationships. The second half of the book became more tedious, moving slowly. I found myself caring less and less about these very rich characters she'd created in the first half, that is until the very end where she drew me in again. This was my first Tessa Hadley book, and I found myself drawn to her writing and her spot on renderings of characters in crises.
"It wasn't like a stone after all, this intrusion of grief, a stone was cold and still, you could surround it, but this swelled inside her and receded then swelled again; she felt helpless against its violence, her usual self wrecked and lost, turned inside out."
While this was a bit of an up and down book for me, I encourage others to try it. I'd love to hear your thoughts. Grade: B-
Note: I received a copy of this book from Harper (via Edelweiss) in exchange for my honest review. Many thanks!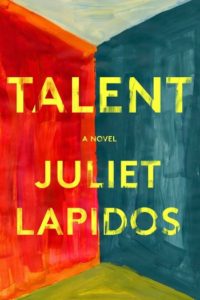 Talent by Juliet Lapidos (debut)
Publisher: Little, Brown & Company
Release Date: January 22, 2019
Length: 256 pages
Amazon
From the Publisher: "Anna Brisker is a twenty-nine-year-old graduate student in English at Collegiate University who can't seem to finish her dissertation. Her project: an intellectual history of inspiration. And yet, for the first time, Anna has found herself utterly uninspired. Rather than work on her thesis, she spends her days eating Pop-Tarts and walking the gritty streets of New Harbor, Connecticut."
My Thoughts: I love trying debut novels and I thought this book had a lot of promise. For the first couple of chapters, it seemed like I just might have been right, but then the book just went off the rails for me. This is a story about a young woman, Anna, who is struggling to complete her English dissertation. Really she's struggling to even get started on it. Her idea is to write on the subject of talent and whether it's born or bred into a person. She stumbles upon a woman related to a local author who also had thoughts on talent before he took his own life many years before. While all this seems like enough elements for a story, none were strong enough to hold my interest.
I think Talent was a case of a young author having too many ideas and trying to cram them all into a single book. The story stumbled over itself and just lost me. The inserts of the author's "notebook" writings were just plain dull and went on for far too long. And, the Pop Tarts? A silly gimmick, that an editor should have eliminated. It pains me to pan a debut, but I just didn't care for Talent. Grade: D
Note: I received a copy of this book from Little, Brown & Company (via NetGalley) in exchange for my honest review. Thank you!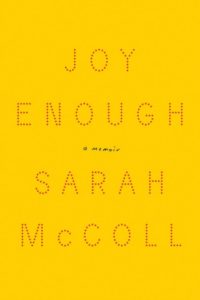 Joy Enough by Sarah McColl (debut)
Publisher: Liveright
Release Date: January 15, 2019
Length: 176 pages
Amazon

From the Publisher: "Mining the dual losses of both her young marriage and her beloved mother, McColl confronts her identity as a woman, walking lightly in the footsteps of the woman who came before her and clinging fast to the joy she left behind. With candor reminiscent of classics like C. S. Lewis's A Grief Observed, Joy Enough offers a story that blooms with life."
My Thoughts: This slim little memoir tried to pack a lot into a very small space and suffered for it. McColl seemed to have had much she wanted to share about her young life: the life and death of her mother, her own failing marriage, her journey toward graduate school, a new, better relationship. Any of these might have been a subject for a memoir, but in Joy Enough they ALL were. By far, the strongest of her"vignettes" were those of her mother. I only wish McColl had made that her entire book.
Make no mistake about it, McColl's actual writing is gorgeous, often times with an almost poetic quality to it.
"The house itself was shaped like a trailer that had aspired to be something more. Shame crept into our lives like algae bloom on a bay."
However, bouncing between parts of her life that she only loosely linked made it impossible to stay focused on the writing, leaving her memoir with an uncomfortable, even pretentious quality to it. It felt like she set out to be "literary," simply trying too hard to make her first book everything. Again, on this one, I have to wonder about the editing process. Grade: D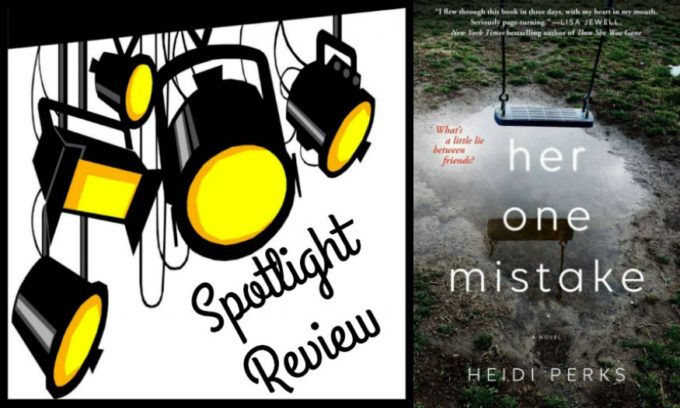 Her One Mistake by Heidi Perks (debut)
Publisher: Gallery Books
Release Date: January 8, 2019
Length: 320 pages
Amazon
From the Publisher: "What should have been a fun-filled, carefree day takes a tragic turn for the worse for one mother when her best friend's child goes missing in this suspenseful, compulsively readable, and darkly twisted psychological thriller."
My Thoughts: I think in the genre of psychological thrillers Her One Mistake is probably fairly typical. Two women, Charlotte and Harriet, are best friends. Charlotte has brought her three kids along with Harriet's daughter to a school carnival. She glances at her phone for a few minutes and when she looks up, Harriet's 4-year old daughter is gone. Vanished. No amount of looking turns up any sort of clues. Harriet is devastated, furious, shattered by grief. Charlotte, wracked by her own guilt also suffers the blame of people who once were her friends.
As the story progresses, Perks does a wonderful job layering on the suspense. She points fingers at not only Charlotte, but Harriet and Harriets husband, Brian. I had to discard one theory after another. Perks moved the story between what happened after the child vanished and chapters called "Now" where Charlotte was being interviewed yet again by the police, clearly with something to hide. This played out nicely and kept my interest level high. The "big twist" that resolved Her One Mistake required me to completely suspend disbelief even though I suspected it might go that way. Still, Perks debut overall was very enjoyable and a quick, easy read. If you enjoy suspense, you'll like Her One Mistake. Grade: B
Disclaimer: There are Amazon Associate links contained in this post.