This post may include Amazon links. As an Amazon Associate I earn from qualifying purchases.
Every time we pick up a book the hope is that we'll get lost in the story and be left with a book hangover. Those hangovers are tough because we've left behind a book we loved. Then there are the other sort hangovers: those you get because you pushed and pushed to finish a book you should have probably quit on, and you're kicking yourself for wasting so much time. That's the sort of hangover Dead to Her left me with, so let's talk.
Warning: There are spoilers in this discussion!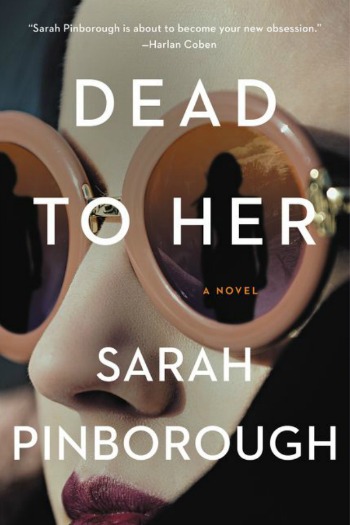 Dead to Her by Sarah Pinborough
Publisher: William Morrow
Release Date: February 11, 2020
Length: 400 pages
Amazon
We'll begin with a blurb from the publisher:
Marriage can be murder…
SOMETHING OLD
Marcie's affair with Jason Maddox catapulted her into the world of the elite.
Old money, old ties, old secrets. Marcie may have married into this world—but she'll never be part of it.
SOMETHING NEW
Then Jason's boss brings back a new wife from his trip to London.
Young, attractive, reckless—nobody can take their eyes off Keisha.
Including Marcie's husband.
SOMETHING YOU CAN NEVER, EVER UNDO…
Some people would kill for the life Marcie has—what will she do to keep it?
And now for some thoughts – questions – spoilers!
The description obviously interested me. I often like books about the rich behaving badly, and they definitely did that in Dead to Her, to the point of ridiculousness. It just wan't the fun, delicious sort of bad behavior I find so satisfying. Do you like stories of the rich behaving badly? Did Dead to Her feed that desire?
The story revolved around Marcie, a 35-year old second wife of a managing partner in a Savannah law firm. Marcie had a past that she'd hidden from everyone. A past that I didn't think was all that surprising, but was what kept Marcie always a little fearful. Marcie, who's husband, Jason, was nearly 20 years older than her, literally had NO friends her own age. She hung out exclusively with women old enough to be her mother and then some. Nothing about Marcie felt real including the way she flip flopped on her feelings every single chapter. To me, she was a hot mess and not in a fun way. What did you think of Marcie?
Then there was Keisha, the hot young new wife of Jason's partner, William. William, 65 and a recent widower, surprised everyone after returning from a trip to London with Keisha, a gorgeous, very young black woman. Keisha was the only one in the story who wanted to have any fun, but she was also a bit crazy, with a ghost of a young boy haunting her life. The final reveal on that one? Anticlimactic! Did you like the whole ghost angle or find it a little hard to buy?
Marcie hated Keisha for usurping her place as the much younger second wife, but when Jason asked her to befriend Keisha she forced herself to try, even as she suspected her husband had a thing for Keisha. Then there actually was an affair. An affair that felt totally false and only there to try to drive a plot that had nowhere to go. Did you find the fling real, preposterous, or somewhere in-between?
The book took place in the present, but to me felt more like a demented episode of Mad Men. Women spent their days gossiping, exercising, shopping, drinking or doing a little charity work, always being on hand at home to keep their husbands happy. The characters (women and men) felt too clichéd. If a man wrote this book, he'd be ridiculed for his depiction of the female characters especially. Could you relate to any of the characters? Did you have a favorite?
Then there was the voodoo. Yes, voodoo, including a wild bacchanalian party in the woods where two of the characters decided to "hook up" on the ground in front of the other weird revelers. Need I say more? Did you find the voodoo as silly as I did?
And the ending? What did you think of the happy couple?
I don't often thoroughly dislike a book and when I do I tend to just give it a quick mini-review, so I do feel bad here. This is the only Sarah Pinborough book I've ever read, and it's very likely I'd enjoy others. The Goodreads rating is much better than mine with lots of 3, 4, & 5 star reviews. It's always a bit of a mystery why we connect with some books and not with others. I'd love hearing from those who've read Dead to Her or plan to read it. Maybe I've missed the more subtle nuances of this story. Maybe it was meant to be more of a satire and I just didn't get it. Maybe it just wasn't the book for me.
Have you read Dead to Her?
Did you have any of the same issues as me?
Am I missing something here?
PIN THIS POST ⇓