This post may include Amazon links. As an Amazon Associate I earn from qualifying purchases.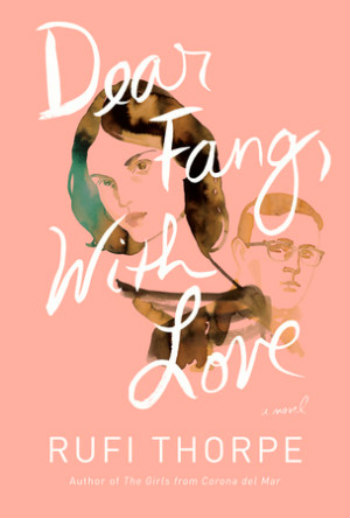 Dear Fang, With Love by Rufi Thorpe
Publisher: Knopf
Release Date: May 24, 2016
Length: 320 pages
Buy on Amazon
Single Sentence Summary: A father and his newly diagnosed bipolar daughter embark on an historic tour of Vilnius, Lithuania in the hopes of finding clarity about the past and promise for the future.
Primary Characters: Vera – a brutally honest, extremely intelligent 17-year old who as the story begins has a psychotic break and is diagnosed as bipolar. Lucas – Vera's father and the story's narrator. He was absent for much of her life, but in recent years has worked to build a relationship with her. Fang – not so much an active character, but an important a presence in the story. Fang is Vera's high school boyfriend and her greatest confidant.
Review/Synopsis: I was very much looking forward to Dear Fang, With Love because I adored Rufi Thorpe's first novel, The Girls from Corona del Mar. Like her first novel, this one also focuses on a high school age girl from Southern California, but where the first novel dealt chiefly with female friendships, this is a story of the girl's relationship with her largely absentee father and her struggle to accept herself. As the story opens beautiful, funny Vera dances naked on a table and tries to slit her wrists at a high school party. Vera is diagnosed as bipolar, and she, her parents, Lucas and Katya, and her boyfriend, Fang, all try to come to terms with the changes that means for Vera. They all fear another incident and so make sure Vera stays on her meds, but the side effects of those are awful. Vera is tired all the time, her hair falls out, she gains weight, and her skin breaks out. It's depressing for all of them, but most of all for Vera. As summer approaches, Lucas, who fathered Vera at 18 and then wasn't a part of her life until she was a teenager, sees a flyer for an historical tour of Vilnius, Lithuania. Vilnius has a pull on Lucas because he grew up hearing stories from his daring Polish grandmother about how she escaped the concentration camp there and then fought in the resistance during WWII. He becomes convinced that a trip, and getting away will be just the thing that Vera needs to ease her problems and get used to her new normal. Vera's mother is Russian and Jewish, so there is an even bigger connection to Vilnius for Vera. On the tour, Vera and Lucas meet a cast of characters that are all endearing in their own ways and the two become close to several of their companions. At the same time, Lucas and Vera are carefully building up the shaky relationship they share, and Vera learns more about her father and why he was gone for much of her life. It seem to be going so well. Vera seems more herself, happier, more confident, more grown up. But, Vera has gone off her meds.
Dear Fang, With Love paints a realistic picture of the nature of bipolar disorder and the difficulties of living with it, both as the person with the disorder and as the people who love that person. The prose are often beautiful and touching. Near the end Lucas thinks, "It didn't matter how terrified I was. It didn't matter there was no solution to the problem we faced. We would simply have to face it anyway. We didn't have to be brave or heroic, we merely had to persist. And I found that I could do that." Dear Fang, With Love is a touching novel of a father's unconditional love and a young woman's struggle to live her life with a mental illness no one could have ever anticipated. Grade: B+
If you liked this book you might also enjoy:
Disclosure: There are Amazon Affiliate links included within this post.