This post may include Amazon links. As an Amazon Associate I earn from qualifying purchases.
Today over on That Artsy Reader Girl people will be linking up to a Top Ten Tuesday on books that lived up to the hype. I thought about jumping in on that one, but it felt like I was just doing another "best books of" list. Plus, I just couldn't get a book that DIDN'T deserve the hype out of my mind: The Last Time I Lied by Riley Sager. I must be missing something here because to me Sager's second book was a complete disaster. I don't get it! Let's talk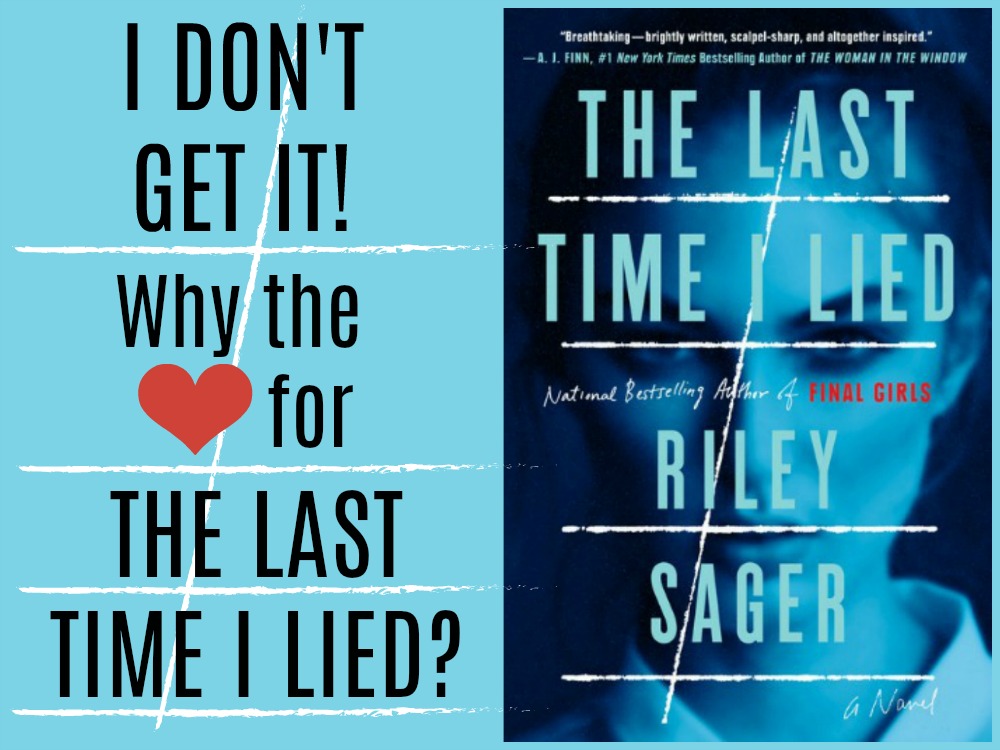 Warning: There are spoilers in this discussion!
Even with a book I didn't like there are still good points. Let's start with some things I liked about The Last Time I Lied.
In a dual timeline story, Emma Davis makes for a great unreliable narrator. She's a sympathetic character haunted by her first visit to Camp Nightingale 15 years ago. Now an artist, she paints disturbing versions of the same painting over and over.
Riley Sager does a wonderful job building tension and doubt. As the story unfolds, Emma both hints that events of the past were her fault and that they were someone else's doing, keeping the reader pleasantly off-balance.
Emma worked as a haunted woman. For much of her life she's seen visions of the three girls who disappeared form Camp Nightingale. Shortly after that summer she spent 6 months in a mental health facility. When the sightings ramp up, could they be real?
The Last Time I Lied is loaded with links between the past and the present: the setting, the characters, the camp, even the way the summer unfolds. The premise of the book fully depended on this structure which worked well…until it didn't.
What were your favorite parts of The Last Time I Lied?
Now on to what didn't work for me, and there are A LOT. The sheer volume of illogical choices/actions is what ruined the Last Time I Lied for me. These are the parts I need help with. I'd love it if fans of this book can explain how/why you're able suspend disbelief over and over again. The need to do so can sometimes be a hallmark of great psychological thrillers, but to me this was just too extreme. The Last Time I Lied felt much more like a bad young adult novel than it did a psychological thriller and below are some of the reasons why.
From 15-years ago:
 When Emma first arrives at camp as a 13-year old she's placed in a cabin with a 16-year old and two 17-year olds, despite the fact that there are cabins for younger girls. No one could figure out another arrangement?
13-year old Emma is completely infatuated with a MAN old enough to be attending medical school when he's not being the "hot" guy at his mother's camp. He flirts with abandon.
After the trauma of having her three roommates disappear in the middle of the night, Emma still sleeps in that very cabin for two more nights before her parents can come take her home. Was this a smart choice?
Emma's "big secret" from the night the others vanished? So disappointing. So minor.
From the present:
Women are hired to be instructors (not counselors) at a camp for girls, yet when they arrive there is a "glitch" and no housing available for them. Instead each has to join a 4-person cabin and room with girls. They ALL agree, taking it in stride. A summer of rooming with 14-year olds? Yuk!
Emma is willingly placed in the exact same cabin she was in 15-years ago. The one where her three roommates vanished from. The one that she's suffered trauma about for most of her life.
The owners of the camp have concerns about Emma, many concerns. They're not sure what happened 15-years ago, so to be safe they secretly have a camera monitoring the door to her cabin. They want to keep an eye on her, but they're okay having her room with three young teens. Really? I hear lawsuit!
28-year old Emma seems to see nothing inappropriate with playing Two Truths and a Lie with her much younger cabin mates. She actually uses it as a vehicle for revealing some of her secrets to them, burdening them with much more than she should. Feeling like bad YA, right?
Emma again becomes something of a suspect, but she points the finger at someone else. When the police question this other person, no one seems to see anything wrong with Emma being in the room while he's interviewed by the detective. Come on!
Distraught over her roommates vanishing (again), Emma decides it wold be a good idea to relieve her tension with a little make-out session in the very cabin the girls disappeared from. Isn't that a crime scene? It had only been a few hours. Where were the cops?
Though the police have thoroughly searched the grounds around Camp Nightingale ALL day, they've found nothing. Emma goes out in the middle of the night to search on her own and within minutes finds a trail of clues the girls left along a path in the woods. What kind of cops were these guys?
Drowning plays a big role in The Last Time I Lied, but Emma has an absolutely remarkable ability to swim underwater, long distances while injured and observing the world around her. I'm done!
Were there parts of this book that didn't work for you?
What am I missing here?
Why the love for The Last Time I Lied?
Disclaimer: There are Amazon Associate links contained in this post.