This post may include Amazon links. As an Amazon Associate I earn from qualifying purchases.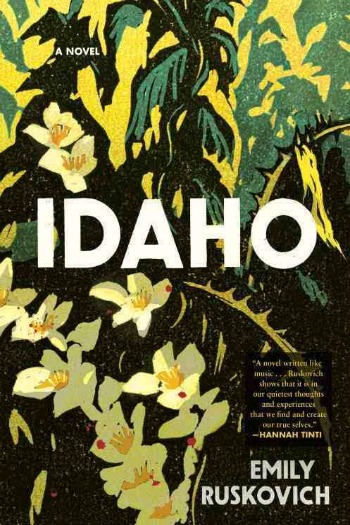 Idaho by Emily Ruskovich (debut)
Publisher: Random House
Release Date: January 3, 2016
Length: 320 pages
Buy on Amazon
Single Sentence Summary: Ann's love for Wade is ferocious, but ghosts from his first marriage, Wade's growing dementia, and Ann's own sense of guilt cast a pall over their life together.
Primary Characters: Ann Mitchell – Wade's second wife. Ann cares for and watches over her husband as he losses more and more of his memory. Wade Mitchell – central to the story, Wade suffered the tragic loss of both his daughters on a single day. Jenny Mitchell – Wade's first wife, now in prison for the murder of her daughter.
Synopsis: After eight years of marriage, Ann has grown increasingly alarmed at her husband's fading memory. At times, she fears the angry man he becomes. Without wavering, she loves him fiercely. And constantly, she imagines the details surrounding the tragedy that ended Wade's first marriage.
Less than a year before Wade and Ann were married, he was living a very different life in the same mountain home he later shared with Ann. Wade had two beautiful daughters, June, nine, and May, six. With Jenny, he had a wife he loved, a home he'd built with his own hands, and seemingly the very life he'd always wanted. That life was shattered when Jenny took May's life and June fled in fear, never to be found.
Ann entered Wade's life as his piano teacher shortly before tragedy marked him. There was attraction between the two. After, Wade returned to his lessons and Ann saw for the first time the early signs of dementia that would not be stopped. His loss, her loneliness, his need, her guilt: all combined to join Wade and Ann.
"I could take care of you," she said softly. She was very surprised to hear herself say this, but even so her voice was calm, as if she had been intending to say it all along."
Review: Idaho is a truly beautiful story of loss, love, and contrition told from multiple perspectives. Central to every part of Emily Ruskovich's debut novel is the day Jenny killed her youngest daughter. The tragedy was inescapable for all but Wade, for only he was able to forget. Early-onset dementia was the price he paid for peace of mind. As he lost touch with the events of that day, Ann became more and more preoccupied with the reasons why. Wade had never shared more than the bleakest of details and Ann feared the parts he had not shared. Jenny alone had the answers that no one else did, and her penance was paid in the small life she allowed herself in prison. Love and contrition were wed throughout Idaho, most evident in Ann's devotion to Wade, and her compassion for Jenny.
Events of that cataclysmic day and its aftermath were revealed in leapfrog fashion as the story bounced around in time from 1973 to 2025. The movement definitely requires the reader to pay attention, and sometimes look back on dates. This, coupled with the story unfolding from multiple perspectives, makes Idaho a book one must pay attention to. I liked most the parts centering on Ann, but those concerning Wade, Jenny, and Elizabeth, Jenny's cellmate, also leant depth to the story. Other perspectives, at times, felt superfluous.
I think Ruskovich's writing was the real star of this book and especially her brilliant job in developing Ann, who we learn so much about, and Jenny, who we learn so little.
"The simplicity of his gift, the innocent surprise of it. All at once Ann feels touched by a misery she is not sure she's ever known before. She feels it sharply, like love."
"And so Jenny will take this one last and devastating gift, if it will bring Elizabeth her rest. Perhaps it's what both their hearts have been wanting all along – to be broken. In order to know they are whole enough to break."
Ann and Jenny were characters that resonated with me long after I finished this book. A feat that makes me look forward to reading the next novel by Emily Ruskovich. Grade: B+
If you liked this book you might also enjoy:
Note: I received a copy of this book from the publisher (via NetGalley) in exchange for my honest review.
Disclosure: There are Amazon Associate links included within this post.