This post may include Amazon links. As an Amazon Associate I earn from qualifying purchases.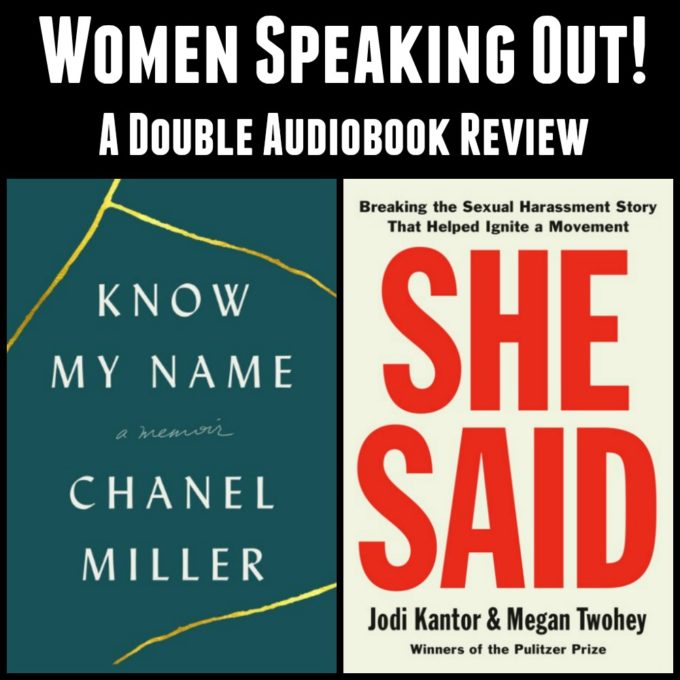 Sometimes you happen to read or listen to a couple books in a row that just naturally belong in the same review. That has never been more true than with Know My Name by Chanel Miller and She Said by Jodi Kantor and Megan Twohey. Both are powerful accounts of women struggling to share their stories, to find their voices, and succeeding in doing both. One a memoir, the other a piece of investigative journalism, both important chapters in the recent battles women have waged to say, "No more!"
Know My Name by Chanel Miller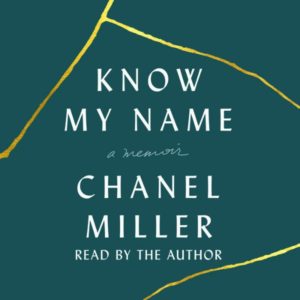 Narrator: Chanel Miller
Publisher: Viking (Penguin Audio)
Release Date: September 24, 2019
Length: 368 pages (15 hrs. 24 min.)
Amazon
From the Publisher: "She was known to the world as Emily Doe when she stunned millions with a letter. Brock Turner had been sentenced to just six months in county jail after he was found sexually assaulting her on Stanford's campus. Her victim impact statement was posted on BuzzFeed, where it instantly went viral – viewed by 11 million people within four days, it was translated globally and read on the floor of Congress; it inspired changes in California law and the recall of the judge in the case. Thousands wrote to say that she had given them the courage to share their own experiences of assault for the first time…"
My Thoughts: The section of the publisher's blurb that I included above tells the parts of Emily Doe's's story that most of us are already familiar with: her assault on the Stanford campus, the trial, verdict, and sentence of her assailant, and the incredible impact of her victim's statement. What it can't give is Chanel Miller's long, emotional journey from the moment of her assault continuing on to this day, but that's exactly what you'll get in Know My Name.
Miller's telling of her own story was a powerful listening experience. She shared so many aspects of who she was as a person both before and after her assault. She shared her shame in being so drunk she didn't really know what had happened to her. Miller shared her fear of others finding out and her years long battle to keep her real name out of the press. Her love of her family and especially her younger sister shown brightly. The fears she felt over being found out, of losing herself, of men all were palpable. Outrage over what had been done to her and how the court system offered little concern, and almost no consideration became a recurring theme.
Through it all Miller also shared her struggles to find balance in her life. She didn't want her parents and boyfriend to worry about her and tried to hide much of her emotional life from them. She found outlets in art and comedy when everything else about her world involved the assault and the trial, postponed time after time.
I found Miller's writing, her story telling to be excellent. She kept me engaged throughout, even knowing the basics of the outcome. Of course, many parts of Miller's story I had no idea about, especially her inner journey, which I found most fascinating. I admit that there were times I felt frustrated with her recurring insecurities, but Miller always drew me back reminding me that this was her journey, her choice to speak out. It took time for Chanel to gather her strength, to embrace her anger, but in doing so she gave voice to many other women. Know My Name is the BEST memoir I've read this year. Grade: A
"How do you come after me, when it is all of us? One of the greatest dangers of victimhood is the singling out; all of your attributes and anecdotes assigned blame. In court they'll try to make you believe you are unlike the others, you are different, an exception. You are dirtier, more stupid, more promiscuous. But it's a trick. The assault is never personal, the blaming is."
Narration Note: I thought Miller did a wonderful job reading her own story. Don't make the mistake of skipping over her Victim's Impact Statement at the end, even if you've read it before. Miller's pace was a bit slow for me, so I listened to most of the book at 1.25x which worked well.
She Said by Jodi Kantor & Megan Twohey
Narrator: Rebecca Lowman
Publisher: Penguin Press (Penguin Audio)
Release Date: September 10, 2019
Length: 368 pages (9 hrs. 52 min.)
Amazon
From the Publisher: "…With superlative detail, insight, and journalistic expertise, Kantor and Twohey take us for the first time into the very heart of this social shift, reliving in real time what it took to get the story and giving an up-close portrait of the forces that hindered and spurred change. They describe the surprising journeys of those who spoke up – for the sake of other women, for future generations, and for themselves – and so changed us all."
My Thoughts: We are all very aware of the the breaking news two years ago surrounding Harvey Weinstein's long established patterns of sexual harassment, abuse of power, and in some cases rape. One of the things NYT's reporters, Jodi Kantor and Megan Twohey, share with the reader in She Said is just how difficult it was to bring that story to light. Rumors around Weinstein had been around for years and journalist after journalist had tried and failed. Some got close only to have victims pull back, afraid to go up against such power, or having been secretly paid off.
"Jodi cut to the point: The United States had a system for muting sexual harassment claims, which often enabled the harassers instead of stopping them. Women routinely signed away the right to talk about their own experiences. Harassers often continued onward, finding fresh ground on which to commit the same offenses…"
Kantor and Twohey ran up against the same problems. They and their team chased lead after lead, many proving true, but still surrounded by fear. Women wanted to speak, but either couldn't or feared being out there alone. Time after time, actresses, assistants, Miramax employees gave their story, but off the record. I found this journalistic cat and mouse game fascinating. Knowing how the story finally played out only made the journey the two took toward getting there more interesting.
After the Weinstein story finally broke, She Said moved into its aftermath and the many women who came forward not only to speak out about him, but also other men who'd abused their power for sexual favors. The #MeToo movement started long before the Weinstein story, but it exploded when his victims finally spoke out. From there, Kantor and Twohey went on to share Cristine Blasey Ford's story of speaking out in the Brett Kavanaugh hearings, and that's where they lost me for a while. It's not that Ford's story wasn't important or a part of the journey toward women speaking out more freely. Instead, it just didn't feel like it was really their part of the story. The last chapter definitely pulled it all back together for me. I highly recommend She Said to everyone…female or male. Grade: A- 
Narration Note: Rebecca Lowman narrated the bulk of She Said doing a fantastic job. Her pace and cadence were perfect. At both the beginning and the end, I appreciated hearing directly from Kantor and Twohey who were also terrific.