This post may include Amazon links. As an Amazon Associate I earn from qualifying purchases.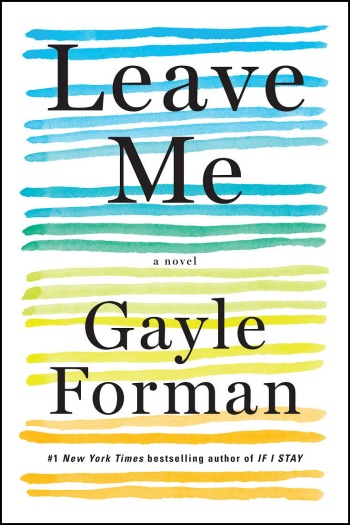 Leave Me by Gayle Forman (adult debut)
Publisher: Algonquin Books
Release Date: September 6, 2016
Length: 352pages
Buy on Amazon
Single Sentence Summary: Maribeth Klein decides to leave her own home after having a heart attack and getting little support from those closest to her.
Primary Characters: Maribeth Klein – in her early forties, Maribeth is the harried working mom of 4-year old twins. Maribeth does it all! (There are many other characters, but all are supporting to Maribeth, This is her story.)
Synopsis: Maribeth Klein first notices she's feeling off when working late one evening. Before she is forced to pay serious attention to herself she comes home, sleeps fitfully, walks her twins ten blocks to preschool, takes the bus home, does some work, walks to meet a friend for coffee, visits her CPA, and then finally goes to see her OB/GYN for a long overdue exam. It's that doctor who finally recognizes Maribeth's symptoms.
Maribeth isn't really convinced that she's had a heart attack until she's being wheeled in to have a stent put in her heart. That procedure goes awry and Maribeth ends up having double bypass surgery. In what seems like an incredibly short recovery period, Maribeth is sent home with lots of instructions for a new lifestyle and a lot of fear. No one in her life gets how terrified Maribeth is. They seem to expect her to just pick up where she left off, but Maribeth can't do that. As she gets more and more frustrated with those around her, Maribeth's fear grows until she realizes she needs to leave. And that's what she does.
Review: Hasn't every woman dreamed of leaving her family at one point or another? When my sons were in middle school, I had this reoccurring fantasy about escaping to Hawaii – alone. All alone! In Leave Me, Maribeth knew that she had to figure out how to live her life differently and she came to realize that she couldn't do that while living in her old life.
"She was dancing on a surfboard, juggling knives, while they all went about business as usual. But it wasn't business as usual. She'd had open-heart surgery."
I really liked that aspect of this book. While gone Maribeth learned about herself, how to care for herself, and how to live without fear. She did this on her own and with a fun cast of characters that populated her new life.
Even though I loved the "change" element of Leave Me I found the actual leaving part too much. While it's a great fantasy, the way Maribeth left was a hard premise for me to swallow. I was frustrated with her inability to communicate with the people in her life. The motivation for her leaving was definitely built into the story, but to just walk out with 4-year olds and then have no communication for weeks and weeks? Gayle Forman's previous books were young adult, and the way Maribeth left felt a little young adult to me. Despite that, I enjoyed the rest of Leave Me. I cheered for Maribeth as she went through her metamorphosis. It really was a very fun, fast book to read. Perfect for this time of year. Grade: B
If you liked this book you might also enjoy:
Disclosure: There are Amazon Affiliate links included within this post.