This post may include Amazon links. As an Amazon Associate I earn from qualifying purchases.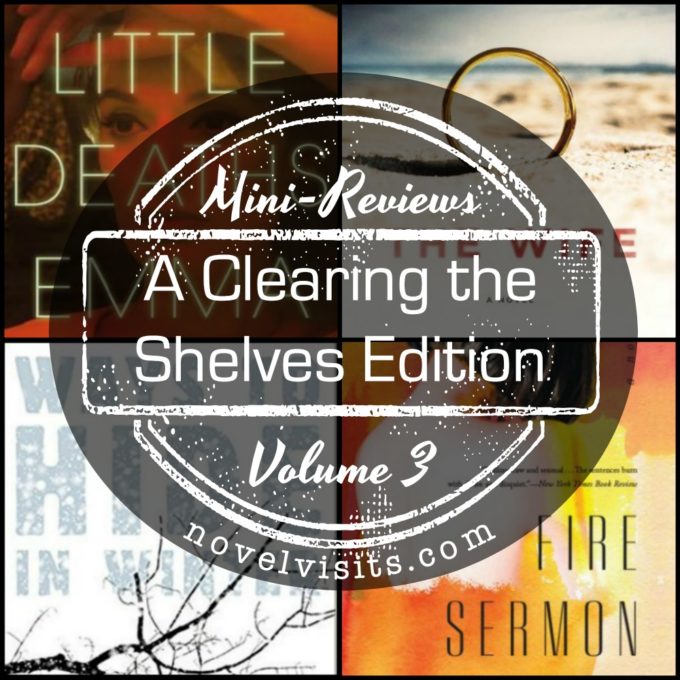 I've read several books over the last couple months that I have yet to review. With the year wrapping up soon, I realized it's time! Today I'll briefly share four books published either this year or last. Some I liked very much and others? Not so much.  I also read a couple of older backlist books, The Department of Speculation by Jenny Offill and Loving Frank by Nancy Horan. I'm not going to be reviewing either of those, so I'll just leave it at skip the first one, but read the latter!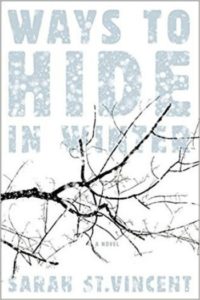 Ways to Hide in Winter by Sarah St. Vincent (debut)
Publisher: Melville House
Release Date: November 6, 2018
Length: 240 pages
Amazon
From the Publisher: "Steeped in the rugged beauty of the Blue Ridge Mountains, with America's war on terror raging in the background, Sarah St.Vincent's Ways to Hide in Winter is a powerful story about violence and redemption, betrayal and empathy . . . and how we reconcile the unforgivable in those we love."
My Thoughts: Ways to Hide in Winter is a slow burn of a story steeped in mysteries surrounding its two main characters: Kathleen with a past she doesn't want to talk about and a stranger who seems completely ill-equipped to be spending the winter deep in the Blue Ridge Mountains. An unlikely friendship blossoms between the two even as each keeps their secrets, their true selves closely guarded. This isn't a cat-and-mouse thriller, but a story of friendship and acceptance, a story of learning to live with the past and to do what's right.
I very much liked St. Vincent's writing. She did a wonderful job of slowly building and then revealing the mystery surrounding Kathleen, while at the same time building suspense around the stranger. However, the ending seemed sudden. It just sort of quietly happened leaving me feeling a little unsettled. Grade: B-
Note: I received a copy of this book from the publisher (via Edelweiss) in exchange for my honest review.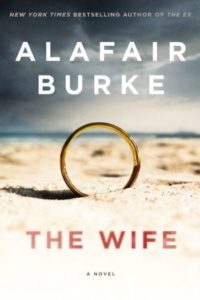 The Wife by Alafair Burke
Publisher: Harper
Release Date: January 23, 2018
Length: 352 pages
Amazon
From the Publisher: "From New York Times bestselling author Alafair Burke, a stunning domestic thriller in the vein of Behind Closed Doors and The Woman in Cabin 10—in which a woman must make the impossible choice between defending her husband and saving herself….This much-anticipated follow-up to Burke's Edgar-nominated The Ex asks how far a wife will go to protect the man she loves: Will she stand by his side, even if he drags her down with him?"
My Thoughts: Domestic thrillers have almost become a genre of their own. With so many out there, not all can be winners, leaving me skeptical of most. When I picked up The Wife, I was just looking for an easy little escape. I got all that and more from Alafair Burke. The story begins in the middle, when Angela is told that her husband is yet again implicated in a scandal, and this time a woman close to him has disappeared. From there the story moves forward and back giving us a glimpse of Angela's own past, her marriage to Jason, and his rise and fall in the world of economics. Of course, not all is as it seems, but I liked that Burke constantly kept me guessing and second guessing where her story was headed. Yes, I did finally guess the ending, and I enjoyed being right! Grade: B+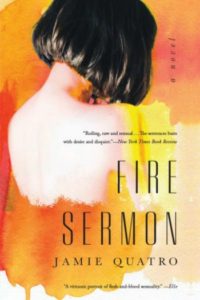 Fire Sermon by Jamie Quatro (debut)
Publisher: Grove Press
Release Date: January 9, 2018
Length: 224 pages
Amazon
From the Publisher: "A daring debut novel of obsession, lust, and salvation by the highly lauded author of the story collection, I Want To Show You More, Fire Sermon is a tour de force that charts with bold intimacy and immersive sensuality the life of a married woman in the grip of a magnetic affair."
My Thoughts: Ugh! So much angst and self reflection in this book about a woman having an affair. The blurb implies an ongoing, romantic affair, but to me there was nothing romantic about it and it certainly wasn't an affair in the sense that we might typically mean. Maggie's affair with a poet she admired was more of an affair of the mind, conducted largely through emails, with only a handful of meetings and only one of those involved physical intimacy. I found Maggie to be one of the most irritating characters I've read in a very long time. It was hard for me to garner any sympathy for a woman who used her faith as a crutch to avoid hard decisions. I finished Fire Sermon because it was very short, but I can't say I enjoyed any of it. Grade: D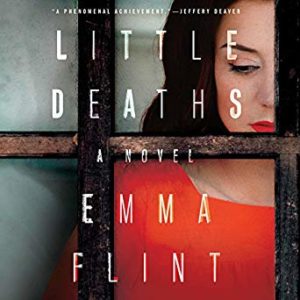 Little Deaths by Emma Flint (debut)
Narrators: Lauren Fortgang and Graham Halstead
Publisher: Hachette Books (Hatchette Audio)
Release Date: January 17, 2017
Length: 320 pages (10 hrs. 11 min.)
Amazon
From the Publisher: "It's 1965 in a tight-knit working-class neighborhood in Queens, New York, and Ruth Malone–a single mother who works long hours as a cocktail waitress–wakes to discover her two small children, Frankie Jr. and Cindy, have gone missing. Later that day, Cindy's body is found in a derelict lot a half mile from her home, strangled. Ten days later, Frankie Jr.'s decomposing body is found. Immediately, all fingers point to Ruth. "
My Thoughts: This was an interesting book to listen to because I both liked it and didn't for a few different reasons. I liked this story of a woman who couldn't live up to the 1960's standards for what a mother should be, so became suspect in the murders of her own young children. At the same time, I was frustrated by how easy it was to blame the woman and the lengths some of the men in the story went to to make sure their theories panned out. I liked the young reporter trying to find his way in the world of hard news, but he also went to lengths that did seem not to fit with the character. I really liked the ending, but did see it coming. And finally, I thought Lauren Fortgang did a terrific job narrating, but Graham Halstead's reading grated on me after a while. Grade: C+
Disclosure: There are Amazon Associate links included within this post.