This post may include Amazon links. As an Amazon Associate I earn from qualifying purchases.
Little Fires Everywhere by Celeste Ng
&
The Burning Girl by Claire Messud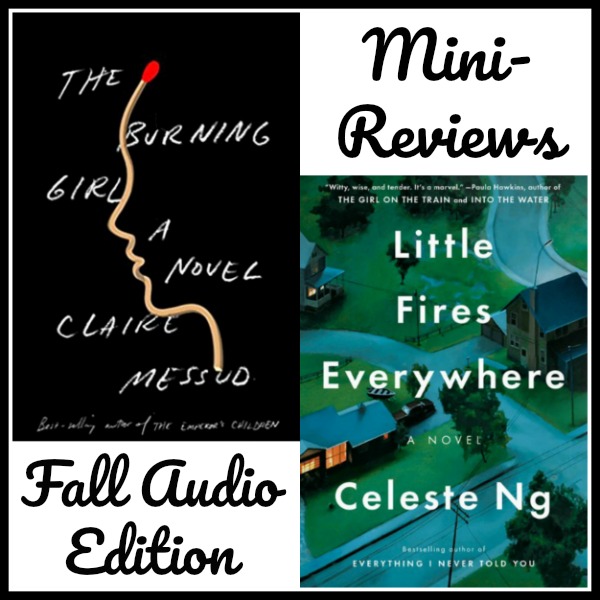 Audiobooks have changed my reading life! A year ago, I'd only listened to a handful and now I can't stand to be without one. Don't get me wrong, I still prefer a book in print, but for those times when you can't actually read (driving, making dinner, etc.) listening is the way to go. Other times it's just so nice to relax and listen. A great narrator brings me back to my childhood when my mom would tell me stories. If you haven't tried audio, it's time!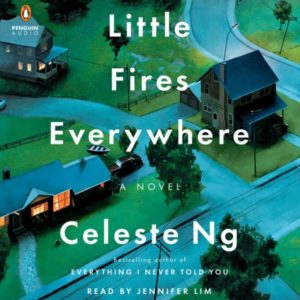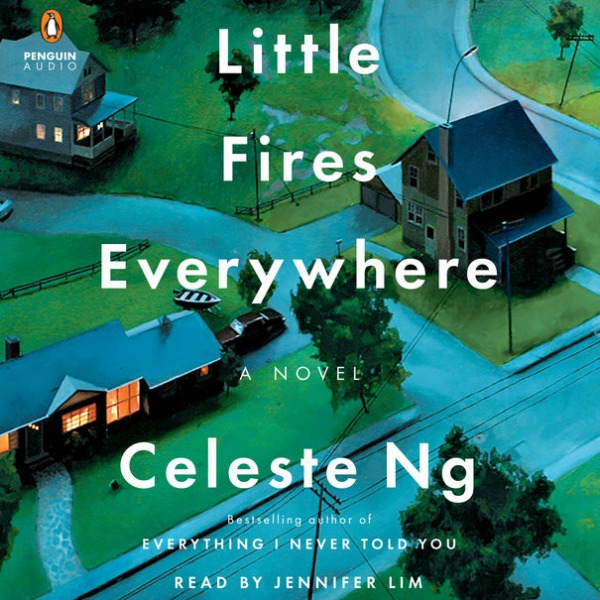 Little Fires Everywhere by Celeste Ng
Publisher: Penguin Press
Audio Publisher: Penguin Audio
Narrators: Jennifer Lim
Release Date: September 12, 2017
Length: 352 pages (11 hrs. 27 min.)
Buy on Amazon
From the Publisher: In Shaker Heights, a placid, progressive suburb of Cleveland, everything is planned – from the layout of the winding roads, to the colors of the houses, to the successful lives its residents will go on to lead….Little Fires Everywhere explores the weight of secrets, the nature of art and identity, and the ferocious pull of motherhood – and the danger of believing that following the rules can avert disaster.
My Thoughts: I'm going to say it right up front, "I loved Little Fires Everywhere!" As a matter of fact, I liked it even more than Celeste Ng's knockout debut, Everything I Never Told You. What I liked most about her sophomore effort was how she tackled a serious subject with a lot of humor, starting with the Richardsons. When we're first introduced to the Richardsons, mom, Elena (a woman you'll love to hate), is standing in the street watching their house ablaze, feeling confident that the person responsible it her youngest child, Izzy. From there the story goes back nearly a year and we really meet the Richardsons. Elena and her husband have four children: Lexie, a senior, Trip, a junior, Moody, a sophomore, and Izzy, a freshman. If I were to describe the Richardsons in one word it would be "Stepford." This is a Stepford family if ever there was one. Everyone has their perfect little role in their perfect little family in their perfect little town of Shaker Heights.
Enter Mia and Pearl Warren, a free-thinking artist and her "nearly pretty" and "possibly brilliant" daughter. The Warrens rent an apartment from the Richardsons, and their lives become thoroughly enmeshed when Moody falls for Pearl and introduces her to life at the Richardsons. There Pearl falls for a vision of family life she's never known. Ng beautifully wove the lives of the Richardsons and the Warrens together making connections on so many levels, all feeling right. It seemed to me that the characters' actions were never forced; always in making with the personalities she'd created.
" To a parent your child wasn't just a person. Your child was a place. A kind of Narnia. A vast eternal place where the present you were living, and the past you remembered, and the future you longed for all existed at once."
Ng's story ramped up when friends of the Richardsons try to adopt a Chinese baby and controversy ensues. Played against the backdrop of 1998 and the Clinton-Lewinsky scandal, Ng's sensitivity to her characters and the world around them made Little Fires Everywhere a true gem of a read. Grade: A
Narration: One word: sublime! Jennifer Lim was magnificent narrating Little Fires Everywhere. This is a book with a big cast of characters and she was able to imbue them all with personality. Her pace was wonderful. I will definitely be looking for more books in audio narrated by Jennifer Lim. Grade: A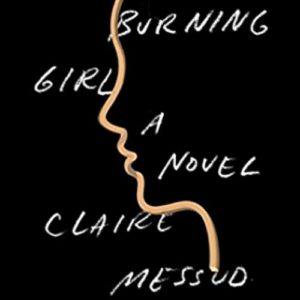 The Burning Girl by Claire Messud
Publisher: W.W. Norton & Company
Audio Publisher: Recorded Books
Narrators: Morgan Hallett
Release Date: August 29, 2017
Length: 256 pages (6 hrs. 38 min.)
Buy on Amazon
From the Publisher: "Julia and Cassie have been friends since nursery school. They have shared everything, including their desire to escape the stifling limitations of their birthplace, the quiet town of Royston, Massachusetts. But as the two girls enter adolescence, their paths diverge and Cassie sets out on a journey that will put her life in danger and shatter her oldest friendship…"
My Thoughts: Claire Messud's latest novel delivers an interesting twist on a classic coming-of-age scenario: teenage friendship. Cassie and Julia, from very different backgrounds, have been friends since preschool. Cassie, tiny and fragile with a real sense of adventure, lives with her single mom. Julia, who narrates, is a bit more of a follower and lives with her very stable, supportive parents. Despite their differences, the two have shared just about everything. They know exactly what the other is thinking. Until the start of 7th grade. A new girl captures Cassie's attention and she moves on, leaving Julia and her childhood behind.
"I had other friends, but I'd lost the friend I loved best and had loved without thinking for as long as I could remember, and it seemed absolutely essential not to appear to care."
From there the story really became Julia's, but played out in a most unusual way. Julia's coming-of-age metamorphosis came out of watching Cassie from afar, from observing Cassie's changes, from imagining what Cassie was doing, what she was thinking, how she felt. Yes, Julia still had occasional contact with Cassie and she heard the gossip that swirled around her, but by and large Julia had become an outsider. We only really know the surface of Cassie's story. The rest is conjecture. The reader is left with a lot of questions about Cassie. In the end, The Burning Girl, became a story of one girl's obsession with another, and of her learning about herself through that experience. For me, this wasn't the brilliant coming-of-age story I had hoped for. Grade: C+
Narration: Morgan Hallett's narration was fine. That sounds awful, but I don't mean it that way. She read the story smoothly and with great inflection. Her pace was a little slower than I like. Overall, I think Hallet's reading saved The Burning Girl for me. She added just enough spark in this audio edition to keep me invested in the story. Grade: B
Disclaimer: There are Amazon Associate links contained in this post.