This post may include Amazon links. As an Amazon Associate I earn from qualifying purchases.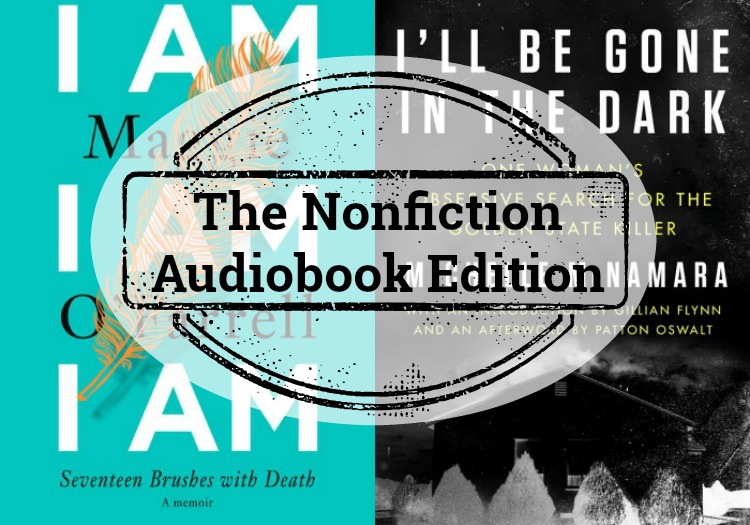 The last two audiobooks I listened to couldn't have been more different. Both nonfiction books involved death, but in very different ways. Maggie O'Farrell shares her experiences with seventeen near brushes with death, whereas Michelle McNamara hunts for a man responsible for dozens of rapes and twelve murders. Both left me feeling a little shaken, confirming that life is a gift easily lost.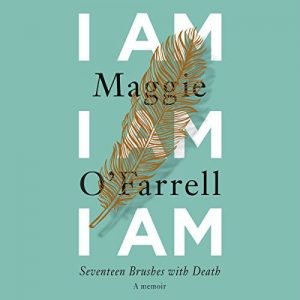 I Am, I Am, I Am: Seventeen Brushes With Death by Maggie O'Farrell
Publisher: Knopf/Random House Audio
Narrator: Daisy Donovan
Release Date: February 6, 2018
Length: 304 pages, 5 hrs. 54 min.
Amazon
From the Publisher: "We are never closer to life than when we brush up against the possibility of death…Seventeen discrete encounters with Maggie at different ages, in different locations, reveal a whole life in a series of tense, visceral snapshots. In taut prose that vibrates with electricity and restrained emotion, O'Farrell captures the perils running just beneath the surface, and illuminates the preciousness, beauty, and mysteries of life itself."
My Thoughts: I first came across I Am, I Am, I Am on Instagram and was immediately intrigued. Why? Both because I've enjoyed O'Farrell's novels and because seventeen seemed like a really big number. O'Farrell has lead an interesting life, often touched by tragedy. Her brushes with death began as a young child when she suddenly became afflicted with a rare neurological condition that left her unable to walk or even talk for nearly a year. The after effects left O'Farrell's body weakened and vulnerable, but her spirit strong and determined. In easy, compelling prose she shares experience that range from near drownings, to dangerous encounters with strangers, to bizarre parasites picked up in China, to bleeding out during a misguided c-section. Her experiences were always interesting, sometimes terrifying, and often heartbreaking. She made me reconsider my own brushes with death and what I might count. It seems I've lived a luckier life than O'Farrell, as at the most I can only find four. Whether or not you've experienced your own brushes with death, I Am, I Am, I Am will make you look at life a little differently.
"We are, all of us, wandering about in a state of oblivion, borrowing our time, seizing our days, escaping our fates, slipping through loopholes, unaware of when the axe may fall."
You'll value life more and count yourself lucky to have survived it. Grade: B+
Audio/Narration: I thought Daisy Donovan did a wonderful job narrating I Am, I Am, I Am. her pace was smooth with a lovely lilt to her voice. It truly felt like Maggie O'Farrell was personally telling me her life story and the vignette style made it a perfect book to listen to.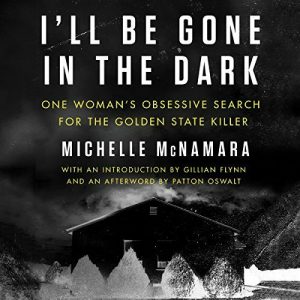 I'll Be Gone in the Dark by Michelle McNamara
Publisher: Harper/Harper Audio
Narrator: Gabra Zackman
Release Date: February 27, 2018
Length: 352 pages, 9 hrs. 45 min.
Amazon
From the Publisher: "For more than ten years, a mysterious and violent predator committed fifty sexual assaults in Northern California before moving south, where he perpetrated ten sadistic murders. Then he disappeared, eluding capture by multiple police forces and some of the best detectives in the area.
Three decades later, Michelle McNamara, a true crime journalist who created the popular website TrueCrimeDiary.com, was determined to find the violent psychopath she called "the Golden State Killer."
My Thoughts: I'll Be Gone in the Dark is really two stories. The first, a gruesome tale of dozens of rapes and multiple murders over a span of ten years, and the man who committed them. The second, a woman's near obsessive desire to find that man and unmask "The Golden State Killer." The fact that these two fascinating narratives are so tightly woven together makes for unforgettable reading and a whole new take on true crime writing. Listening to the details of this man's crimes left me a little haunted and also with a creepy feeling of being a voyeur witnessing others' suffering. I didn't want to know, but I couldn't stop listening. Equally captivating were McNamara and the many others investigating crimes more than twenty-five years after they'd occurred. In that time span DNA testing had grown much more refined and internet advances could now helped anyone visit crime scenes from the comfort of their own homes, giving hope to finally identifying the killer. Working with police detectives, cold crime investigators, and the FBI, McNamara followed the trail of this cold-blooded killer only to reach dead-ends time after time. Sadly, McNamara died in her sleep before she could complete this book. The remainder was pieced together from her many notes, articles, and blog posts. For Michelle, the many victims, their families and the tireless law enforcement investigators I hope someday "The Golden State Killer" will be found. Grade: B
Audio/Narration: Gabra Zackman did a great job narrating a difficult book. The story had many different people in it and lots of conversations. She made those easy to follow and delivered the story with ease. I will say that given the choice, I'd recommend reading I'll Be Gone in the Dark over listening to it. There was quite a bit of jumping around in time and location and many different investigators involved. Had I been reading the book, I'd more easily have had the ability to look back and clarify confusion that arose from time to time. Included with the audiobook was a PDF attachment with maps and a list of law enforcement officers. This was useful, but not always convenient.
Disclaimer: There Are Amazon Associate links contained in this post.