This post may include Amazon links. As an Amazon Associate I earn from qualifying purchases.
The End We Start From by Megan Hunter
&
Heather, the Totality by Matthew Weiner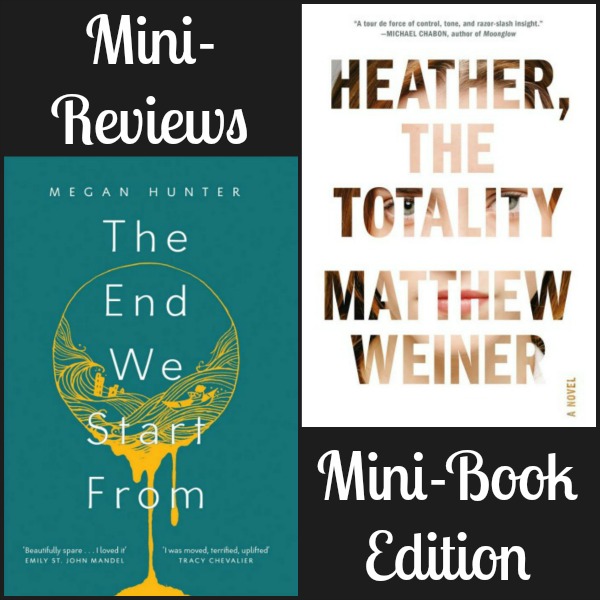 I'm not sure of the exact distinction between novel and novella, but I do know that at roughly 150 pages each neither The End We Start From by Megan Hunter nor Heather, the Totality by Matthew Weiner felt like much more than a long short story. Neither is billed as novella in the publisher's descriptions, and both are priced in line with much longer novels. These are mini-books, and as such I'm going to do really, really mini-reviews of each!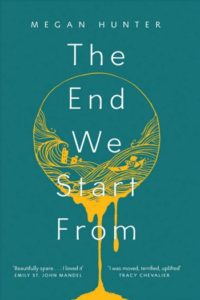 The End We Start From by Megan Hunter (debut)
Publisher: Grove Press
Release Date: November 7, 2017
Length: 160 pages
From the Publisher: "As London is submerged below floodwaters, a woman gives birth to her first child, Z. Days later, she and her baby are forced to leave their home in search of safety. They head north through a newly dangerous country seeking refuge from place to place. The story traces fear and wonder as the baby grows, thriving and content against all the odds."
My Thoughts: Evidently, The End We Start From caused quite a stir at the 2016 London Book Fair, and I'm sorry to say that I just don't get it. I was expecting a young mother experiencing life in a dystopian world and that's what I got, yet still it fell flat. We got very little information about her new dystopian reality, few explanations for why it happened or why things improved. Instead we experienced life in refugee camps and on a rather comfortable private island. The main focus of Hunter's novella was young motherhood in a trying time. Nothing all that much out of the ordinary.
Some have praised Hunter's writing as lyrical and poetic. I found it taxing. The book was written in very short, choppy bits that often didn't fit together. It asked the reader to do too much of the work in connecting elements of her story. In addition, none of the characters had names, just letters to represent them (the child was Z, his father, R). I dislike this trend of not giving characters actual names. It seems lazy. I believe Megan Hunter had elements of a very good story. Had she fleshed it out more, that book may have been worthy of the hype surrounding it. Grade: C-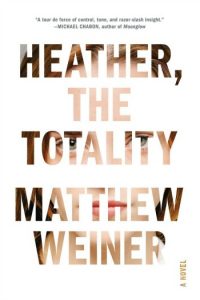 Heather, the Totality by Matthew Weiner (debut)
Publisher: Little, Brown and Company
Release Date: November 7, 2017
Length: 144 Pages
From the Publisher: "Mark and Karen Breakstone have constructed the idyllic life of wealth and status they always wanted, made complete by their beautiful and extraordinary daughter Heather. But they are still not quite at the top. When the new owners of the penthouse above them begin construction, an unstable stranger penetrates the security of their comfortable lives and threatens to destroy everything they've created."
My Thoughts: Heather, the Totality's author, Matthew Weiner, is the creator of the much loved TV show Mad Men, so my expectations were high for his debut. In the beginning, I liked Weiner's matter-of-fact writing style. He laid out the two main characters, Mark and Karen Breakstone, very simply and quickly. I assumed as the story progressed, he'd more fully flesh them out. He didn't. Maybe that was the point of this novella. I'm still not really sure whether i missed something or whether Weiner, just didn't deliver.
For me, the entire story was very one-dimensional. None of the characters ever had any depth to their development and one, construction worker Bobby Klosky, was pathetically clichéd. Everything in the book revolved around the Breakstone's daughter, Heather, but again the reasons why just seemed thin and really sad. The final act of the book was so abrupt, it almost went unnoticed. And then, it was over. I'd say this one was a fail. Grade: D
I think the moral of these two short books is, "If you're going to tell a story in only 150 pages, those pages need to be great!"
Note: I received a copy of these books from the publishers (via NetGalley) in exchange for my honest reviews.
Disclosure: There are Amazon Associate links included within this post.