This post may include Amazon links. As an Amazon Associate I earn from qualifying purchases.
Miss Ex-Yugoslavia by Sofija Stefanovic
&
And Now We Have Everything by Meaghan O'Connell
In the last two weeks I've read two books written by young women sharing very different life experiences. Sofija Stefanovic, Serbia-born, Australia-raised, shares her immigrant experiences while growing up under the specter of war in her homeland. Meaghan O'Connell gives a no holds barred account of her pregnancy, delivery, and first year of motherhood.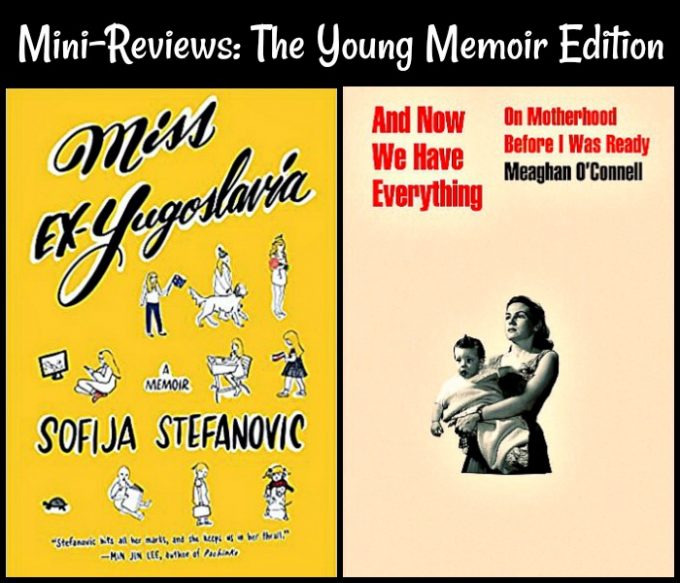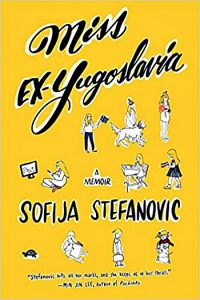 Miss Ex-Yugoslavia by Sofija Stefanovic
Publisher: Atria Books
Release Date: April 17, 2018
Length: 272 pages
Amazon
From the Publisher: "Featuring warlords and beauty queens, tiger cubs and Baby-Sitters Clubs, Sofija Stefanovic's memoir is a window to a complicated culture that she both cherishes and resents. Revealing war and immigration from the crucial viewpoint of women and children, Stefanovic chronicles her own coming-of-age, both as a woman and as an artist who yearns to take control of her own story."
My Thoughts: Sofija Stefanovic did a wonderful job telling the story of her immigrant experiences in Miss Ex-Yugoslavia. Stefanovik was born in socialist Belgrade, Yugoslavia in 1982. No one had much, but her parents as intellectuals, lived a stimulating life constantly debating the politics of their country. When Sofija was 5, her parents, concerned about the growing political unrest in their country, made the difficult decision to immigrate to Australia. This was only the first move for the family. After two years in Australia (enough time to gain citizenship) they returned to Yugoslavia. The situation in Belgrade grew worse, so after another two years they fled back to Australia.
With each move, Stefanovic was again the outsider. The initial transition to Australia was the most difficult as everything was new, she had to learn English, and other children were not welcoming. Back in Belgrade, her Serbian now had a strange accent and the other kids looked at her with suspicion. After returning to Australia for good, her family could find comfort with others in the larger Yugoslavian diaspora, but the constant worry about the wars at home took their tole.
Though Stefanovic worked to balance her personal journey with the wars raging in Yugoslavia, at times the political side of her book bogged down. It was important to fully understand Stefanovic's experiences and feelings of being an outsider, but I would have liked just a little less of the history and a little more of the story of her evolution. I found the last part of the book especially appealing as Stefanovic came to fully realize the horrors of all wars and the plight of innocent immigrants displaced by them. Grade: B
Note: I received a copy of this book from Atria Books (via NetGalley)  in exchange for my honest thoughts.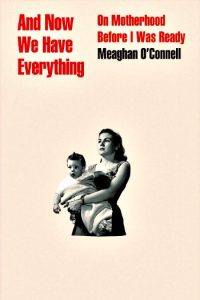 And Now We Have Everything by Meaghan O'Connell
Publisher: Little, Brown & Company
Release Date: April 10, 2018
Length: 241 pages
Amazon
From the Publisher: "When Meaghan O'Connell got accidentally pregnant in her twenties and decided to keep the baby, she realized that the book she needed — a brutally honest, agenda-free reckoning with the emotional and existential impact of motherhood — didn't exist. So she decided to write it herself."
My Thoughts: Interestingly, Meaghan O'Connell's book is subtitled "On Motherhood Before I Was Ready." Why so interesting you might ask. Well, it's actually for a couple reasons, one that has to do with all women and one more for O'Connell.
As a woman with now adult children, I can say for all of us that NO ONE is ever really ready for motherhood. In fact, I would go so far as to say that the more ready a woman thinks she is, probably the less ready she actually is. I think it might be a little like war. You can read all about it, and you might even get trained to go to war, but until you've actually been there, you just can't know. Motherhood is an on-the-fly job. You figure it out as you go. As I said, my kids are adults and I'm still figuring it out!
Meaghan O'Connell might have been slightly less ready than the average women, but not for lack of trying. O'Connell had already known that she wanted a baby, so when she turned up pregnant at 29, the decision for her and her fiancée, Dustin, to have the baby was a relatively easy one. From the onset, O'Connell was a slave to information, to answers to the unanswerable questions of how things would go for her, before, during and after the birth of her son. She was a Google maniac constantly trying to calm her many, many fears. For me her anxiety bordered on the neurotic and her experiences, while large to her, were not really all that different from many other women's. O'Connell implies that she wasn't ready for motherhood because of the timing and where she was in life, but I don't think she'd have been any more ready at 40. Her journey was her journey to take.
O'Connell's writing in And Now We Have Everything was sharp, funny and wonderfully easy to read, though I grew weary of her unrelenting angst. I'm sure younger woman will appreciate the book more than I did. Still, I'd like to issue a warning to readers who might be considering having a first baby: And Now We Have Everything tells the events surrounding one woman's journey into motherhood. Yours will be your own, and likely much different. Please, read with that in mind. Grade: C+
Disclaimer: There Are Amazon Associate links contained in this post.