This post may include Amazon links. As an Amazon Associate I earn from qualifying purchases.
After the Eclipse by Sarah Perry
&
At Home in the World by Tsh Oxenreider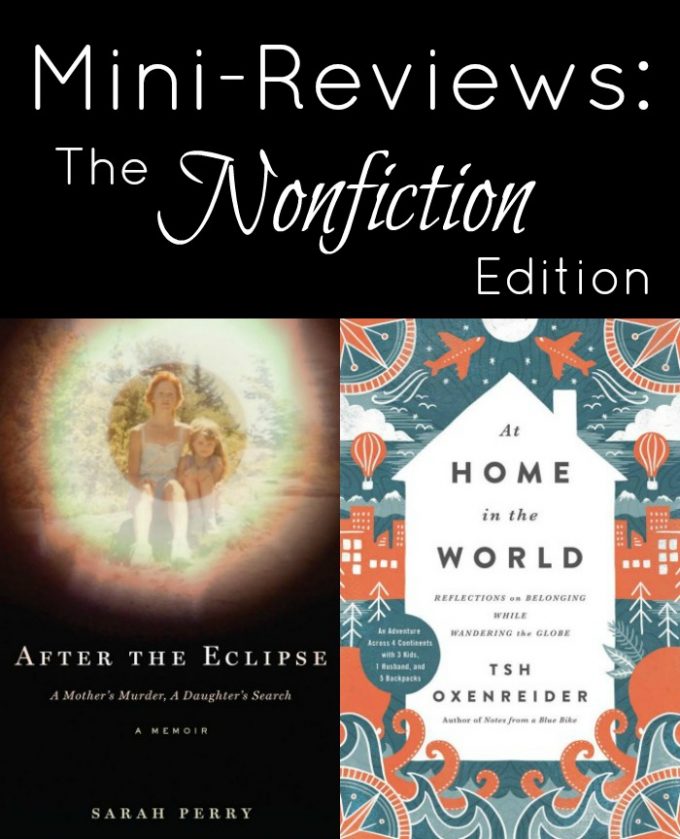 Thanks to Nonfiction November, I've nearly doubled my nonfiction reads for the year in just the last 30 days. That really is more of a commentary on how little nonfiction I read rather than on any great reading accomplishment. The best part is that I've enjoyed them all, including the two memoirs I'm sharing today.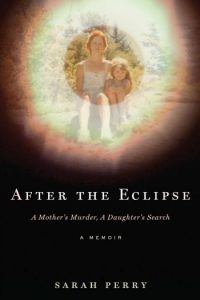 After the Eclipse by Sarah Perry
Publisher: Houghton Mifflin Harcourt
Release Date: September 26, 2017
Length: 368 pages
Amazon
From the Publisher: "A fierce memoir of a mother's murder, a daughter's coming-of-age in the wake of immense loss, and her mission to know the woman who gave her life."
My Thoughts: When Sarah Perry was only 12-years old, she experienced an event more horrific than many of us could imagine, much less survive. In the middle of the night Sarah awoke to arguing, screaming, and a fierce struggle that left her mother dead. Sarah's description of that night and the days that followed left me heartbroken for her.
After the Eclipse follows two different storylines that converged in Perry's memoir. The first, a daughter's unwavering devotion to her mother, began even before the murder and continues still. Sarah, the only child of single-mother, Crystal, had an uncanny awareness of her mother's moods, and flawed relationships as she approached her teenage years. After the murder, and as Sarah grew older, she never wavered in her love for her mother even as she was able to look honestly at all sides of Crystal. For me, Perry's honesty became the shining star of her memoir. She examined her extended family, the police investigators, and herself under a light that illuminated, yet often cast dark shadows.
The twelve year search for Crystal's killer was interwoven with Sarah's own story. The fact that Sarah was in the house when her mother was murdered and that she couldn't identify the killer haunted Sarah and the police investigators. She was questioned over and over throughout the years and her self-questioning never stopped. Sarah lived in fear of being killed herself, yet she never stopped asking the police to do more. Just as Sarah was building a real life for herself, the killer was finally found leading to a whole new set of questions.
All in all, I liked After the Eclipse very much. As with many nonfiction books, I think it could have been a little more tightly edited. This will be a great book not only those who like memoirs, but also for anyone who enjoys true crime stories. Grade: B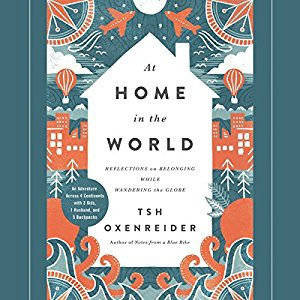 At Home in the World by Tsh Oxenreider
Publisher: Thomas Nelson
Release Date: April 18, 2017
Length: 288 pages (7 hrs. 17 min.)
Amazon
From the Publisher: "In her late 30s, and as a mom to three kids under age 10, Tsh Oxenreider and her husband decided to spend a rather ordinary nine months in an extraordinary way: traveling the corners of the earth to see, together, the places they've always wanted to explore. This book chronicles their global journey from China to Thailand to Australia, Sri Lanka, Uganda, France, Croatia, and beyond, as they fill their days with train schedules, world-schooling the kids, and working from anywhere."
My Thoughts: I listened to At Home in the World and loved hearing the author tell her own story of her family's travel adventure and her examination of what it means to find home. Oxenreider and her husband, Kyle, were no strangers to world travel and living in other countries. They met fresh out of college in Kosovo where she was teaching English and he was helping to rebuild homes. After marrying and having a child, they moved to Turkey where they lived for three years and had their second baby. Having lived in Bend, Oregon for several years and adding a third child to the mix, the Oxenreiders again felt that itch to travel. This is a smart couple in that they'd planned ahead for a future of travel. Both had jobs they could do remotely, they already home-schooled their kids and they'd saved money for just such an adventure.
Traveling for the better part of a year with a 9, 6 and 4-year old would sound like a nightmare to many of us. Not the Oxenreiders. They wanted to share the world with their kids, to make them global citizens and they did just that. I'm not one to travel on a budget, but still I admired how this couple planned ahead and found unique out-of-the-way places to stay. Their choices not only saved money, but gave the family more than tourist experiences in the places they visited. They stayed in some countries for weeks and others for days, following the path of summer/spring along the way. With only a backpack apiece, Tsh and Kyle taught their children what was truly valuable. They left me wishing I'd taken my own kids on more adventuresome journeys when they were young.
Along their trek, Tsh came back to the idea of home over and over again. What is home? What makes one feel at home? Where is home? How important is home? I loved her examination of home because home can mean so many different things to different people. For some it's a place, to others a feeling, and to still others it's people. The longer Oxenreider traveled with her family, the more important the idea of home grew for her. By the end, home was everything.
I highly recommend At Home in the World to anyone who enjoys traveling, world cultures or family. I found her journey inspiring. Grade: B+
Disclaimer: There Are Amazon Associate links contained in this post.