This post may include Amazon links. As an Amazon Associate I earn from qualifying purchases.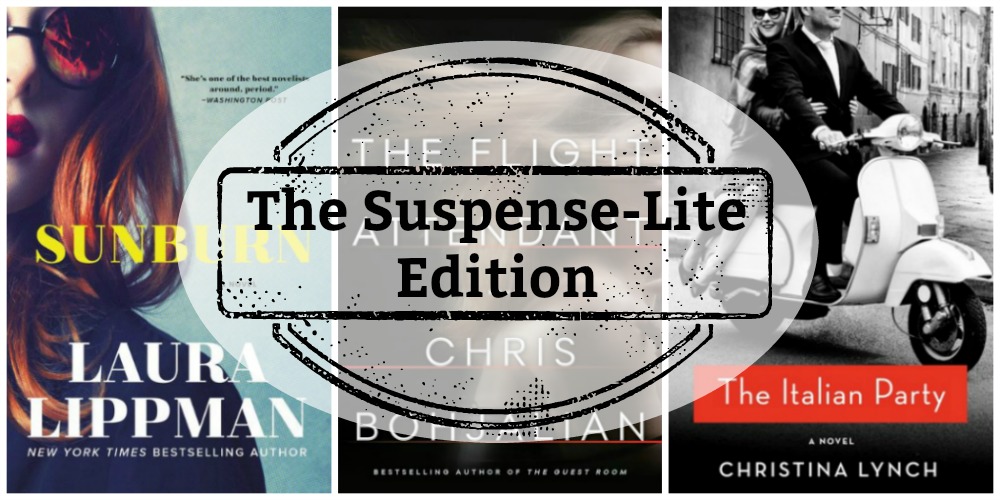 In the las month I've read three books that I like to think of as "suspense-lite." In some suspense novels you're on the edge of your seat, breathless with anticipation to see what happened or whodunnit. Though I thoroughly enjoyed two out of the three books here, this moniker describes them perfectly. What Sunburn, The Flight Attendant, and The Italian Party all had in common were mystery elements unveiled slowly, piece by piece, but without the fear and expectancy of the usual suspense novel.
Hosted by Modern Mrs. Darcy.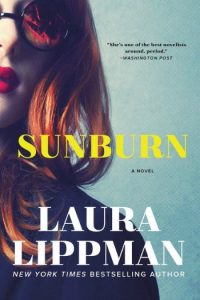 Sunburn by Laura Lippman
Publisher: William Morrow
Release Date: February 20, 2018
Length: 304 pages
Amazon
From the Publisher: "New York Times bestselling author Laura Lippman returns with a superb novel of psychological suspense about a pair of lovers with the best intentions and the worst luck: two people locked in a passionate yet uncompromising game of cat and mouse. But instead of rules, this game has dark secrets, forbidden desires, inevitable betrayals—and cold-blooded murder."
My Thoughts: Sunburn is a slow burning novel if ever there was one. From the start you know that Polly is hiding some pretty big secrets. She's just runaway from her second husband and 4-year old daughter and landed in small town dive-bar where she begins working as a waitress for the summer. Enter Adam, a private investigator hired to gather information about Polly, but by whom and why? We quickly learn a few things about Polly: her first husband is dead, there's money out there somewhere, she craves a home. As one might expect, Polly and Adam (despite knowing better) are undeniably drawn to each other. As the summer progresses, so does there relationship, and so too, do the layers of mystery surrounding Polly.
Sunburn is a book full of unreliable characters. Everyone has something to hide and no one is quite telling the truth. This made for a very fun read with a few surprises, though nothing terribly shocking. I especially liked Lippman's treatment of Adam. She used an almost sarcastic delivery for his parts of the story which really added to his personality. Yes, Polly's story was a little out there, but isn't that the hallmark of suspense? Sunburn is a perfect book to read over a long weekend,  take with you on your next vacation, or anytime you're looking for a little escape. Grade: B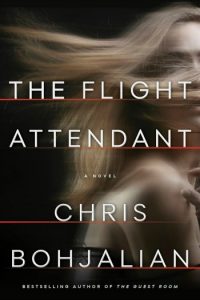 The Flight Attendant by Chris Bohjalian
Publisher: Doubleday
Release Date: March 13, 2018
Length: 368 pages
Amazon
From the Publisher: "Cassandra Bowden is no stranger to hungover mornings….. She sees his dark hair. His utter stillness. And blood, a slick, still wet pool on the crisp white sheets. Afraid to call the police – she's a single woman alone in a hotel room far from home – Cassie begins to lie. She lies as she joins the other flight attendants and pilots in the van. She lies on the way to Paris as she works the first class cabin. She lies to the FBI agents in New York who meet her at the gate. Soon it's too late to come clean-or face the truth…."
My Thoughts: The opening scene of The Flight Attendant has Cassie Bowden, severely hungover, waking up in the bed of a dead man…in Dubai. That premise drew me to Bohjalain's latest offering. Cassie is a hot mess, so much so that it's difficult to believe she has survived on her own as long as she has. Cassie, an alcoholic, regularly drinks to the point of blacking-out, and she seems to be okay with that. She sleeps with anyone and everyone. She steals. She lies. There's really not much to like about her, and yet I did find myself wanting her to get her act together. Unfortunately, as Cassie made one poor decision after another, I stopped caring. A Russian element, critical to the story,  felt underdeveloped and incomplete. For me The Flight Attendant just didn't work. Too much of the story simply felt gratuitous and almost (dare I say?) exploitative. I would love to see Chris Bohjalian return to his more historical stories such as Skeletons at the Feast and The Sandcastle Girls. Bohjalian is a fantastic writer and I know he can deliver so much more. Grade: C
Note: I received a copy of this book from the publisher (via NetGalley) in exchange for my honest thoughts.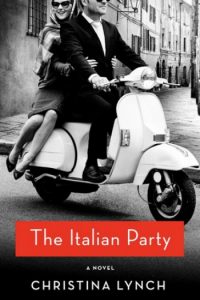 The Italian Party by Christina Lynch (debut)
Publisher: St. Martin's Press
Release Date: March 20, 2018
Length: 336 pages
Amazon
From the Publisher: "Newly married, Scottie and Michael are seduced by Tuscany's famous beauty. But the secrets they are keeping from each other force them beneath the splendid surface to a more complex view of ltaly, America and each other."
My Thoughts: Reading The Italian Party was like watching a favorite old movie. It was an extended trip to the Italian countryside. It was a delight! This is an old-fashioned kind of story and that made it a breath of fresh air in my reading life. There's a bit of suspense, a missing person, good versus evil, communism versus democracy, all wrapped up in a lovely, light little historical fiction.
It was 1956 when young, naive Scottie and shy, idealistic Michael arrived in Siena after a whirlwind courtship and a quickie marriage which neither was really prepared for.
"Sex with Michael was quick, and they both kept their eyes closed.
You were not supposed to like it.
You were not supposed to long for it.
You were not supposed to think about it.
You were not supposed to dream about it.
It was not supposed to be fun.
It was not supposed to be about power.
Was it?"
I appreciated that we immediately know this couple's secrets: Scottie is pregnant with another man's child, and Michael, a newly minted CIA agent, is gay. Michael's mission is to thwart communism's increasing presence in the Italian countryside and Scottie's is to give her baby a father and maintain her reputation. Both are likable characters, but Scottie is the star. Just like what might happen in an old movie, Scottie quickly takes to Italy and turns out to be a lot better at interacting with the Italians than her husband. When the boy who'd been helping Scottie learn Italian disappears, Scottie begins to dig deeper into life in Siena and the mystery that is her husband. The Italian Party is not going shock you and you may guess exactly where it's going, but still the journey through the 50's in Italy is one I predict most readers will thoroughly enjoyed. Grade: B+
Note: I received a copy of this book from the publisher (via NetGalley) in exchange for my honest thoughts.
Disclaimer: There Are Amazon Associate links contained in this post.