This post may include Amazon links. As an Amazon Associate I earn from qualifying purchases.
Hosted by Kathryn at Book Date
This past week was unusually smooth for me. Kids at school were reasonably calm for spring time, getting their work done, and a class that has really struggled aced a big test. They were proud and so was I! Those kind of victories are why I teach. Last night I saw an excellent movie, A United Kingdom. In it, "Prince Seretse Khama of Botswana causes an international stir when he marries a white woman from London in the late 1940s." David Oyelowo and Rosamund Pike played the couple beautifully. I highly recommend it! (View trailer.) On the reading front, it was a really, really good week. Maybe the best of the year, so far.
Last Week's Reads: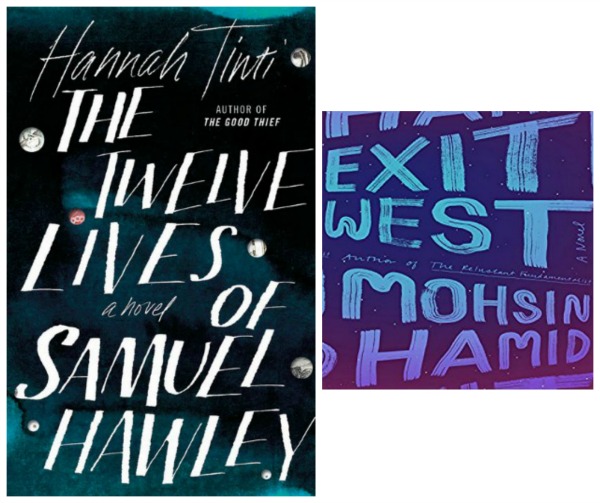 Within two days, I finished two of the best books I've read all year! I listened to the audio version of Exit West by Mohsin Hamid and loved both the story and his narration. This is a book I'd been a little leery about reading because it has an element of magical realism in it, which generally isn't one of my favorite literary devices. But, I loved the way Hamid used it in Exit West. The story itself was amazing and so relevant to the world we live in. Next, I had the pleasure of finishing The Twelve Lives of Samuel Hawley by Hannah Tinti. Her book truly surpassed every one of my expectations and left me with a bit of a book hangover. I would not be surprised if both these books end up on my "Best of 2017" list. They were that good! I'm reviewing each this week.
Currently Reading: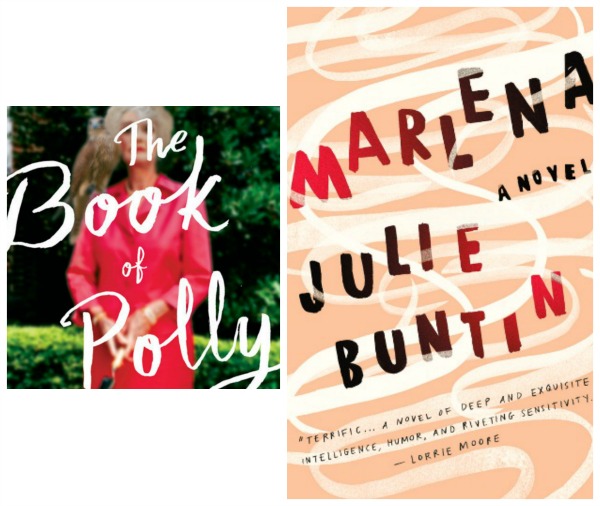 I seem to have become a bit hooked on listening to books while commuting to work. After finishing Exit West, the rest of the week and the radio were just plain dull. I wanted a story! So, this weekend I did a little looking around at audios and settled on The Book of Polly by Kathy Hepinstall as my next car companion. This mother-daughter story promises to be both hilarious and heartfelt. It's a little longer than some of the more recent books I've listened to, but the reviews were so good I had to give it a try. I've barely started and already I'm glad I picked The Book of Polly. A debut novel, Marlena by Julie Buntin is a coming-of-age story set in small-town Michigan. There, two girls become friends, one experienced and wild, the other a little naive, but ripe for change. The year they spend together will leave one dead and the other haunted. I'm loving Buntin's writing and the style in which her story is unfolding.
Likely to Read Next: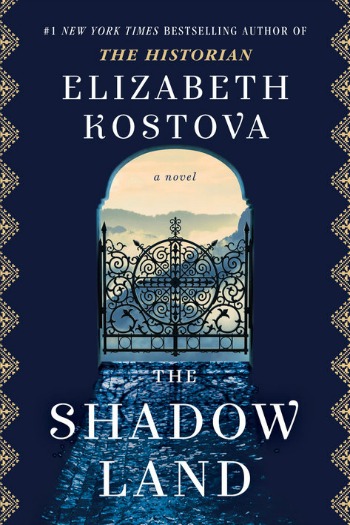 I really liked The Historian by Elizabeth Kostova, but had to think long and hard about whether I wanted to read her new book, The Shadow Land. Why? It's long, just short of 500 pages. In the last year or so, I've shied away from really long books, but finally decided to give this one a try. Set in Bulgaria, the publisher's blurb promises "…a mesmerizing novel that spans the past and the present—and unearths the troubled history of a gorgeous but haunted country." 
Have a Great Week of Reading!
Disclaimer: There are Amazon Affiliate links contained in this post.