This post may include Amazon links. As an Amazon Associate I earn from qualifying purchases.
Hosted by Kathryn at Book Date
With the three day weekend last week I've decided a couple things. First, four days is really the perfect amount to work in a week. It's enough time to dig in and really get things accomplished, but not enough time to get overly weary with the job. And, three days off every week? So nice! A day to get things done, a day for friends and family, and if you're lucky, a day for yourself. It's an ideal set up. Now if I could only get my school district on board! Okay, enough of the dreams, onto books. Thanks to a couple that were on the short side, I had my second three book week in a row. (That extra day off helped, too…yet another benefit.)
Last Week's Reads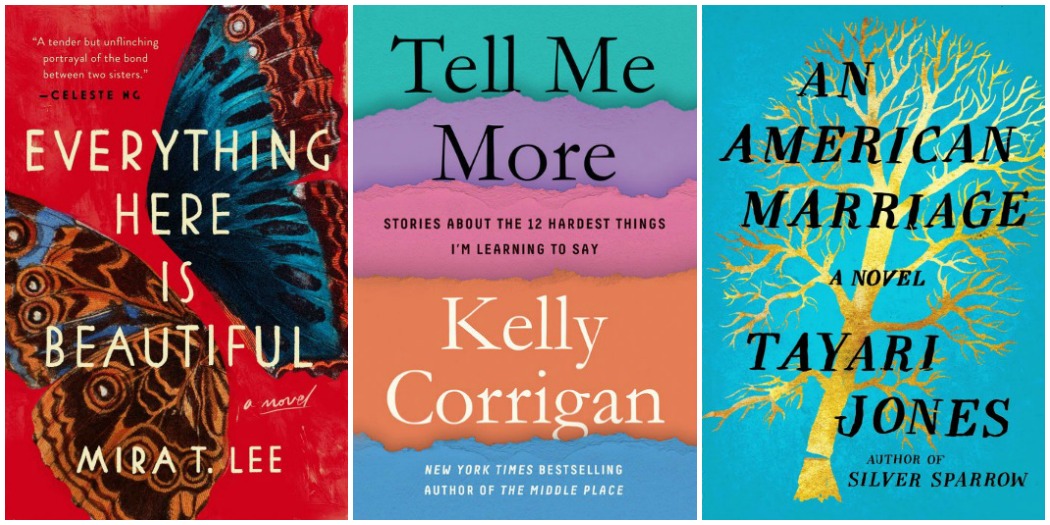 When it comes to books, January has been very good to me and last week was the best yet. I thought Mira T. Lee's debut, Everything Here is Beautiful was wonderful. I liked it so much that I got its review up almost immediately. In case you missed it, check here. Tell Me More by Kelly Corrigan is the author's take on the 12 hardest things she's learning to say. I listened to this one, and have rarely rarely been so moved by a book. Her thoughts are wise, and obvious, and hard, and emotional, all at once. I cried three out of the four days on my commute last week, but was left feeling more whole. There's a lot to ponder with this one, and I've been doing a lot of that. I plan to do a sort of discussion on Tell Me More sometime next week, so keep an eye out for that and please join in. Overall, I really enjoyed An American Marriage by Tayari Jones. It had a long section that I wish had been handled differently, but the rest of the book made up for it. I'll review An American Marriage closer to its February 6th publication date.
Currently Reading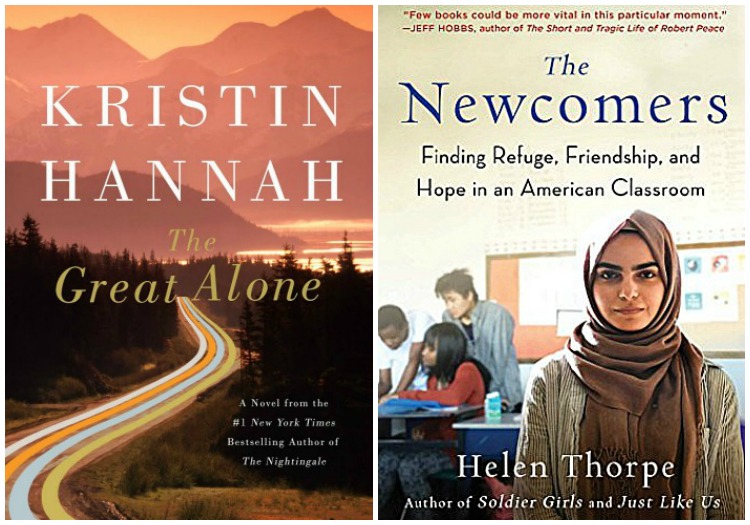 Speaking of February 6th releases, I started The Great Alone by Kristin Hannah yesterday and can hardly put it down. The fact that I have other things I need to do today is causing stress because I just want to read. Told from the perspective of 13-year old Leni and set in the 70's, this is a story of a former POW who moves his small family to Alaska in search peace and solitude. As one would expect, the demons that haunt him find their way to Alaska. It's a funny story how I came to pick The Newcomers by Helen Thorpe as my next nonfiction/audio book. Madeline, who comments regularly on the blog, told me of a few books she'd read this year on my recommendation and this was one of them. Only I hadn't read it! I had to investigate and it does sound like just the sort of nonfiction I'd like. So, I'm about to start The Newcomers. At 15 hours, it's longer than I normally like, but the story of immigrant teens in a Colorado classroom was too perfect a fit for me to pass on.
Likely to Read Next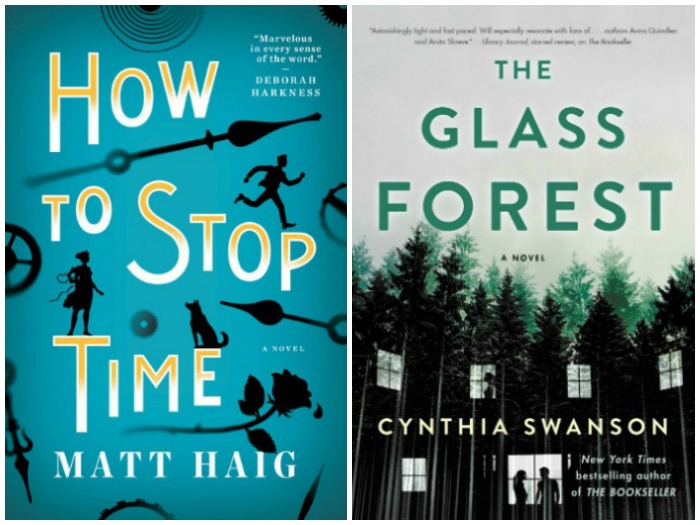 I'll most likely turn to How to Stop Time by Matt Haig next. I've been reading a lot of books about family and think it will be time for a change of pace. A story about a man who's lived for centuries with only one rule: don't fall in love, and then he does, sounds whimsical and on the light side. If instead I'm feel ing the need for a thriller, I'll pick up The Glass Forest by Cynthia Swanson. Both books are also February 6th releases. That date is HUGE. I have 5 and could easily add a few more.
I hope you have a great week in books!
Disclaimer: There are Amazon Associate links contained in this post.