This post may include Amazon links. As an Amazon Associate I earn from qualifying purchases.
Hosted by Kathryn at Book Date
I bet many of you are like me and are feeling happy to see this month wrapping up. January has never been my favorite month, but this one has been particularly hard with the government shutdown and the massive snow storms across the country. I'll be happy to welcome February on Friday. But, before we get there, on Thursday, I'll be turning my occasional "Clearing the Shelves" mini-review posts into a new monthly feature. At the end of each month, I'm going to take all the books I didn't get around to writing a full review for and cover each in one mini-review post. Some months that may only be a couple of books, but for January I'll have four, including one I'm spotlighting, another I liked, and two I didn't. Please stop by and take a look.
Last Week's Read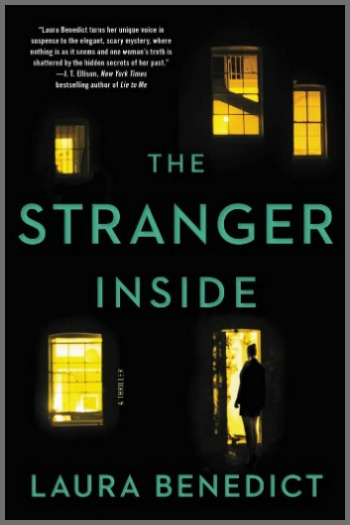 Sadly, I ended up making Sugar Run by Mesha Maren my first DNF of the year. While her writing was lovely, after about 40 pages, I just didn't care about anything in the story. Then, I turned to yet another mystery/thriller, The Stranger Inside by Laura Benedict, and I really, really liked it. This genre, one I typically don't read a whole lot of, has been just great to me in January. Benedict's layered, twisty story of a woman who comes home and finds a "renter" living in her home will be getting a full review next month.
Currently Reading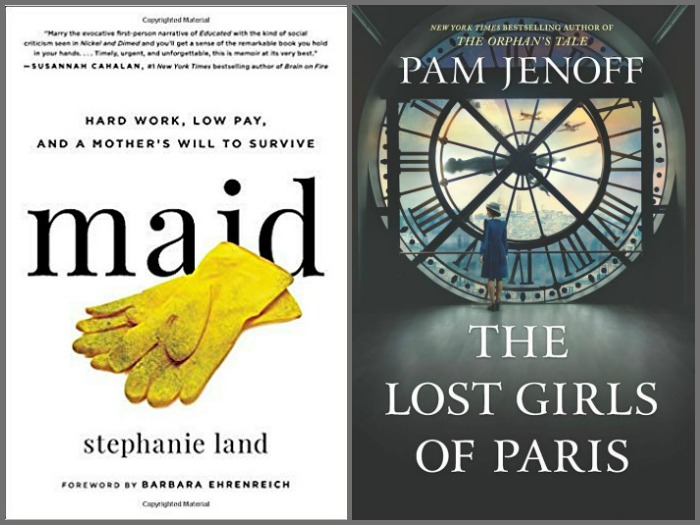 Somehow I had gotten it completely wrong with a book I mentioned last week, Learning to See by Elise Hooper. For some reason I thought it was nonfiction, but after listening to only a few minutes, I realized I was wrong. I was in the mood to listen to nonfiction, plus had just finished one historical fiction and was about to start another, so put Learning to See aside. I didn't listen to enough to even call it a DNF. It was simply bad timing.
Instead, I downloaded Maid by Stephanie Land and at about the half way point, I'm really enjoying this audiobook. Land does a great job in narrating her own story of a single-mother trying to pick herself up out of poverty. Plus, she's from Western Washington, so it's easy for me to visualize all the places she's talking about.
On the reading side, I'm in the midst of The Lost Girls of Paris by Pam Jenoff. (This is another mix up for me! I had the book marked as being released in early February, but then noticed somewhere else that it's actually released tomorrow.) At first I wasn't sure about the story, but the further in I get, the more I'm enjoying Jenoff's latest. I like that it features three different women during, and after WWII.
Likely to Read Next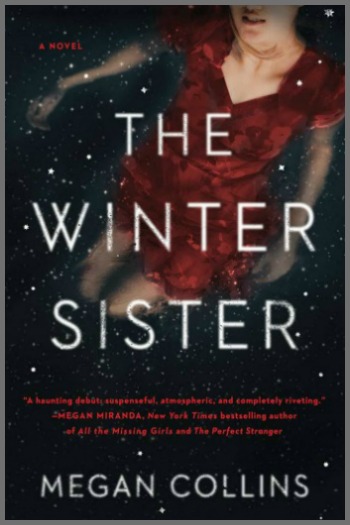 My February ARC list is slim, though there are many books I want to read. I'll be relying on the library and/or my own wallet for more books than usual next month. One ARC that I do have is The Winter Sister by Megan Collins. Another thriller, The Winter Sister features a woman whose sister was murdered as a child. She's returning home to care for the mother she'd been estranged from and (of course) stumbles upon new information. Normally, I might not go for this sort of book, but I've read good things about it and thrillers have been great for me so far this year.
I hope you have a great week in books!
Disclaimer: There are Amazon Associate links contained in this post.