This post may include Amazon links. As an Amazon Associate I earn from qualifying purchases.
Hosted by Kathryn at Book Date
This fall just isn't my season. Friday, while stopped at a red light on my way to work, I was rear-ended. The guy wasn't paying attention, his tires were bald, and the streets were wet – a winning combination! I'm fine (not even sore), my car is banged up, but still drivable, and he was insured. So, I get the repair estimate today and all will be well eventually, but it's just one more thing in a fall of things! Luckily, books (especially nonfiction books) have really been working for me this last week. Yay for Nonfiction November! And finally, I'll be sharing some of the results from my Readers' Preferences Survey on Thursday. A HUGE thanks to the many readers who took part.
Last Week's Reads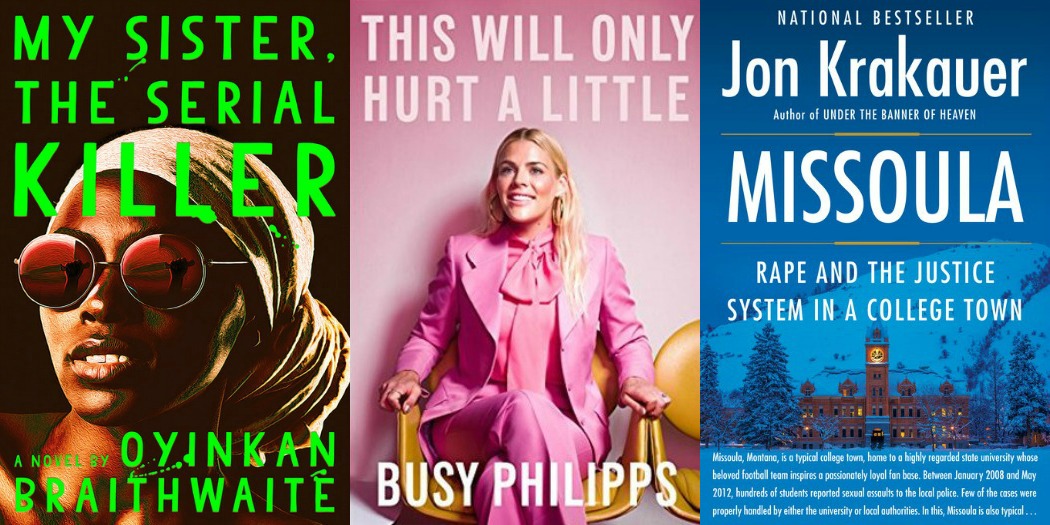 My Sister, the Serial Killer by Oyinkan Braithwaite turned out to be a really fun, fast-paced book. About exactly what the title says, Braithwaite's book tells the story of two sisters from Lagos with a complicated past and a crumbling present. I'll have a full review later this month. I'm now a Busy Philipps fan, something I'd not have said a couple weeks ago. This Will Only Hurt a Little is her Hollywood memoir, but it's so much more and I found her extremely relatable. I'd go audio on this one; she was excellent. (Mini-review next week.) I next turned to a book that has been on my Kindle so long I'd forgotten about it. I saw someone (forgot to write down who) mention Missoula last week on their Nonfiction November post and I knew I needed to finally get to it. It was one of those books where you like the writing, but dislike the need for it. I found Jon Krakauer's investigation of the rape crisis in Missoula fascinating, especially knowing that it could have been written about many (most) cities. I'd be curious to read a follow up article talking about lasting changes over the past 4 or 5 years. (Mini-review next week.)
Currently Reading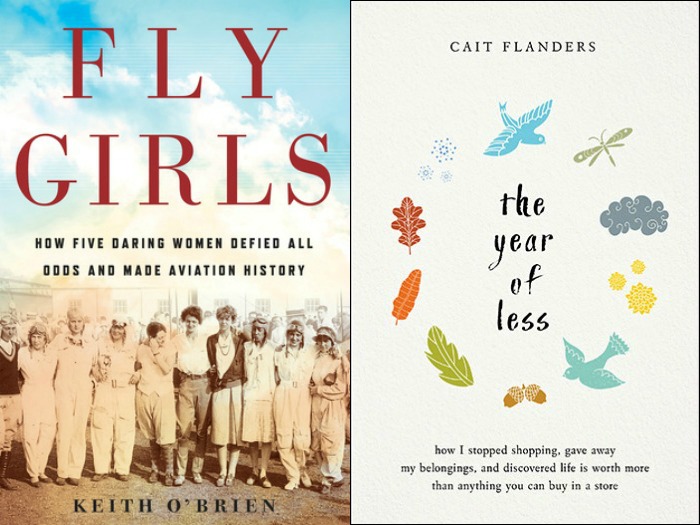 Kicking off Nonfiction November I really craved a book that had to do with women's roles in a typically male occupation, such as Code Girls by Liza Mundy (my review). That's exactly what I got with Fly Girls by Keith O'Brien. I'm listening to this one and find the entire early flying industry crazy! Aviators took so many chances in the 1920's, and pilots were the rock stars of the day, but so many died. Most of us would like to less clutter, less stuff in our lives, but Cait Flanders actually did it. The Year of Less chronicles the year she decided to dramatically pare down her life and to stop shopping for anything nonessential. At about 25%, I'm fairly certain there will be more to Flanders' memoir than just that. Either way, I'm enjoying her writing and find her journey hopeful.
DNF – Unsheltered by Barbara Kingsolver – Sorry, Barbara, but this one was just too slow for me and the timeline from the past had me closing my Kindle far too easily. I gave up at 18%.
Likely to Read Next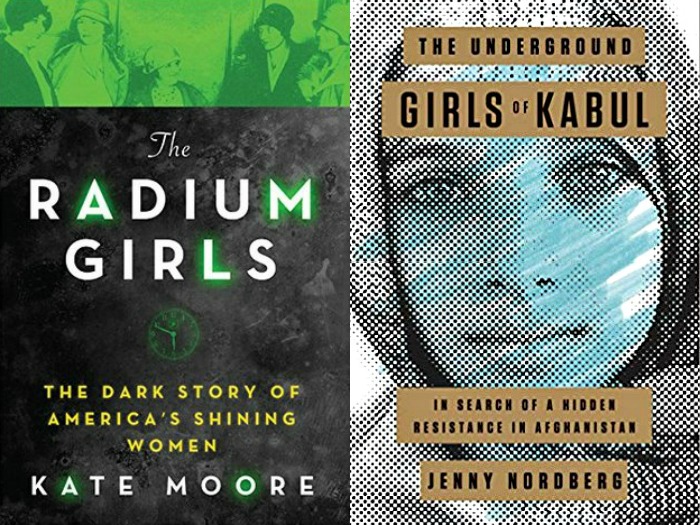 I've already added a lot of books to my nonfiction reading list, and these are two I may read next. I almost started The Radium Girls by Kate Moore a couple days ago, but realized having two historical books about women going at the same time might get confusing. After finishing Fly Girls, it will likely be next. I went through a phase about eight years ago where I read book after book about women in the Middle East, both fiction and nonfiction. Eventually, I burned out on them, so when The Underground Girls of Kabul by Jenny Nordberg came out, I wasn't interested. It's finally been long enough, and I'm eager to finally give this one a shot.
I hope you have a great week in books!
Disclaimer: There are Amazon Associate links contained in this post.