This post may include Amazon links. As an Amazon Associate I earn from qualifying purchases.
Hosted by Kathryn at Book Date
Ready or not, it's here! I went to my first holiday party of the season on Saturday night and had a fun time with neighbors and friends. Love those parties where the journey is only one house away. What a welcome respite from the mind numbingly boring way I spent Friday night and ALL day Saturday: at a retirement seminar that I've successfully avoided going to for years. I'm still a few years out, and did takeaway a couple things I was unaware of, but mostly learned that I've done a good job getting all my ducks in a row. It was a lot of time to give up for reassurance! Because the end of the week was so busy, I've read about 12 pages in the last three days. Hopefully, this week will be a little quieter.
Last Week's Reads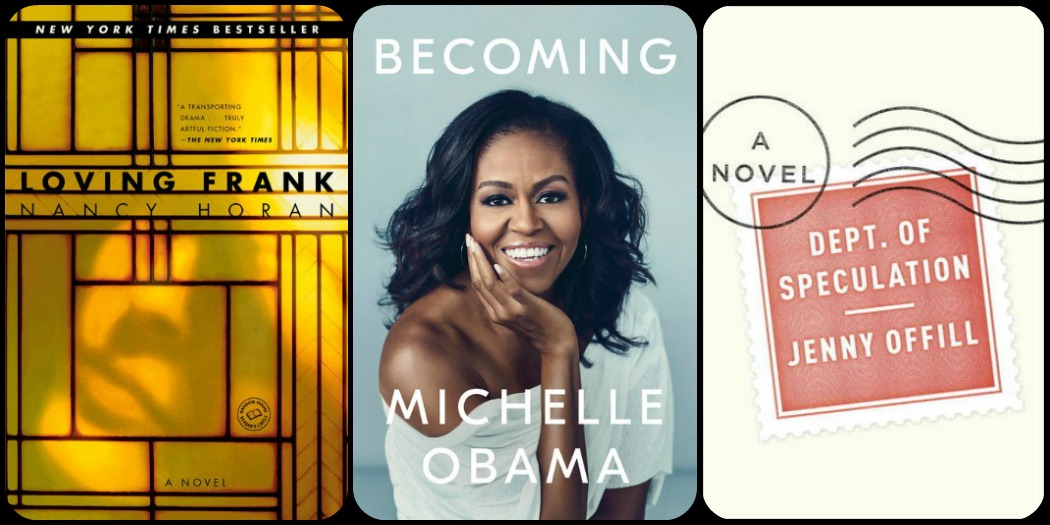 This isn't quite the accomplishment it looks like. The first two books I was almost finished with when the week began and the third was very short. I enjoyed Loving Frank by Nancy Horan quite a lot. Horan's story of the love affair between Frank Lloyd Wright and Mamah Borthwick really highlighted the social norms of the time and how hard it was to fight against them. (Mini-review at the end of the month.) I loved everything about the audiobook of Michelle Obama's memoir, Becoming. Stop by on Friday for my full review. I had lunch with Catherine from The Gilmore Guide to Books last weekend and she generously gave me a copy of Dept. of Speculation by Jenny Offill. Catherine and I often share the same taste in books, but this wasn't one of them. For me, this book about a marriage was one of those "stream of consciousness" tellings that I get tired of very quickly. Still, being so short (160 pages), it was easy to finish.
Currently Reading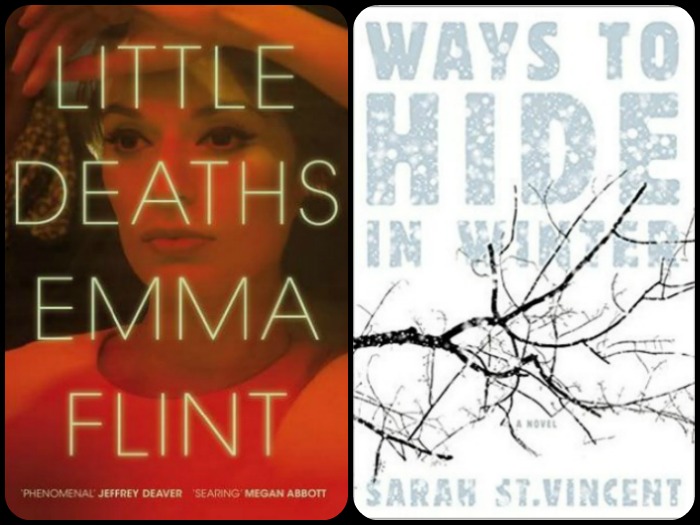 I've listened to the first couple hours of Little Deaths by Emma Flint and still am just not sure about it. At times I think it's picking up, but then it slows down again. I'll probably give it another hour and if the story still hasn't grabbed me, call it quits. I somehow forgot that I'd asked for an ARC of Ways to Hide in Winter, a debut by Sarah St. Vincent, but it showed up on my Kindle. I've barely started and can't really even speak to what it's about, so I'll let the publisher, "Steeped in the rugged beauty of the Blue Ridge Mountains, with America's war on terror raging in the background, Sarah St.Vincent's Ways to Hide in Winter is a powerful story about violence and redemption, betrayal and empathy . . . and how we reconcile the unforgivable in those we love."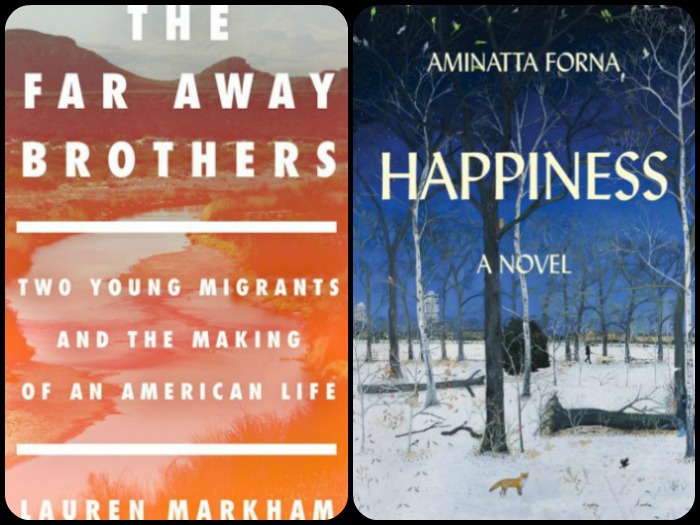 I'm playing the Libby/library game right now. The problem with having gone on a requesting binge is that now they've all come in at once. I got The Far Away Brothers by Lauren Markham and Little Deaths on the same day. Sadly, it's just not possible for me to listen to all of both before they're due, which is why I'll move on soon if Little Deaths doesn't pick up. I also have Happiness by Aminatta Forna sitting on my shelf, and will likely give that a try next.
I hope you have a great week in books!
Disclaimer: There are Amazon Associate links contained in this post.