This post may include Amazon links. As an Amazon Associate I earn from qualifying purchases.
Phew! It's been a busy week, as usual. My son and youngest grandson both had birthdays this weekend, and Saturday evening my daughter-in-law threw them a really fun party at a local brewery. (It really was more for the grown ups.) The rest of my life finally seems to be getting mildly in control again. I'm lucky enough to have really great classes this year and that's not always the case. After three weeks, routines are more or less established both for them and for me. I managed to stay awake past 9:00 PM every night last week…quite the accomplishment! I also managed to get in quite a bit of time for books, compelled by a couple that really drew me in. I hope you've had a great week and that this first day of fall marks the start of a wonderful season for you.
Hosted by Kathryn at Book Date
Last Week's Reads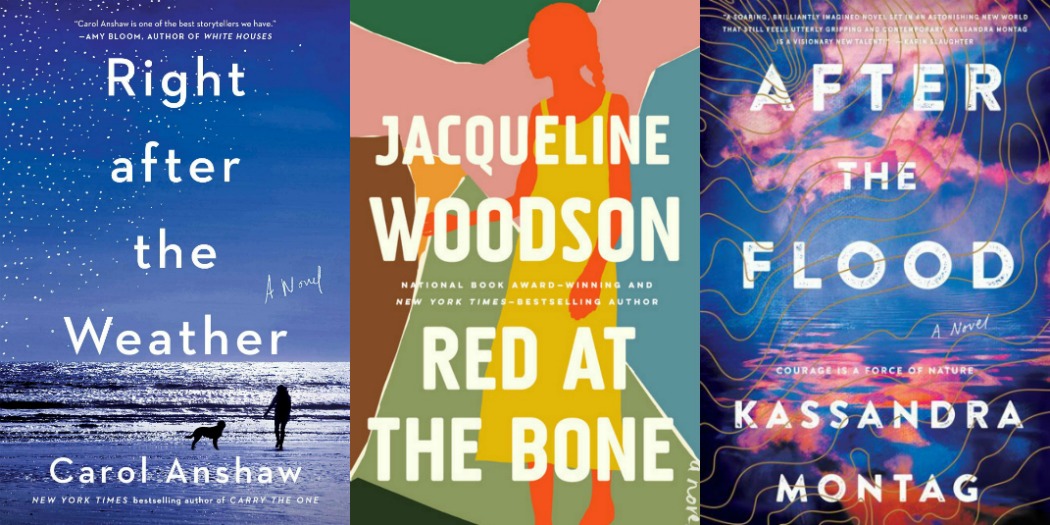 I think my previous descriptions of Right After the Weather by Carol Anshaw have not been very accurate. It's the story of a fortyish woman, a set designer, struggling to figure out what to really do with her life, and an act of violence that shakes the foundation of her world. I really liked it and will most likely have its review up next week.
I'd never read anything by Jacqueline Woodson before and really looked forward to the highly anticipated Red at the Bone. I found the writing wonderful, the characters enjoyable, but the plot weak. To me it felt almost like connected short stories, though to be fair, a strong thread wove through them all. I need to think about this one more. Mini-review next week.
I love it when a book that hadn't even been on my radar suddenly pops up and blows me away. That's exactly what After the Flood by Kassandra Montag did for me. I spent every spare minute I had listening to this book. I'll have a full audiobook review of Montag's wonderful post-apocalyptic adventure story on Thursday.
Currently Reading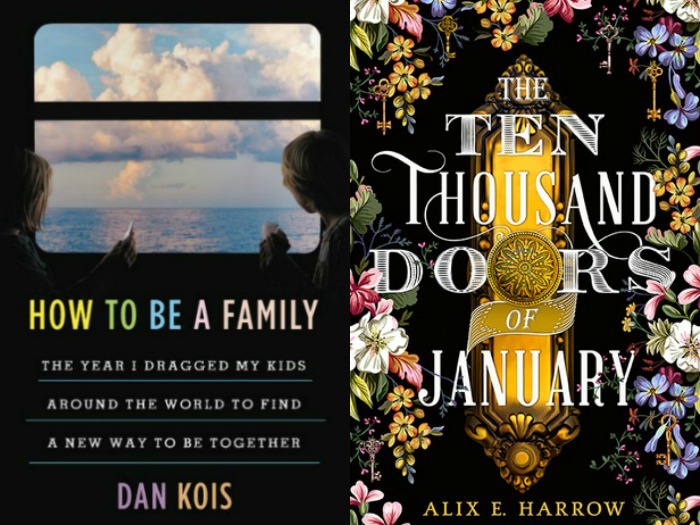 Dan Kois and his wife decided that the pace of life for themselves and their two daughters in Arlington, VA was simply out of control. They wanted to really know what family looked like in other places, so took a full year and lived in four different places, experiencing life differently in each. How to be a Family is his account of that year. I'm mostly enjoying it and many times laughing out loud.
I hesitate to even include The Ten Thousand Doors of January by Alix E. Harrow here because I haven't actually started listening to it, but will today. Fantasy is definitely not my thing, but I've seen so many good reviews of this one and specifically the audio version, that I thought I needed to at least give it a try. For me audio is usually safer for books I'm unsure of. Have any of you read it?
Likely to Read Next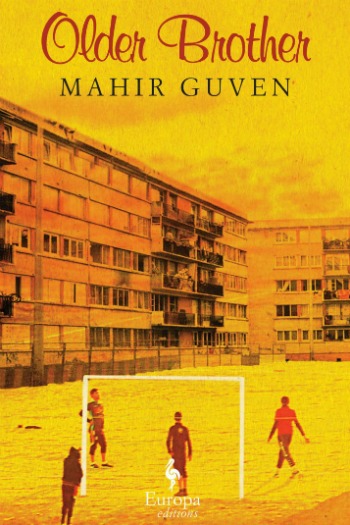 Older Brother by Mahir Guven is another risky book for me. Translated from French, Older Brother is the story of a Franco-Syrian family struggling with fully integrating themselves into French society despite the two sons having been born there. When the younger son goes to Syria with a humanitarian organization, concerns about terrorist influences arise.
I hope you have a great week in books!
Disclaimer: There are Amazon Associate links contained in this post.