This post may include Amazon links. As an Amazon Associate I earn from qualifying purchases.
Can you believe it's already the last Monday in April AND that we've made it this long under quarantine conditions? The governor here in Washington is being very cautious. So far, only certain construction projects have been given the green light to restart, but I expect we'll hear about more changes this week. How are things where you live?
No matter the changes, my work life will stay the same, as schools are definitely closed for the remainder of the year. Eight. Long. Weeks. Still, last week was the first where it finally felt like we had everything more of less under control. I video-recorded a couple lessons and it wasn't nearly as hard as I'd expected. It was also the week I finally set boundaries on my time and let some things go. I can't tell you how great that felt. NOW, on to books!
Hosted by Kathryn at Book Date
Last Week's Reads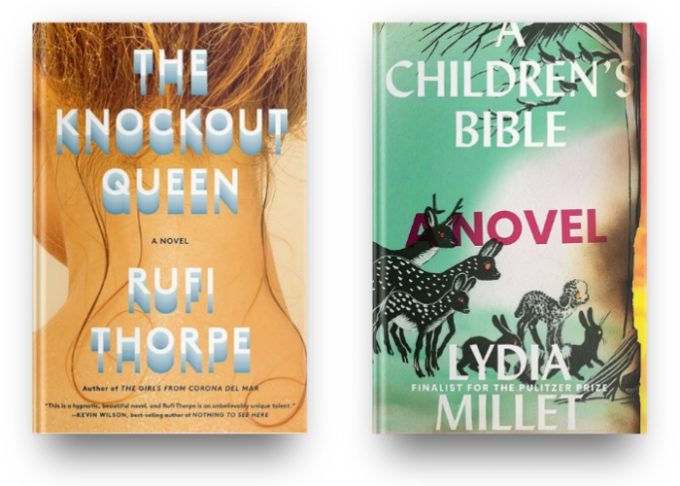 I had a pretty surprising reading week, starting with The Knockout Queen by Rufi Thorpe. I'd expected to love Thorpe's third book because I loved her first two books and because so many others have raved about it. I did enjoy it, but in the end, the story just didn't wow me. I could never truly connect with the characters in this book the way I had expected to. Mini-review coming on Wednesday. (Plus five other books!)
I then turned to a little book I'd heard very little about, A Children's Bible by Lydia Millet. With this book I was wowed! It's a truly unusual story of a group of kids on a summer-long vacation where disaster hits and they find themselves needing to survive on their own. Millet cleverly used events from the Bible throughout their journey, minus any religion. For me it was a perfect little gem of a book. Full review in early to mid-May.
Currently Reading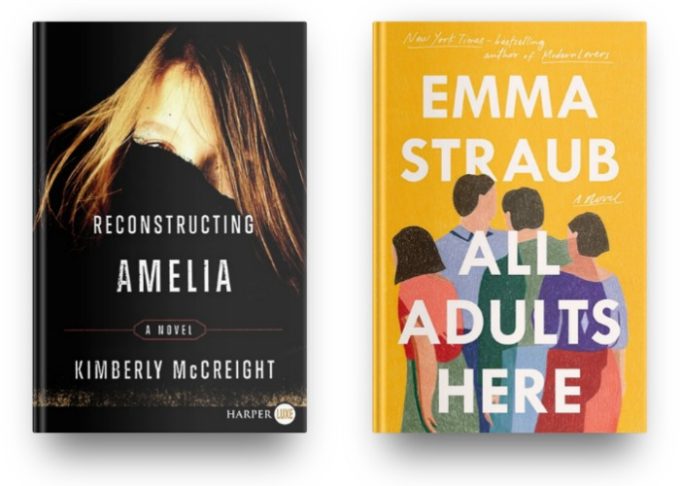 It rained several days here last week, so I didn't get as much walking in as I usually do and so still have a few hours left in Reconstruction Amelia by Kimberly McCreight. I thought I knew where it was going, and I was right, but that wasn't the end, so now I'm stumped!
I really liked Emma Straub's last book, Modern Lovers (my review), and I'm getting the same sort of vibes from All Adults Here. The story revolves around a 68-year old widow, her three adult children, and their families. The chapters alternate from the perspectives of one character to another, with themes of both regret and hope.
Likely to Read Next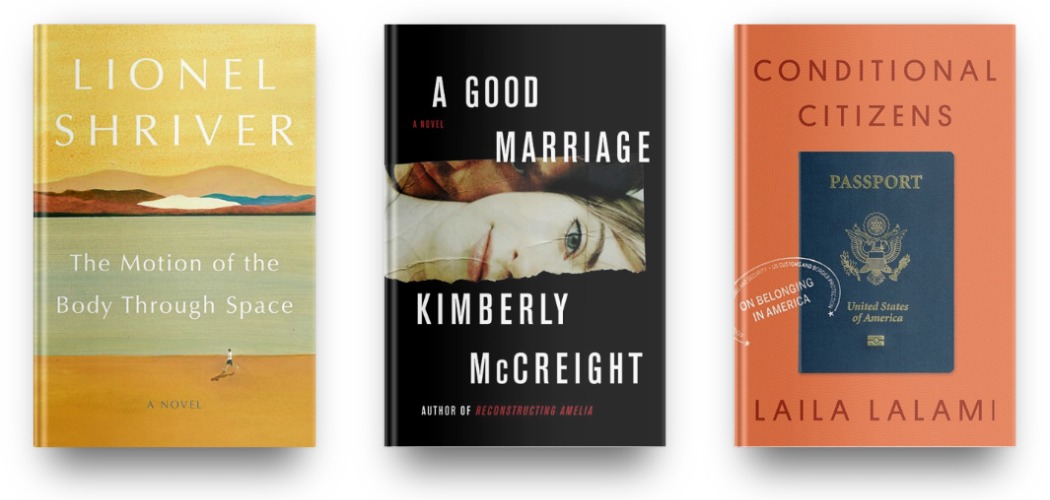 Who knows what I'll read next. It's definitely an in the moment decision, but these are all possibilities. The Motion of the Body Through Space is Lionel Shriver's newest book and focuses on a retired couple, the wife facing knee surgery after a life long commitment to exercise, and her husband, a couch potato, deciding he's going to run a marathon. Clearly, tensions abound!
Kimberly McCreight's new thriller, A Good Marriage, is at the top of my TBR pile, but I may need to take a little break after finishing Reconstruction Amelia. However, I will get to it soon!
I'm thinking I may make Laila Lalami's book Conditional Citizens my next audiobook. I think I'd enjoy hearing her take on what it means to be both an immigrant and an American citizen in her own voice.
I hope you have a great week in books and stay safe!