This post may include Amazon links. As an Amazon Associate I earn from qualifying purchases.
Happy New Year! Another one is over and in the books, and we're all moving on to a fresh new year. For me, 2018 seemed longer than usual, while it already feels like 2019 is starting to fly by. With a tough work year, books truly have been a balm for my soul as have all the bookish conversations I've enjoyed through this blog and so many others. Book lovers are the best and I continue to be grateful to be a part of this community every single day. Thanks to all of you!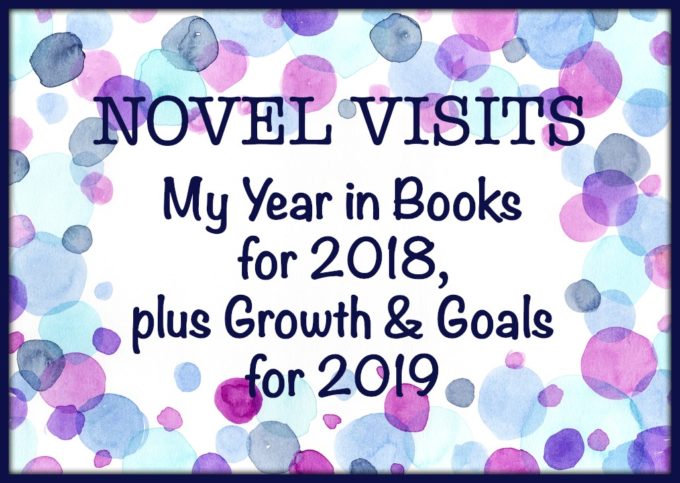 Looking Back at 2018 Goals
Goodreads – My goal for 2018 was 100 books and I completed the year at 110. I am absolutely amazed that I got in that many, especially since my fall was so light on books. Having summer off really helps!
Nonfiction – My goal for nonfiction books was to read 18. I fell one short of that at 17, and to be honest completely forgot about this goal. Still, I'm satisfied and have truly learned to enjoy nonfiction, especially memoirs.
The Library – I've gone from not using the library at all to a sort of minimal use of the library. The Libby app has helped, but I still have a long way to go here.
Did Not Finish – I wanted to learn to quit on books that I wasn't enjoying more easily, with less angst. I think I succeeded because I went from not finishing 12% of my books in 2017 to 20% in 2018. I see that higher rate of DNF's as a good sign. I'm learning to say NO!
Pinterest – I wanted to get better at using Pinterest and if anything I got worse. I just can't get into the whole Pinterest community even though I know doing so would do a lot for Novel Visits.
Organization – Did I get more organized? Truly, no. I do use Sarah's Rock Your Reading Tracker and that made doing this post SO much simpler, but I have a long way to go with overall organization. I've become very good at procrastination!
Wrapping it Up! – I wanted to change the format of my monthly wrap ups and I did. I really like what I've done with them, but they are A LOT of work. I'm not sure I'll be continuing with them for 2019. (Feedback on this would be appreciated.)
2018 Reading Statistics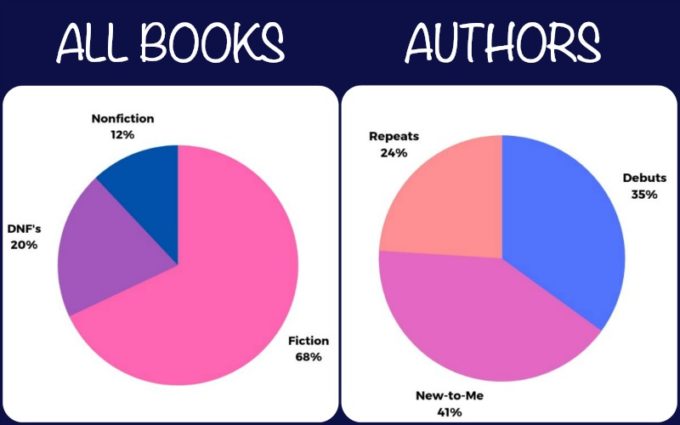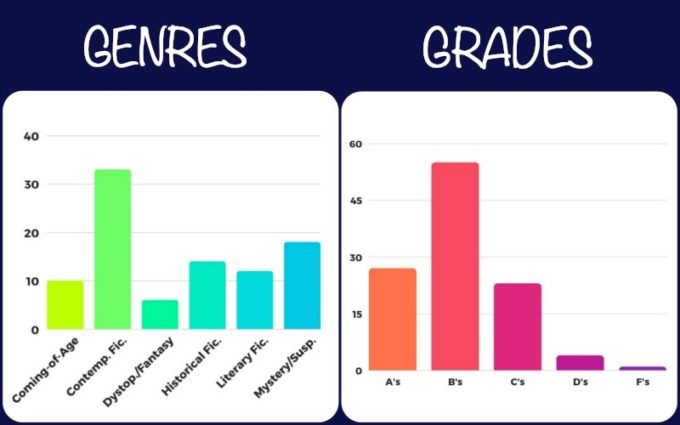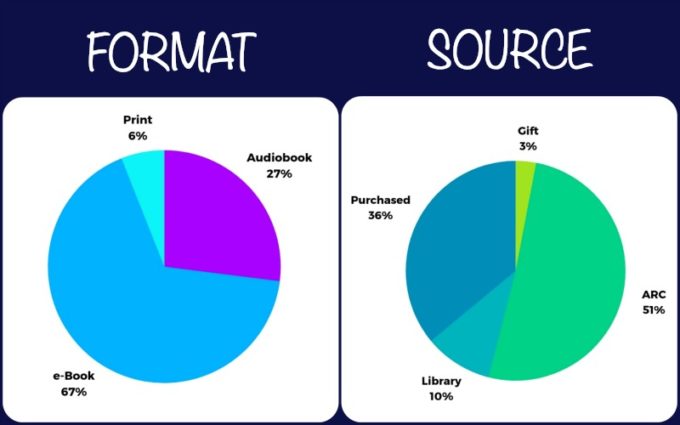 Goals for 2019
Goodreads Goal – I know not everyone loves setting a Goodreads goal, but I really do. If I don't make it, I never beat myself up over it, and I like having something to strive for. That being said, I'm setting my goal for 100 book in 2019 (same as 2018). I don't anticipate getting quite as much reading done in the next year, so want to keep it real.
 Take a Blog Vacation (without stressing) – I have a really fun trip to Portugal coming up in early spring. My sister, two of my cousins, and I are headed over for a girl's trip exploring the country our grandfather came from. Working right up to the day before we leave, I'll have no time to get ahead on posts, so for that two week trip, I'm just going to have to let it go.
Library – I had some success with using the library and want to be even more proactive with that his year.
Audiobooks – I listen to a fair amount of audiobooks and review many of those. As such, I'd love to figure out a way to get my hands on some audiobook ARC's. As of now, I'm paying for almost all the new releases I listen to.
Pinterest – Yes, again. Maybe this year I'll actually get better at it!
Social Media Scheduling – In the summer, I hope to finally start learning/using one of the many social media scheduling programs out there.
Less Procrastination – Between teaching and book blogging, I have become great at procrastination. My norm has become to always be running at the last minute and four or five years ago this was NOT me. This year I'd like to find a way to strike more of a balance.
Wrapping It Up! – I feel like something about my end of month posts need to change because honestly, I don't like writing them and don't think people care all that much. Again, any ideas and or suggestions here would be appreciated.
Continue to LOVE Books – I had to give myself a really easy one!
Thanks for supporting Novel Visits and joining me in the wonderful world of books!