This post may include Amazon links. As an Amazon Associate I earn from qualifying purchases.
,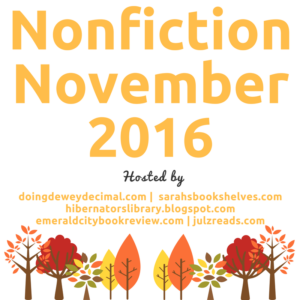 As the end of the month approaches, I thought it was time I take a stab at Nonfiction November. This is week 4, Be the Expert/Ask the Expert/Become the Expert, hosted by Julz Reads. The expert theme asks that you share 3 or more books on a single topic that you have read and can recommend (be the expert). Or that you put the call out for good nonfiction on a specific topic that you have been dying to read (ask the expert). Or, finally, that you create your own list of books on a topic that you'd like to read (become the expert).
I chose to be the "expert." (I say this hysterically laughing at myself.) I like to think of this little foray into nonfiction expertise as "Nonfiction Lite!"

Something people close to me know is that I have a small love affair going with Paris. I've been lucky enough to travel there several times and never tire of the beautiful city. I truly love everything about it: the food, the wine, the cheeses, the cafes, the museums, the gardens, the Metro, the arrondissements, the walkability, the churches, the markets, and the French people, whom I have always found to be lovely.
It's been a few years since I was last in Paris, so when Everyone Loves Paris by Leslie Jordan recently popped up on my Amazon feed, I immediately ordered it. This is a beautiful little book of artwork depicting all things Paris. More than 50 illustrators contributed to the book edited by Jordan. Most are contemporary artists using bright vibrant colors in their scenes of The City of Lights. Containing over 100 illustrations, this would be a perfect gift for everyone who loves Paris!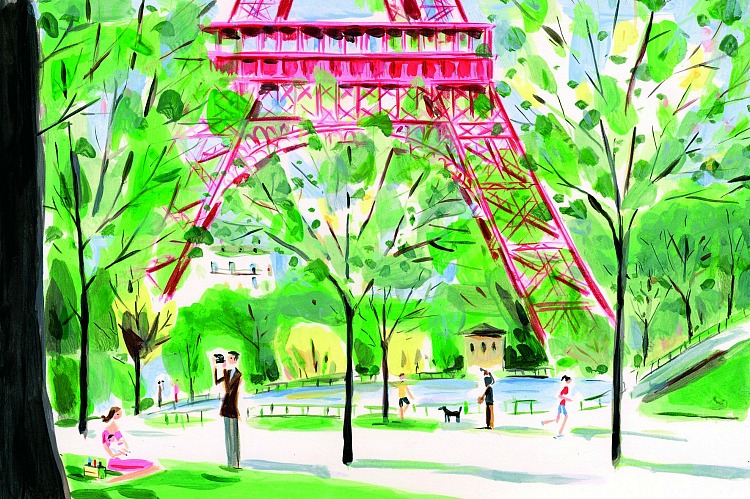 Everyone Loves Paris brought back so many fond memories of my last trip to Paris. It was a wonderful 10 day vacation that I took with my sister, Lori, and two friends, Allison and Laura. We rented a charming flat in The Marais and each day set out on a new adventure in Paris. We also laughed constantly, ate fabulous food, and drank A LOT of wine. Honestly, A LOT!
One of the first nights there we met up for a drink with David Lebovitz, former pastry chef, author of My Paris Kitchen, and an acquaintance of my sister through their food blogs. This American transplant to Paris couldn't have been nicer to us. He shared some of his favorite things about living in Paris and gave us excellent restaurant recommendations. Before leaving, he walked us to an amazing neighborhood creperie that we'd never have found on our own. My Paris Kitchen and David's earlier book, The Sweet Life in Paris, are both wonderful books that blend stories of life in Paris with David's versions of traditional French recipes. If you're a fan of cookbooks that are more than just recipes and have a "thing" for Paris like I do, then you'll definitely enjoy David's books.
On one of our last days in Paris, we decided that it would be a good idea to learn a little something about all the wine we'd been drinking. We signed up to take a "Tour de France" wine tasting class at Ô Chateau. It just so happened that the founder of Ô Chateau, Olivier Magny, was the guide for this two hour evening class. He was a delightful teacher, full of funny stories, and a wealth of knowledge about all things French. Magny had turned his dry sense of humor about the people of Paris into a very smart little book, Stuff Parisians Like. It's divided into many tongue-in-check topics, such as Le Cafe Gourmand, Cherry Tomatoes, and Wearing Black. All things from a Parisians perspective. It's a very fun read if you've spent any time in Paris.
Since Magny's pours were extremely generous we all bought copies of his book that night, continued on to a cafe he'd recommended, and drank more wine. A LOT of wine!
Disclosure: There are Amazon Affiliate links included within this post.