This post may include Amazon links. As an Amazon Associate I earn from qualifying purchases.
Happy New Year! The older I get, the faster time flies, and I suspect it's the same for most everyone else. I can't say 2017 was my favorite year ever, but it was the first full year for Novel Visits and in that way filled with wonder and new experiences. In the new year, I'll continue my blogging journey making tweaks and improvements along the way, and best of all connecting with so many other book lovers!.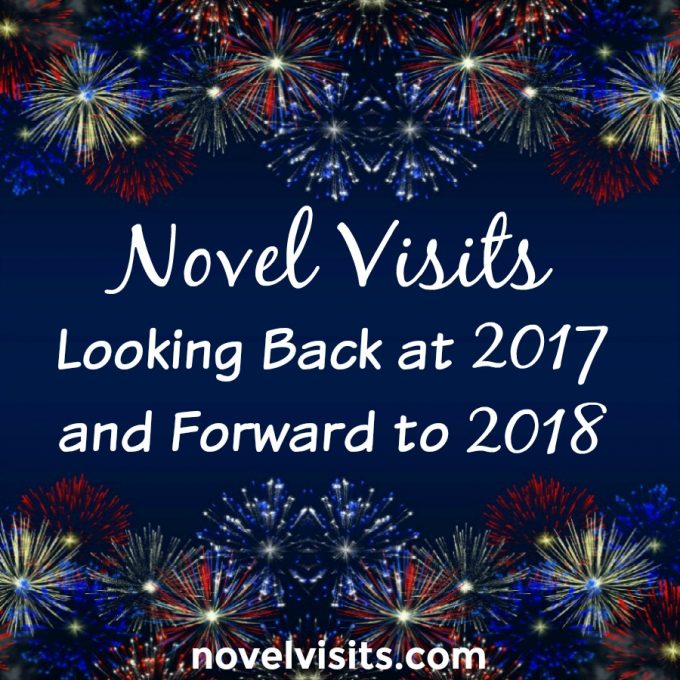 Looking Back at 2017 Goals
Improving Book Selection – I did great on the part of this goal that included listening to readers I trust, but not so well with some of the books I selected myself. This is an ongoing process for sure!
Goodreads Goal of 75 Books – I crushed this with my personal best of 99 books. I could easily have squeezed in one more, but decided to save that magical 100 mark for 2018.
Read More Nonfiction – Considering I only read 1 in 2016, this wasn't a hard goal to achieve. I read an even dozen nonfiction books this year, but more importantly, I came to love the genre.
Listen to More Audiobooks – In 2016 I listened to only two audiobooks, but in 2017 I listened to 23! Those books almost exclusively accounted for the 24 books I went over on my Goodreads goal. I had never realized how much pleasure could be derived from listening to a story or having someone tell you about their life. I'm totally hooked!
Blogging Goals – I had an array of goals associated with blogging: be more organized, plan further in advance, don't get hung up on the numbers, avoid over-committing, connect more with other bloggers. My success in these areas has ebbed and flowed. I've found that as I reach one blogging goal, another is waiting to take its place. What I've most learned over this year is that Novel Visits will always be a work in progress!
2017 Reading Statistics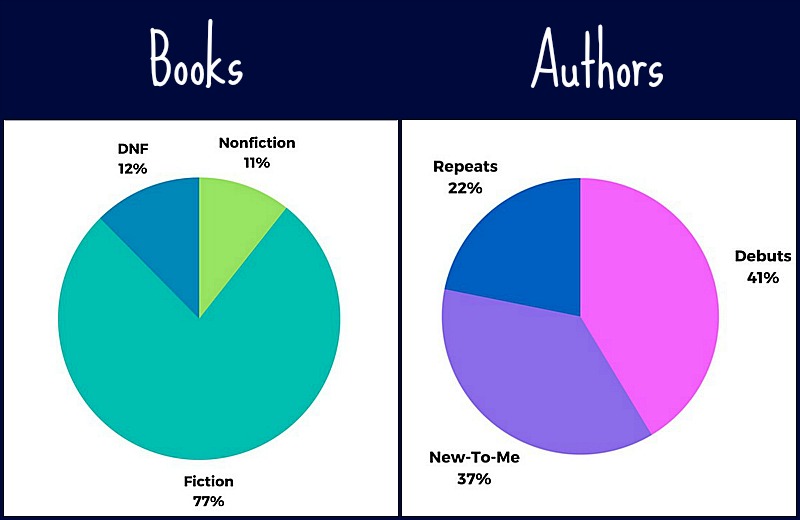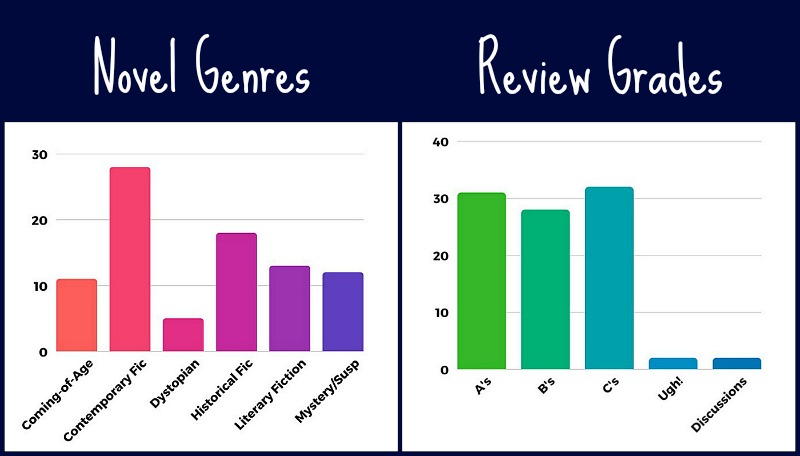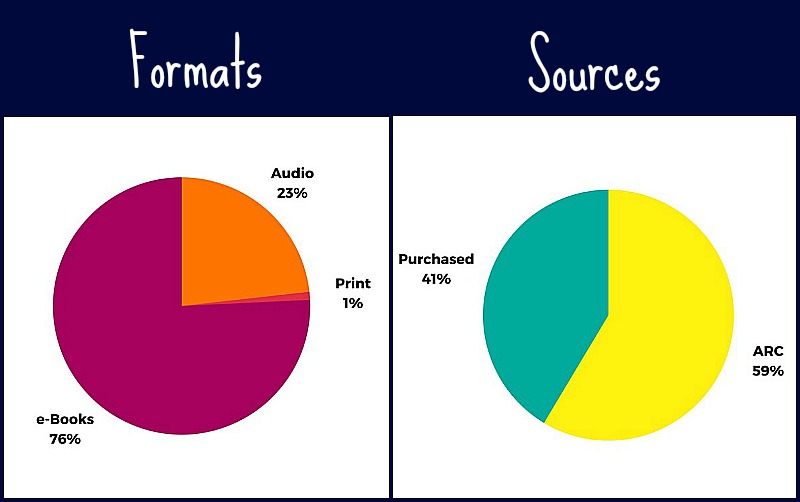 Goals for 2018
Goodreads – My goal for 2018 is 100 books. Considering I read 99 in 2017, that doesn't sound like much of a stretch, but I don't know how I read so many last year! I work full time and don't see myself as a fast reader. 100 feels right.
Nonfiction – I really want to continue my exploration of nonfiction, though novels will always be my first love. This year I'm going to be participating in Doing Dewey's Nonfiction Reading Challenge 2018. This is a fun, relaxed challenge, that lets you set your own goals and join up when it feels right. My nonfiction goal for 2018 is 18 books.
The Library – As you may have noticed on my sources slide, I'm not a library user. For many years I was, but when I got my first Kindle I got out of the habit. I'd like to change that this year.
Did Not Finish – I feel like I'm pretty good about quitting on books that I'm not enjoying, and yet, I read several this last year that just didn't work for me. ARC or not, I plan to stop reading books that I'm not getting pleasure from.
Pinterest – I need to really, truly figure Pinterest out and use it more efficiently. This goal has loomed in the back of my mind for the last year and hopefully I'll actually make progress in 2018, though probably not before summer.
Organization – I always want to be more organized and this year that mainly means tracking books more efficiently. I have a great new tool to help in this endeavor: 

The Rock Your Reading Tracker

developed by Sarah @sarahsbookshelves. All those pretty statistics above I had to calculate by hand, but in 2018 her tracker is going to do it for me! Check out Sarah's blog on January 11th for more details. Streamlining reviews and grouping more into mini-reviews round out my organization goals for this year.
Wrapping It Up! – I want to change the format of my Novel Visits month-end recaps to include less about my blog and more about others. I'm still toying with ideas, but definitely need to get on it as the end of January is just around the corner!
Thanks for joining me on this lovely journey with books.