This post may include Amazon links. As an Amazon Associate I earn from qualifying purchases.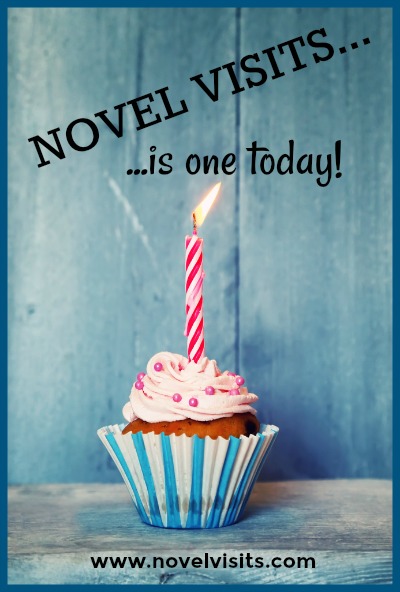 I'm going to toot my own horn and wish Novel Visits a Happy Birthday! (Or, is it Happy Anniversary?) In either case, it was one year ago today that Novel Visits was launched with a review of Laura Barnett's The Versions of Us.
I'd privately toyed with the idea of turning my love of books into a blog for nearly a year. I'd done a little guest reviewing and I liked it. In the winter of 2016 I finally shared this dream with my sister and a few friends. Once the idea was out in the open, it became real to me, and in the spring, I began to prepare for a summer start date.
I started by secureing the Novel Visits name and got Twitter, Instagram, Pinterest, and Facebook accounts for it. Next, I found help with designing the blog (thank you Robin Bennett @gritsdesigns) and with using WordPress (thank you Lori Lange @recipegirl). Then, I wrote a backlog of reviews to get me started until I got into the swing of things. So, it seemed like I was all set. I was so naïve! When the blog started, I thought I knew THIS much. I actually knew THIS much. Really I needed to know THIS much. It's a process! I've learned a lot in the last year, but still have a long way to go.
Aside from all the "technical stuff." Having a blog has taught me a few lessons, some wonderful, others tough.
I hadn't realized just how much I longed to connect with other readers. Blogging about books opened that door and I love it! Talking with other book lovers makes me happy.
The book blogging community is much, much larger than I'd realized, but also so much more welcoming and encouraging than I ever could have imagined.
Comments can feel really good. When someone leaves feedback that they read a book because of my review, it's awesome!
Having a social media presence is a lot of work and I'm lousy at it. At this point, I'm not sure I'm willing to dedicate the time to getting good at it. It stuns me when I see a new blog that has thousands of followers after only a couple of months. How does that happen?
Writing reviews is at the core of what I do here and the part I enjoy the least. To that end, I'm going to be playing with reviews. I've been working on a way to (at least partially) write reviews as I read. I'm just starting to test that out. I'll also be tweaking my reviews over the next few weeks, trying out a potential new format. My goal is to make the reviewing a little simpler for me AND more user friendly for you. So, please let me know what you think.
Most importantly, I've learned that my capacity to

love books

just keeps growing!
A huge thank you to everyone who has, in ways big and small, supported Novel Visits and me over the last year. I couldn't do it without all of you.