This post may include Amazon links. As an Amazon Associate I earn from qualifying purchases.
Beyond the Point by Claire Gibson
If Only I Could Tell You by Hannah Beckerman
The Girl He Used to Know by Tracey Garvis Graves
The Wife Between Us by Greer Hendricks & Sarah Pekkanen
My last set of mini-reviews was less than a month ago, but somehow I've managed to acquire a stack of four novels in need of reviews. With so much focus on nonfiction this month, I didn't want to let any of these books fall through the cracks. More than one gave me just the sort of reading respite I need in this crazy, busy fall season. I hope they might do the same for you.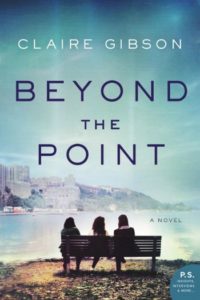 Beyond the Point by Claire Gibson (debut)
Publisher: William Morrow
Release Date: April 2, 2019
Length: 528 pages
Amazon
From the Publisher: "Three women are brought together in an enthralling story of friendship, heartbreak, and resilience. Set at the U.S. Military Academy at West Point, this is an amazing debut novel.
Duty. Honor. Country. That's West Point's motto, and every cadet who passes through its stone gates vows to live it. But on the eve of 9/11, as Dani, Hannah and Avery face four grueling years ahead, they realize they'll only survive if they do it together."
My Thoughts: I'm going to start by addressing the length as I know that might throw some readers off. I had not even looked at the length until after my library hold came in, but was told by a reader I trust that it didn't feel long. She was completely correct. I flew through Beyond the Point even in a busy week when I had a lot going on.
Stories of lasting female friendship always appeal to me and Beyond the Point did not disappoint. Even better, I loved the added bonus of its unusual settings. Let's face it, I've read very few books having to do with West Point or the military and certainly not women in the military. That alone could have easily held my interest, but the alternating stories of Dani, Hannah, and Avery also kept me flying through the pages. Roughly the first third of the book covers their time at West Point with the remainder being their careers, including deployments after leaving the elite college. For me the one flaw in the book was the post West Point years for one of the women. I don't want to give anything away, but let's just say her meteoric rise to success seemed completely unrealistic. Never-the-less, it was an easy flaw to move past, so I can recommend Beyond the Point to anyone looking for a great book to get lost in this fall. Grade: B+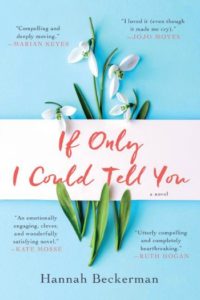 If Only I Could Tell You by Hannah Beckerman
Publisher: William Morrow
Release Date: October 15, 2019
Length: 368 pages
Amazon
From the Publisher: "A secret between two sisters. A lifetime of lies unraveling. Can one broken family find their way back to each other?
Audrey's dream as a mother had been for her daughters, Jess and Lily, to be as close as only sisters can be. But now, as adults, they no longer speak to each other, and Audrey's two teenage granddaughters have never met. Audrey just can't help feeling like she's been dealt more than her fair share as she's watched her family come undone over the years, and she has no idea how to fix her family as she wonders if they will ever be whole again."
My Thoughts: I reserved a copy of If Only I Could Tell you from my library mostly because it was a Book of The Month club selection, so I thought it had to have some good things going for it. It started out well, as Beckerman introduced her three main characters, two sisters who haven't spoken in nearly 30 years, and their mother who's never understood why. The "big secret" that caused this catastrophic rift was hinted at and danced around for FAR TOO LONG. By midway the story had slipped into melodrama and by the end this "big family secret" began to feel absolutely ridiculous, especially since the women were now fortyish and certainly should have been able to see events that happened in their childhood from an adult lens. By the end, I felt completely frustrated! Grade: C-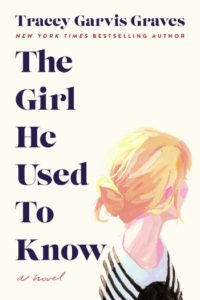 The Girl He Used to Know by Tracey Garvis Graves
Publisher: St. Martin's Press
Release Date: April 2, 2019
Length: 304 pages
Amazon
From the Publisher: "Annika Rose is an English major at the University of Illinois. Anxious in social situations where she finds most people's behavior confusing, she'd rather be surrounded by the order and discipline of books or the quiet solitude of playing chess.
Jonathan Hoffman joined the chess club and lost his first game―and his heart―to the shy and awkward, yet brilliant and beautiful Annika…Now, a decade later, fate reunites Annika and Jonathan in Chicago. She's living the life she wanted as a librarian. He's a Wall Street whiz, recovering from a divorce and seeking a fresh start."
My Thoughts: I am not a reader of romance novels and might not have read The Girl He Used to Know had I realized it was one. I picked it off the library shelf on a Saturday last month when I was feeling like I might be headed into a slump and then flew through it. I particularly loved the character of Annika because she reminded me of a student I had for two years. Both were clearly on the autism spectrum, brilliant, extremely socially awkward, and gorgeous. As I read The Girl He Used to Know, I kept picturing that student all grown up and making a life for herself, despite difficulties. I believed and rooted for the character of Annika because she felt very real to me.
The love story itself moved back and forth in time, moving between college, when Annika and Jonathan first met, and 10-years later when they reconnect in Chicago. This part of the story, and especially Jonathan (the saint), moved into what you might expect from a romance. A little too much. A little too fantastic. A little hard to buy into. That's me though, or me and romance. I still enjoyed the respite Graves' gave me. It definitely turned my potential slump around and for that I'm grateful. Whether you're a fan of romance or just looking for something a little different The Girl He Used to Know is a book you should seriously consider. Grade: B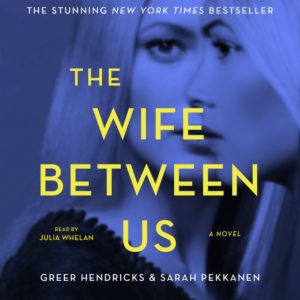 The Wife Between Us by Greer Hendricks & Sarah Pekkanen
Narrator: Julia Whalen
Publisher: St. Martin's Press (Macmillan Audio)
Release Date: January 9, 2018
Length: 352 pages (11 hrs. 13 min.)
Amazon
From the Publisher: "You will assume you are listening to a story about a jealous ex-wife. You will assume she is obsessed with her replacement – a beautiful, younger woman who is about to marry the man they both love. You will assume you know the anatomy of this tangled love triangle. Assume nothing. 
Twisted and deliciously chilling, The Wife Between Us exposes the secret complexities of an enviable marriage – and the dangerous truths we ignore in the name of love." 
My Thoughts: I'd been listening to a lot of nonfiction and knew I needed a bit of a palate cleanser, so turned to The Wife Between Us. I'd listened to and enjoyed the authors' latest book, An Anonymous Girl, earlier this year (my review). For the most part, I liked this story of a jilted wife trying to both put her life back together and exact revenge on the man who turned her world upside down. There were times when the story dragged a little for me, but I'm very glad I stuck with it. There was a twist well past the halfway point that I never saw coming. That twist made the entire story infinitely more enjoyable for me. I know many readers have already read The Wife Between Us, but if you haven't and enjoy domestic thriller, this might be a great one for you to listen to. As Always, Julia Whelan's reading excelled. Grade: B-
I hope you find a book or two to consider in November's Mini-Reviews.
PIN THESE NOVEMBER MINI-REVIEWS ⇓