This post may include Amazon links. As an Amazon Associate I earn from qualifying purchases.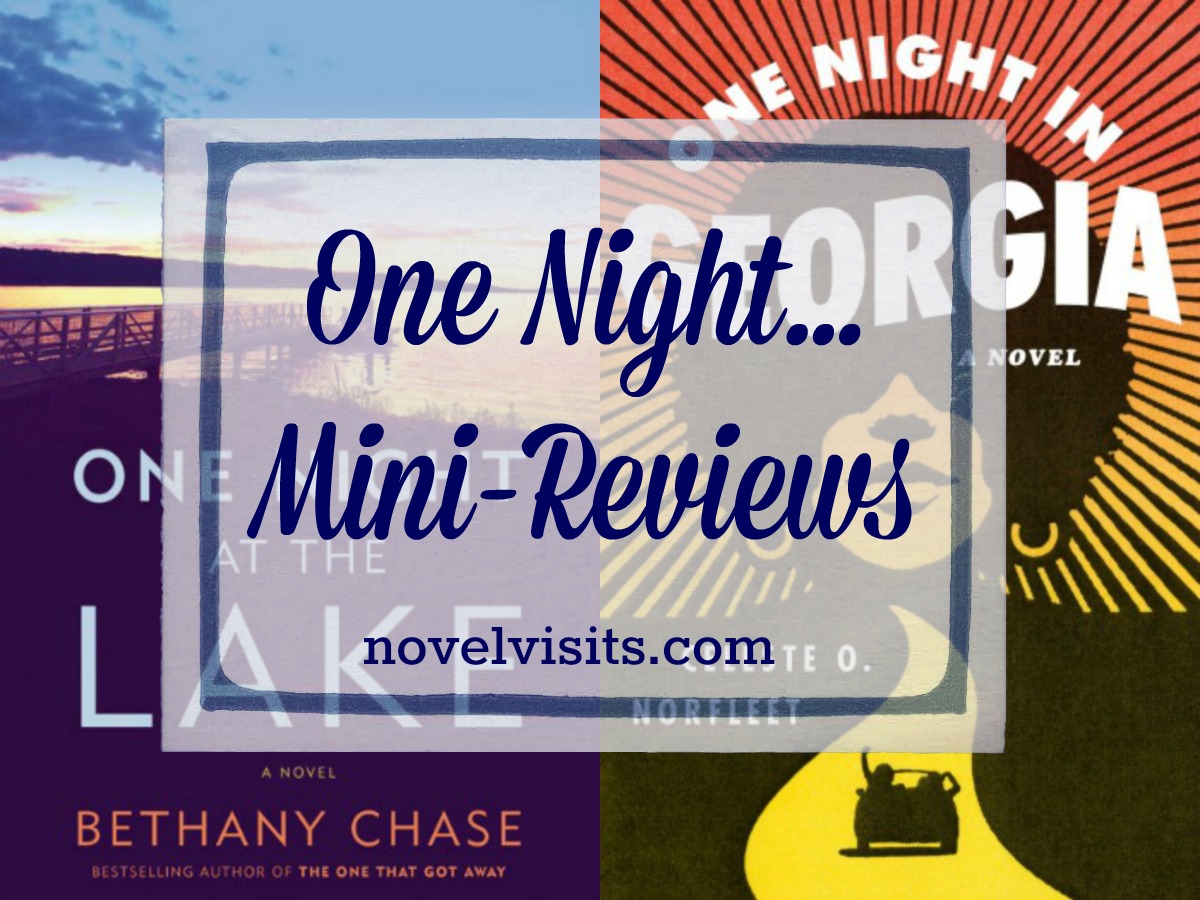 Sometimes it amazes me the amount of little coincidences you find in books. You might read several books in a row set in the same city, or an unusual character name appears in back-to-back stories. I've thought before about trying to make a chain of at least one thing that connects each book I read to the one before it. I still might do it, but not today! Instead, I'm sharing two books coming out next week, linked by their titles, One Night…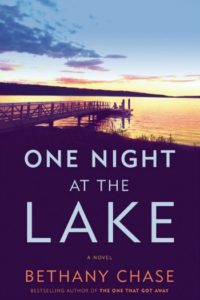 One Night at the Lake by Bethany Chase
Publisher: Ballantine Books
Release Date: June 18, 2019
Length: 304 pages
Amazon
From the Publisher: "Alternating between the two women's vibrant voices, One Night at the Lake is an emotional novel that explores a complex tangle of friendship, loyalty, and betrayal, all driving toward one question: Can love overcome what happened on that hot summer night?"
My Thoughts: Without giving anything away One Night at the Lake is about two women in love with the same man, but seven years apart in their relationships with him. The women also happen to be best friends, and one, Leah, died at the lake seven years ago. She tells the story from that time, and Lucy tells the story of what's happening now. The dual timelines and dual narrators are both favorites of mine, so that worked well for me.
As for the rest, I don't know exactly what I expected from One Night at the Lake, but what I didn't expect was quite so much romance. I should have seen it coming from the rest of the publisher's blurb, but it slipped by me. I found it a little annoying how perfect the man in question was and how thoroughly devoted each of the women was to him. Still, I let that go as I focused on the mystery of exactly how Leah died on that night at the lake. As with most mysteries, I had to suspend a little disbelief, mostly at the inability of characters to demand answers, but the writing was strong and easily kept me interested. If you're looking for light summer reads and don't mind a little bit of sappiness, One Night at the Lake would make a good addition to your beach bag. Grade: B-
Note: I received a copy of this book from Ballantine Books (via NetGalley) in exchange for my honest review.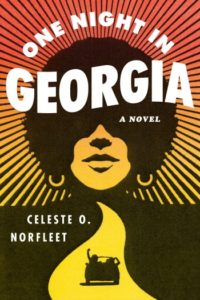 One Night in Georgia by Celeste O. Norfleet
Publisher: Amistad
Release Date: June 18, 2019
Length: 304 pages
Amazon
From the Publisher: "At the end of a sweltering summer shaped by the tragic assassinations of Martin Luther King, Jr., and Bobby Kennedy, race riots, political protests, and the birth of Black power, three coeds from New York City—Zelda Livingston, Veronica Cook, and Daphne Brooks—pack into Veronica's new Ford Fairlane convertible, bound for Atlanta and their last year at Spelman College. It is the beginning a journey that will change their lives irrevocably."
My Thoughts: This is a tough one to review without sounding insensitive to the realities of life for African Americans in the U.S., especially the South, in the late 1960's. Let's start with the parts that really worked for me. One Night in Georgia features three young women traveling by car from NYC to Atlanta to start their final year of college at Spelman. The female friendships and excitement of a road trip were what drew me to this novel. Celeste O. Norfleet created three very different women, all struggling with the implications of being both female and black in the 60's. I liked these woman and the three very different stories behind each of them. I appreciated their strong bonds, and their longing for a little freedom and an adventure.
Racism was pervasive and something they'd lived with their whole lives, but each also grew up with some privilege in their lives which was no longer protecting them on their journey through the South. As the book moved on and the girls moved closer to Atlanta, racism became more and more open and much more dangerous. What bothered me about the book was how so many awful events were packed into a journey of less than a week.
"No. It's not the kiss. Not really. It's everything – you, me, all of this. I guess I'm overwhelmed. I don't know what to think anymore, or what to expect next. It feels like I'm haphazardly tumbling from situation to situation."
Exactly! It bothered me that three very intelligent girls (and a man traveling with them) made choice after choice that they knew was risky. Yes, they were young and wanted to have fun, but at some point it seems they should have reached out for help, or turned around. One Night in Georgia was just a little too extreme for me, and to top it off, there was one of those neat and tidy epilogues that are just unnecessary. Grade: C
Note: I received a copy of this book from Amistad (via NetGalley) in exchange for my honest review.
Disclaimer: There are Amazon Associate links contained in this post. Using a link to order a book gives me a very small commission, helping to offset some of the costs of running a blog.