This post may include Amazon links. As an Amazon Associate I earn from qualifying purchases.
When I was younger, I took pride in finishing every book I started no matter how hard one might be to slog through. What was I thinking!?! With a little age and wisdom, I realized the error of my ways and gave myself permission to quit on books. This proved to be one of my best decisions ever. There are far too many amazing books to waste time on one I'm not enjoying. For today's Top Ten Tuesday, I'm taking a look at some of the books released this year that I tried, but just wasn't feeling. These are books that many, many others loved, so don't take the fact that I couldn't connect as a reason to dismiss these titles. Reading is a very personal activity. What didn't work for me might well work for you!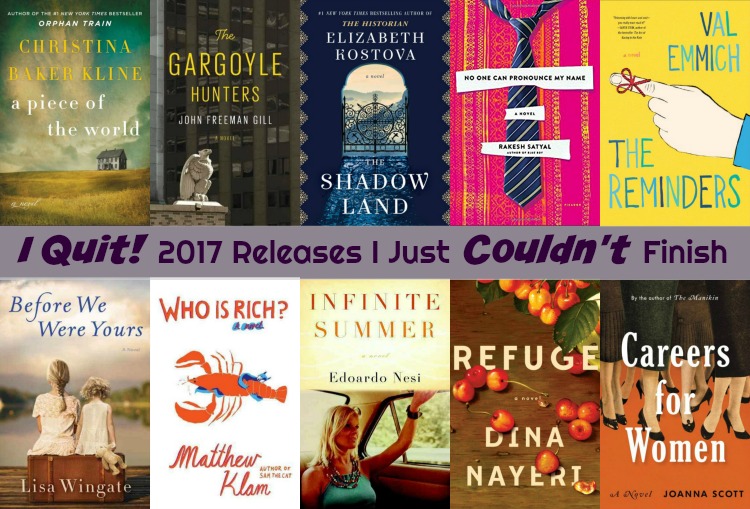 A Piece of the World by Christina Baker Kline (2/17) – I really, really wanted to like Baker Kline's new book because I was a fan of Orphan Train, but I simply found Christina Olson's largely solitary, country life to be dull. I had also expected Andrew Wyeth to play a larger role in the book. Sticking with it all the way to 32%, I gave A Piece of the World a very fair trial.
The Gargoyle Hunters by John Freeman Gill (3/17) – This book had so much that appeals to me: it was a debut, took place in NYC, and was a coming-of-age story. That seemed like an ideal combination, but I found neither the father nor son very likable and frankly got a little bored with a lot of architectural talk. I quit on The Gargoyle Hunters at 25%.
The Shadow Land by Elizabeth Kostova (4/17) – I absolutely loved Kostova's debut, The Historian, so had such high hopes for The Shadow Land. Unfortunately, I found the main character, Alexandra, to be a ninny. I grew frustrated with silly choices she made, and her constant worry that she might be in harm's way. The over use of road trips through Bulgaria didn't help either. I quit at 27%.
No One Can Pronounce My Name by Rakesh Satyal (4/17) – It was probably me, but I didn't find any humor in this book. Definitely billed as a humorous take on Indian immigrants finding their place in America, it just didn't work. The story actually made me feel blue, and I found I couldn't rally to stay with it, so stopped reading at 20%.
The Reminders by Val Emmich (5/17) – The Reminders is a book told from alternating perspectives, one being a quirky 10-year old girl, Joan. I found Joan extremely annoying! She alone is the reason I had to quit at 25%. Rarely have I had such a strong reaction to the voice of a narrator.
Before We Were Yours by Lisa Wingate (6/17) – Here is a perfect example of the dangers of a dual timeline. I enjoyed the half of the story taking place in the past. Had that been the entire book I would have easily finished it, but the tie to the present ruined Before We Were Yours for me. It had too many unlikely connections and was headed to "neat and tidy" land. I just couldn't stay with it past 20%.
Who Is Rich? by Matthew Klam (7/17) – This was the first of four July DNF books for me. Maybe it was my mood, but I found Klam's new satire to be just too snarky, and I like snark. I also found Rich, who narrates, to be just a little pathetic. There wasn't enough there to keep me going beyond 23%.
Infinite Summer by Edoardo Nesi (7/17) – I kept going all the way to 30% with Infinite Summer, but then realized it was time to stop torturing myself. This Italian novel was about a group of men trying start a business in the 1970's, but I simply couldn't connect with or care about any of them.
Refuge by Dina Nayeri (7/17) – I'd looked forward to Refuge for a very long time, so was extremely disappointed in myself when I had to put it down at 22%. Had I not been in the midst of a slumpy month, I might have been more willing to stay with Nayer's book. Of all the books on this list, Refuge is the one I most worry I made a mistake with.
Careers for Women by Joanna Scott (7/17) – I chalk this one up to false advertising. The blurb made it sound like a story about women working in NYC during the 1950's. Sadly, that was only one side of a dual timeline. In this case, neither of the storylines was really working for me. I gave it a good shot anyway, finally quitting at 35%.
Have you read any of these books?
Are there titles I should give a second chance?
Disclaimer: There are Amazon Associate links contained in this post.