This post may include Amazon links. As an Amazon Associate I earn from qualifying purchases.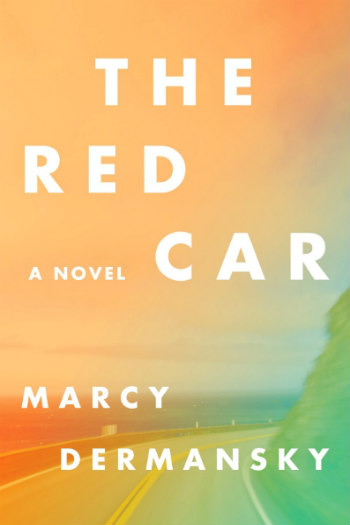 The Red Car by Marcy Dermansky
Publisher: Liveright
Release Date: October 11, 2016
Length: 208 pages
Buy on Amazon
Single Sentence Summary: When Leah inherits a red sports car from her former boss and mentor, the car manages to set her free in ways Leah could have never imagined.
Primary Characters: There is really only one main character in this story and that is Leah – a thirty something woman in a marriage with a man she doesn't love, living a life she doesn't want, unsure how to change it.
Synopsis: Leah Kaplan lived in San Francisco for a couple of years before she went to grad school. She had crazy roommates, an aloof boyfriend, and a boss who was also her friend. It was Judy who pushed Leah to believe in herself and to apply to grad school in the first place. Over time, Leah and Judy had less and less contact, so Leah is stunned when she gets the email telling her Judy has died. Leah is even more shocked when she learns that she has inherited Judy's red sports car. (A car Leah always secretly hated.)
With a little help, Leah manages to make it to the funeral and has two weeks before she needs to return to her husband and NYC. Leah is not in good place when all of this happens. Her marriage is not at all what she wants it to be and she's very unsure of herself and how to change her life. Enter the voice of Judy! Leah starts hearing Judy comment on things Leah is thinking and doing. Again, encouraging Leah to believe in herself and make more of her life.
Review: The Red Car was a very funny, clever, quick read. I really liked how Marcy Dermansky used the voice of Judy to try to talk some sense into Leah. Leah depended on Judy when she was younger and it made great sense that when Leah was again at a crossroad in her life, Judy would step up with advice, wanted or not.
"I changed my mind. I did not like having Judy's voice in my head. She was dead. It was my choice to allow her to haunt me. Was it my choice? I could not predict what she would say. When she would say it. Nothing she said was comforting or easy."
Leah always knew that Judy's voice was her own. She faced with some hard choices and Judy's voice was a way of looking at her options.
There were a couple of things that happened in The Red Car that I think could have been handled in different ways. Up until the halfway point I loved this book, but then it took a turn that I didn't think added anything to the story and also seemed both wierd and unnecessary. Right at the end, there was another plot twist that I thought the story could have done without. I still really liked the direction the writer went in with Leah and the tough decisions she needed to make about her life. Marcy Dermansky told Leah's story with a lot of humor and an amusing cast of side characters. If you like fun, quirky books, this is a great one to try! Grade: B+
If you liked this book you might also enjoy:
Disclosure: There are Amazon Affiliate links included within this post.