This post may include Amazon links. As an Amazon Associate I earn from qualifying purchases.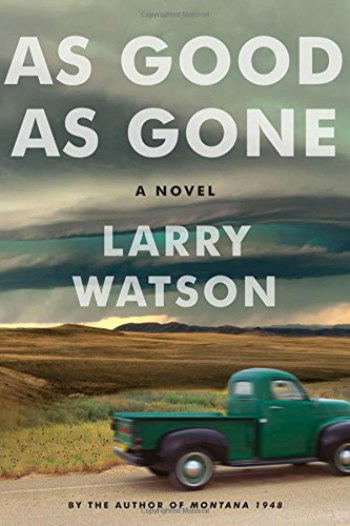 As Good as Gone by Larry Watson
Publisher: Algonquin Books
Release Date: June 21, 2016
Length: 352 pages
Buy on Amazon
Single Sentence Summary: Tough, loner cowboy agrees to care for the grandchildren he barely knows and trouble follows closely behind.
Primary Characters: Calvin Sidey – a man with a past. He left his children after the death of his war-bride wife, and was rumored to have killed a man who insulted her memory. Bill Sidey – Calvin's son who after many years turns to his father for help. Will Sidey – Bill's son who would like nothing more than to be a cowboy like his grandfather and escape his problems at home. Beverly Lodge – Bill's widowed next-door neighbor who has a connection with Calvin.
Review/Synopsis: As Good as Gone by Larry Watson was a really interesting and extremely well told story. Taking place in a small rural town in 1963 Montana, the story revolves around Calvin Sidey, a tough cowboy of a man who has lived alone in a trailer miles from others ever since he walked out on his son and daughter years earlier. Calvin's wife had been killed in an accident and his grief compounded by poor choices caused him to make the decision to flee. As the novel opens, Calvin's son, Bill, is on a mission to his father to return to the town he left to look after his two grandchildren for a week. Calvin very reluctantly agrees. Will, 11-years old, and Ann, 17, barely know their absentee grandfather and are both more than a little fearful of him. As the story proceeds, we get to know and like Calvin despite his gruff ways. There is something soft buried far below the surface that doesn't match up with his harsh, fighting, cowboy exterior. Back in town Calvin faces some unexpected problems: the widowed next-door-neighbor, a tenant his son is trying to evict, his granddaughter's ex-boyfriend, and a troubled grandson who wants to learn to be a cowboy. Calvin deals with these issues in both expected and unexpected ways. What I liked most about As Good as Gone was that Calvin stayed totally true to the man he was. Bravo! Grade: B+
If you liked this book you might also enjoy:
Disclosure: There are Amazon Affiliate links included within this post.