This post may include Amazon links. As an Amazon Associate I earn from qualifying purchases.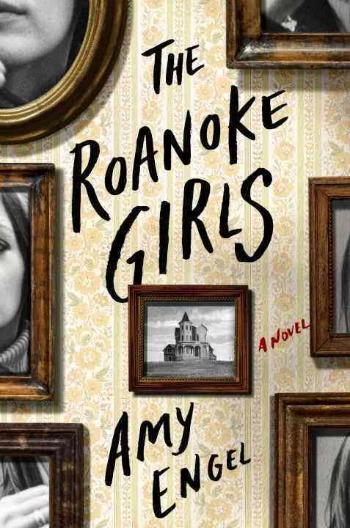 The Roanoke Girls by Amy Engel (adult debut)
Publisher: Crown
Release Date: March 7, 2107
Length: 290
Buy on Amazon
Single Sentence Summary: For three generations if you're born a Roanoke girl, you either leave or you die.
Primary Characters: Lane Roanoke – the only Roanoke girl not born at the family estate. Lane arrives at Roanoke following her mother's suicide. Allegra Roanoke – Lane's cousin, only six months younger. Allegra has always lived at Roanoke. Yates Roanoke – the family patriarch, a man single-minded in getting what he wants.
Synopsis: Fifteen-year old Lane has had a rough life. There was always something deeply sad about her mother and Lane never understood why. Following her mother's suicide, Lane comes to Roanoke to be with the only family she has: grandparents and a cousin she's never met and knows nothing about. Lane fits in smoothly to life on the estate/farm and finds a friend in Allegra, but something is not quite right. After only a few months, Lane flees her family only to be called back ten years later when Allegra has gone missing. The last thing Lane wants to do is return to Roanoke, but she feels a responsibility to Allegra, who she left behind.
Review: The Roanoke Girls is a difficult book to review without giving too much away, but I'm going to try! Amy Engel's debut novel for adults has a very serious theme, yet the book was still delightfully fun and a fast read. She wove her story together with Lane as the narrator, alternating between the first summer she spent at Roanoke and the summer ten years later when she's returned in search of Allegra. The events of that first summer had long haunted Lane and coming back was something she never wanted to do.
"But in the end, none of it mattered, because here I am again and it's like I never left. This place never let go of me. I've carried it all these years. Like a disease. Like a tumor." My voice breaks and I drop my gaze. "It's killing me."
Though I was able to predict much of what happened, I enjoyed how the resolution came at the juncture of the two time frames. Engels' writing was clean and the uneasy tone of her narrator perfect.
I would most definitely recommend The Roanoke Girls to others, but I did have a small problem with it. Overall, I thought the storyline was a little too "Flowers in the Attic." There's certainly nothing wrong with that and it might reflect Engel's young adult background. But, to really enjoy The Roanoke Girls I had to suspend my doubts about the central premise of the book. If I thought about it too much, I always ended up at, "Why?" It didn't seem like Engel presented a strong enough case for the reasons why the Roanoke girls were all drawn to the same flame. For me to love this book, that part of the story would have needed to be a little stronger. Never-the-less, The Roanoke Girls is a story I'll long remember and one I think many readers will eagerly devour! Grade: B
If you liked this book you might also enjoy:
The Yonahlossee Riding Camp for Girls by Anton DiSclafani – Like Lane, this book features Thea, a 15-year old forced to leave the only home she's ever know.
The Gospel of Winter by Brendan Kiely – This novel is the story of a boy trying to fight his way out of an abusive situation and take control of his own life.
All Things Cease to Appear by Elizabeth Brundage – Another mystery taking place on a farm. In this a young mother is found brutally murdered, but by whom?
Note: I received a copy of this book from the publisher (via NetGalley) in exchange for my honest review.
Disclosure: There are Amazon Associate links included within this post.