This post may include Amazon links. As an Amazon Associate I earn from qualifying purchases.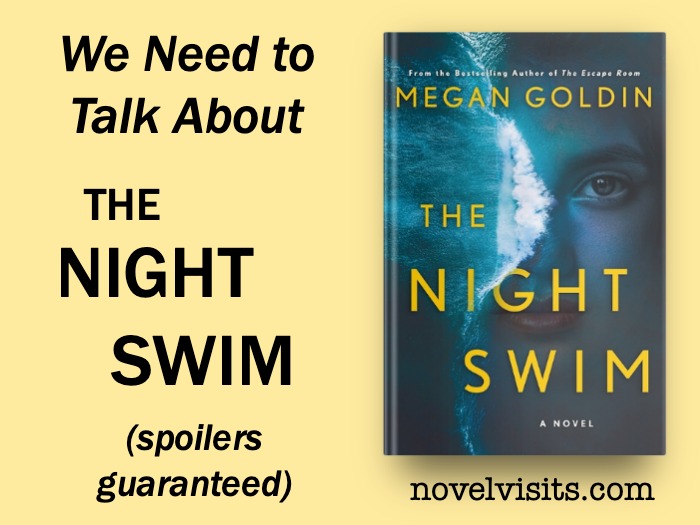 Last month, my sister, Lori, and I needed to make a six hour drive to pick up our mom. Lori enjoys listening to podcasts, but wanted to try an audiobook, so I checked around to see what books people were talking about. I saw The Night Swim everywhere. It seemed to be pretty universally praised, had a podcast in the storyline, and was a thriller, so not too heavy. Plus, it had dual timelines, which is something I almost always enjoy. Bingo! I'd found the book.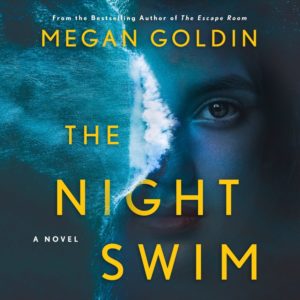 The Night Swim by Megan Goldin
Narrators: January LaVoy, Bailey Carr, Samantha Desz
Publisher: St. Martin's Press (Macmillan Audio)
Release Date: August 4, 2020
Length: 352 pages (10 hrs.)
Amazon        Libro.fm
From the Publisher: Ever since her true-crime podcast became an overnight sensation and set an innocent man free, Rachel Krall has become a household name – and the last hope for people seeking justice. But she's used to being recognized for her voice, not her face. Which makes it all the more unsettling when she finds a note on her car windshield, addressed to her, begging for help.
The new season of Rachel's podcast has brought her to a small town being torn apart by a devastating rape trial. A local golden boy, a swimmer destined for Olympic greatness, has been accused of raping the beloved granddaughter of the police chief. Under pressure to make season three a success, Rachel throws herself into her investigation – but the mysterious letters keep coming. Someone is following her, and she won't stop until Rachel finds out what happened to her sister 25 years ago.
Officially, Jenny Stills tragically drowned, but the letters insist she was murdered – and when Rachel starts asking questions, nobody in town wants to answer. The past and present start to collide as Rachel uncovers startling connections between the two cases – and a revelation that will change the course of the trial and the lives of everyone involved.
Electrifying and propulsive, The Night Swim asks: What is the price of a reputation? Can a small town ever right the wrongs of its past? And what really happened to Jenny?
DISCUSSION
The first half of The Nigh Swim worked pretty well for me. I trusted Goldin as she set up her story which centered on Rachel Krall, a popular true crime podcaster. Krall had come to a small North Carolina town to cover a widely publicized rape trial for her show. While there, she was mysteriously drawn into the alleged murder of another teenage girl, nearly 20 years earlier. Right from the start, I felt a little unease, but thought that would change as the story progressed. It did. The unease grew until by the end, I wanted to toss the book across the room, but was unwilling to sacrifice my phone! So in no particular order here are some of my problems with The Night Swim. Please, join in on the discussion in the comment section below. (And, don't forget, there are lots of spoilers included below.)
The set up of the present day rape included a drunk young woman and a college swimmer with a bright future, training for the Olympics. Everyone said he was an all-American type guy. For me this felt like a total co-opting of the Channel Miller/Brock Turner case in California a few years ago. Couldn't the author have at least used a different sport?
Throughout the trial no one ever suggested that this swimmer (Scott) had ever raped before. There were no other girls who came forward. Now, don't get me wrong, I know this happens all the time and the victim is too often blamed or shamed, but what bothered me here is that the author took things with Scott too far. Some of his actions made him look like a serial rapist, though nothing was ever developed around that. He was supposed to be out to get another notch on his belt for a contest he was having with another guy. So, he went to a high school party and targeted a girl, getting a friend to help get her alone. I can buy all that, though it disgusts me. Here's what was harder to understand. After raping the girl multiple times on an empty beach, Scott goes for a swim. Weird. He then goes to his car and gets a bag containing soap and shampoo. Conveniently, there's a shower at the beach and he makes the girl scrub herself to remove traces of himself on her. Serial rapist definitely do this sort of thing, but Goldin did nothing to imply that Scott was a serial rapist, and it just felt like overkill. He happened to have a bag of cleaning supplies in his car? Very convenient. And, despite that, he didn't wear a condom, so semen was still found inside of her. Poor planning there!
After her first day of testimony the girl who was raped was too terrified to go on, leaving the entire case in jeopardy. At the eleventh hour, Rachel finds a man who actually witnessed part of the rape, but was too afraid to come forward because of things that had happened in the case 20 years earlier. Very convenient.
Now let's talk about the case from the past. First of all, the rape/murder of Jenny was brought to Rachel by Jenny's sister, Hannah. Hannah was 9 at the time of her sister's death, but was very aware of what was going on with Jenny, having witnessed much of it. All she was missing was the actual killer. She approached Rachel through letters left in her car, hotel room, etc. Even after she had Rachel's full attention, Hannah stayed hidden and that just got annoying.
One high school summer Jenny had also been raped…more than once. She was the butt of jokes around the town. She died after being gang-raped by the group of high school boys who'd terrorized her all summer. Then, one of them dumped her in the ocean to drown so she couldn't turn them in. Did Golding really need to go this far? As a female writer in 2020, I expect more than sinking to salacious plot points as the way to drive a story.
The summer her sister was murdered, Hannah"s mom had cancer and was slowly dying which is why she didn't notice how beaten down Jenny became that summer. Very convenient. Twenty years later, the only person who actually saw Jenny being dumped in the ocean, is also dying of cancer. Very convenient. Only because he'll be gone soon is he willing to tell Hannah who did it.
The actual events of the night Jenny was murdered, went even further than the horrors that happened to her. The chief of police also staged a car accident that killed two boys and left another badly burned in order to save his son from having to take any responsibility. He let an innocent boy go to prison for the death of those two boys. Disgusting and convenient.
While we're on it let's talk men. There were WAY TOO MANY in this story. Between the past and the present (some characters in both parts, some only in one) with lawyers, rapists, cops, dads, it was difficult to keep track of who did what, and how, and why.
And finally, the podcast chapters were a snooze. No guests, no conversation, just Rachel recapping the trial and spouting her own opinions.
The over abundance of unlikely events often bother me in thrillers and The Night Swim was no different in that. What buried it for me was Goldin's treatment of the rapes. I felt like they were both too much, and sort of cheap shots at trying to add the wow-factor to an otherwise weak story.
Okay, all you fans of The Night Swim, have at me!