This post may include Amazon links. As an Amazon Associate I earn from qualifying purchases.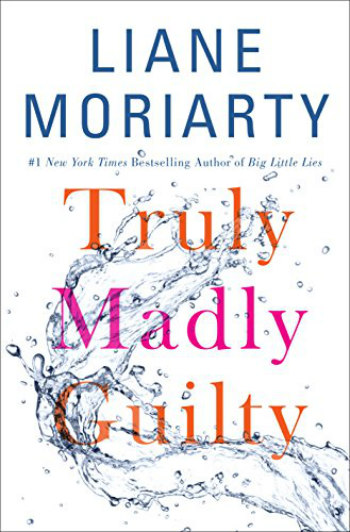 Truly Madly Guilty by Liane Moriarty
Publisher: Flatiron Books
Release Date: July 26, 2016
Length: 430 pages
Buy on Amazon
Single Sentence Summary: Three couples and three little girls have a not-so-simple backyard barbecue where the kids play while the adults drink a little, flirt a little and end the evening all asking themselves, "How and why?"
Primary Characters: Clementine & Sam – a cellist who fears auditions and her husband who adores being a dad. They have two daughters, Holly who is five and Ruby who is two. Erika & Oliver – married accountants that have in common the very rough childhoods each had. Tiffany & Vid – a colorful, larger-than-life couple. They host the barbecue, and want nothing more than for their guests to enjoy themselves. Their daughter, Dakota, is ten.
Review/Synopsis: Like many other readers, I have been looking forward to the release of Liane Moriarty's newest novel, Truly Madly Guilty because I so enjoyed her books Big Little Lies and The Husband's Secret. This newest book has much in common with the others. In each there are a group of characters all of whom are involved in some sort of event that we know happened but we don't know exactly what it is or how it happened. As the stories unfold and we come to know the characters, as we get closer and closer to uncovering the mystery.
Truly Madly Guilty takes place around three couples attending an impromptu barbecue. The hosts are Vid and Tiffany who live in a large over-the-top house, with their daughter, Dakota. They both have big, confident personalities and somewhat colorful pasts. Attending the barbecue are next-door-neighbors, Oliver and Erika, and their friends, Sam and Clementine and their two young daughters. Erika and Clementine have known each other most of their lives, but their friendship was originally orchestrated by Clementine's mom and is still strained because of that. Clementine is a cellist preparing for the biggest audition of her life and Sam has worked for different businesses along the way. They have a happy, messy life with their daughters, Holly and Ruby. Erika and Oliver are happily OCD together. They both had parents who were less than ideal; her mom was a hoarder and his parents were alcoholics. They appreciate the order and tranquility of their lives. Oliver and Erika hadn't planned on the barbecue, instead they had asked Sam and Clementine to join them for tea, but Vid convinced a reluctant Erika to make it more of a party at his house. From that point on the story is set on a trajectory where all things revolve around what happened at the barbecue. For a long time the reader doesn't know what exactly that is, only that it is not good and has far reaching consequences for everyone who was there.
I truly enjoyed every minute of reading Truly Madly Guilty. It was never slow and was fun to read. I am madly in love with the way Liane Moriarty weaves stories together, bit-by-bit unveiling their mysteries. I like how she uses a whole cast of characters to do that. I feel guilty because I didn't like this one as well as some of her others. I've spent a lot of time asking myself why and I think it comes down to the relationships. One thing I loved about the author's past couple of books was the female relationships. Especially in Big Little Lies the women had really powerful friendships. I think that element was not as well played in this book and I think it hurt the story a little. This novel's stronger relationships were between the couples and that's a bit of a shift. I still highly recommend Truly Madly Guilty. It's a fun, fast read that will have you guessing and leave you satisfied. Grade: B
If you liked this book you might also enjoy:
Disclosure: There are Amazon Affiliate links included within this post.