This post may include Amazon links. As an Amazon Associate I earn from qualifying purchases.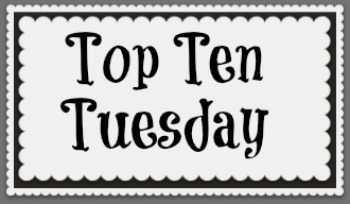 The holiday season is upon us whether we're ready for it or not! With that in mind the ladies at The Broke and the Bookish picked a holiday gift guide theme for this week's Top Ten Tuesday. I knew immediately that I wanted to focus on books men will love. Let's be honest. Men just don't read as much as women do. No offense to the male readers out there, but you're in a minority here. (And, there are few things more attractive than a man who reads, so keep it up!) I know that the men in my life are always saying they want to read more, but then often don't follow through. With some of the books they choose I can easily see why they have trouble sticking with them. So, I've made a list of books that almost any man would love. There's something for everyone: war, family, history, space, adventure, suspense. All are books I loved and recommend often. I hope over this holiday season a few men out there will find one of these books with a bow on top and rediscover the joy of reading.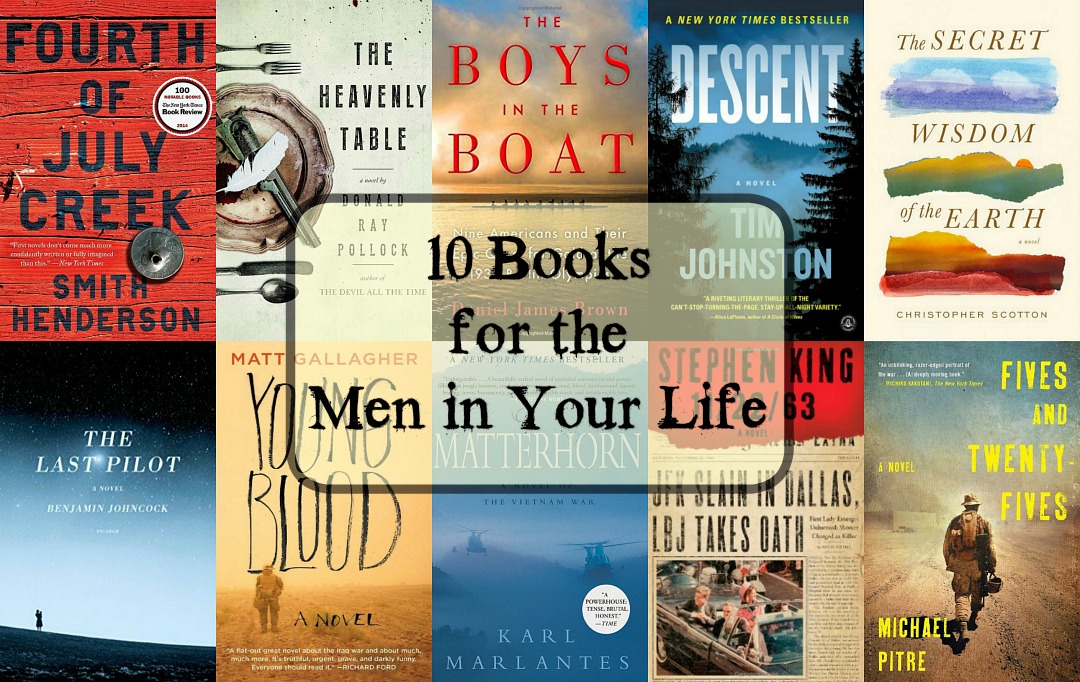 Fourth of July Creek by Smith Henderson – Pete Snow is a social worker in rural Montana where he is trying to help a young boy. Benjamin lives in the wilderness with his very paranoid survivalist father, Jeremiah. Pete's life is also a bit of a disaster. Just as Pete begins to gain the trust of Jeremiah, the FBI becomes involved and the situation deteriorates from there. This is a book about family, freedom, anarchy, and much more.
The Heavenly Table by Donald Ray Pollock – This is a great book for any man who enjoys westerns, or not. It's set in 1917 and centers on three brothers on a crime spree. For many years the three Jewett brothers lived with almost nothing, but when their controlling father dies, they take their freedom and run with it. Along the way they cross paths with the Fiddler family and become wanted men with a bounty on their heads. Through it all the brothers remain loyal to each other. My full review is here.
The Boys in the Boat by Daniel James Brown – The only nonfiction on this list, The Boys in the Boat is one of my most frequently recommended books. I can't imagine that anyone would not be drawn into this wonderful telling of the USA's  1936 Olympic crew team. The book's main focus is Joe Rantz, a most unlikely rower, as he arrives at the University of Washington and begins training for a spot on the highly competitive crew team. However, this book is so much more. You learn about all the young men, life during the depression, rowing, and what it was like to win in front of Hitler. Absolutely excellent!
Descent – by Tim Johnston – This book is about a family whose 18-year old daughter is kidnapped while they're on a family vacation. It spotlights what each member of the family goes through as time passes and she is not found. Everyone is profoundly affected, and changed. Ultimately it's the story of how each lives their own private hell, how they cope, drift apart, and finally how they come back together. The father in this novel is a character that is so real you'll feel like you personally know him.
The Secret Wisdom of the Earth by Christopher Scotton – Stating it most simply, this is a beautiful story about the relationship between a grieving boy, Kevin, and his grandfather, but it's so much more than that. Pops is the vet in a rural Kentucky community where there is much tension between locals and the nearby mining interests. Unwittingly, Kevin crosses paths with the wrong people and both he and Pops become involved in a dangerous power play with the mine owners. This is both a touching and action-filled book that many men would love.
The Last Pilot by Benjamin Johncock – Any man interested in flying or the spacer program could get lost in The Last Pilot. It tells the story of of Jim Harrison, a test pilot in the 1950's USAF. He and his wife live near a base in California's Mojave desert, where year after year he strives to fly faster and faster in competition with other test pilots. As the US Space Program is gearing up Jim is faced with the difficult choice of whether he wants to become a "flight monkey" for NASA, or keep doing what he loves. This is a great historical fiction full of real life characters.
Youngblood – by Matt Gallagher – Youngblood is the story of Lieutenant Jack Porter, a reluctant leader as the US is preparing to withdraw from Iraq. Jack doesn't like much of how the withdraw is happening and struggles against the pompous cockiness of a popular sergeant who often undermines Jack's authority. When Jack befriends a local sheik's daughter and her son, he puts himself and his men in danger trying to help her. This was a well drawn portrait of a man torn between duty to his country and his conscience.
Matterhorn by Karl Marlantes – Written by a veteran of Vietnam, this is a brilliant novel about that war. It follows Bravo Company and its lieutenant, Waino Mellas, as they face the difficulties of battling the jungle, the enemy, and often each other. The story was so real, the characters so unique and richly developed that I felt like I was part of the company. I was trudging through the jungle, weary and afraid. I was angry with poor decisions made by superiors and I just wanted to survive. This book takes you there! Men should love it. (Women, too!)
11/22/63 by Stephen King – This book has something for everyone: history, time travel, adventure, love, suspense, sci-fi! Jake Epping stumbles upon a portal in his friend, Harry's, diner that can transport you back in time. He eventually becomes convinced that he should take over Harry's quest to go back in time and prevent the assassination of JFK. This is no simple undertaking. Jake has to go back years earlier and build a life near Dallas so that he's in a position to step in. 11/22/63 is a long book, but a fast read!
Fives and Twenty-Fives by Michael Pitre – Another book set in Iraq, this one follows a platoon of road repair specialists. The title refers to the distances at which they do their initial sweeps when stopping to do repairs. The bond between the the lieutenant who leads this platoon, his men, and their interpreter is strong. The tension of their work is high with catastrophe possible at any moment. What makes Fives and Twenty-Fives truly special is that it doesn't end in Iraq, but follows the men home to the US where they deal with PTSD and adapting back to "normal" life. A story of men struggling to be their best.
Please, let me know what titles you'd add to my list of Books for the Men in Your Life.
Disclosure: There are Amazon Associate links included in this post.