This post may include Amazon links. As an Amazon Associate I earn from qualifying purchases.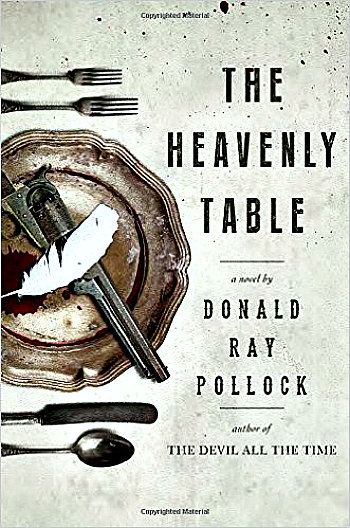 The Heavenly Table by Donald Ray Pollock
Publisher: Doubleday
Release Date: July 12, 2016
Length: 384 pages
Buy on Amazon
Single Sentence Summary: After the death of their God-fearing father, three dirt poor brothers set out on a spree of crime and violence that leaves them wanted men with a huge bounty on their heads.
Primary Characters: Cane – the eldest of the three Jewett brothers. He's the levelheaded one and the only one who can read. Cob – the middle brother. He's a big guy, loves food and is slow. Chimney – the youngest Jewett. Chimney is the hotheaded brother, quick to act. Ellsworth Fiddler – a farmer from Ohio who is living with the shame and repercussions of being scammed out of his family's life savings.
Review/Synopsis: The Heavenly Table is the second western style book I've read this summer and I'm not a western lover. What I do love is great writing and Donald Ray Pollack's writing in this novel is absolutely amazing! There are many characters, both large and small, and each one is fully developed and exquisitely portrayed. All the characters, as well as the events in The Heavenly Table, are put together like a beautiful patchwork quilt. At first they're all separate bits, but in the end every single bit is sewn together into an amazingly written story.
The story takes place in 1917 and centers on the Jewett brothers from the border of Georgia and Alabama and the Fiddler family in Ohio. The brothers' father, Pearl, lost his land and home after his wife died when the boys were very young and since then they'd been on the road eking out a poor existence wherever they could. Along the way Pearl met a man who convinced Pearl that those who had little in this life would be the ones welcomed at "the heavenly table" when they died. Pearl forced his family to follow this teaching and many times they went without even more than they needed to. When Pearl suddenly passed, the three brothers decided that they'd had enough and were ready to follow their hero (from the only book Cane owned), Bloody Bill Bucket, a bank robber and thief. They killed the owner of the land they were working, stole some horses and started robbing banks and stores. They went in the hills and taught themselves to shoot. Often, by luck alone, they were not caught. As the boys traveled north, their reputations grew and soon there was a huge bounty on their heads. At the same time in Ohio, Ellsworth Fiddler is trying to rebuild the life he had before he was swindled out of all his family's money. He carries the shame of his naivety wherever he goes. His wife, Eula, has been forgiving, but her disappointment in him is clear. Their teenage son is a mess and soon runs away. When the Jewett's reach Ohio, the paths of these two families cross in critical ways. And that's just the core of this story. There is SO much more that makes The Heavenly Table a wonderful, beautifully pieced together quilt of a story. Grade: A
If you liked this book you might also enjoy:
Disclosure: There are Amazon Affiliate links included within this post.