This post may include Amazon links. As an Amazon Associate I earn from qualifying purchases.
I don't know about you, but often times I tend to avoid really long books because I feel like I just don't have the time. Well right now, we have time. A lot of time! Thanks to the coronavirus and long quarantines this just might be the perfect time to take on a really long book that you've always wanted to read. I originally shared this post back in the fall of 2018, but thought now would be the perfect time to bring it back. Don't let the title fool you. I actually talk about 15 different long books I've loved! I hope one of these wonderful books might help fill your days. (And, since none of these are new releases, you should be able to get electronic copies through Libby, Overdrive or your local library's system!)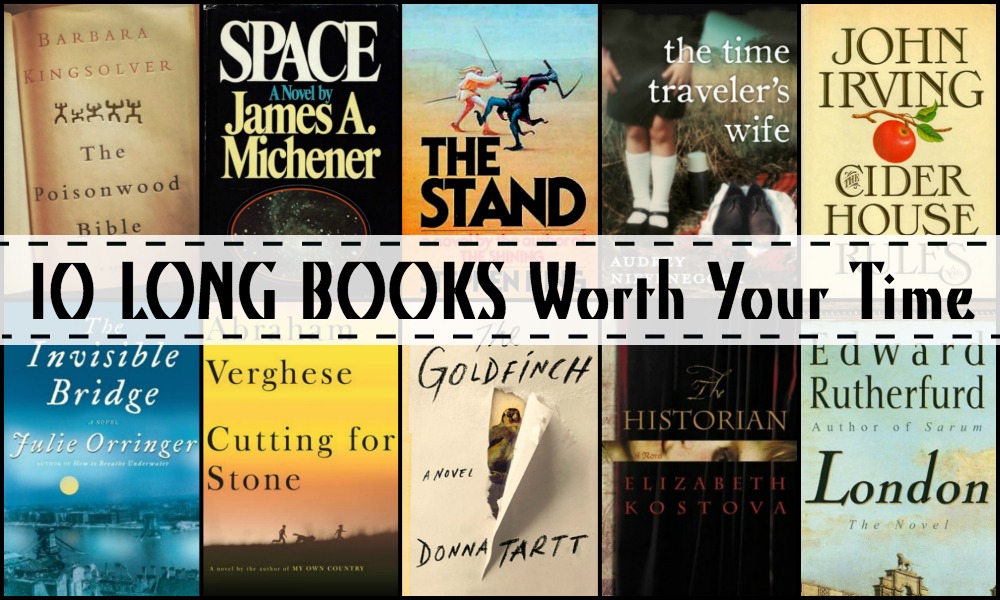 In putting together my list of LONG BOOKS (500+ pages) I chose to feature books that I haven't talked about much in earlier posts. As such, some of my favorite long books I chose not to highlight, including  The Secret History by Donna Tartt (544 pages),  The Heart's Invisible Furies by John Boyne (592 pages), A Prayer for Owen Meany by John Irving (617 pages), A Little Life by Hanya Yanagihara (814 pages), and 11/22/63 by Stephen King (849 pages). Even with that, I had a hard time narrowing my list down to ten. When you finish a LONG BOOK, it's almost always a favorite!
The Poisonwood Bible by Barbara Kingsolver (546 pages) –  I adored this story of a woman and her four daughters who follow their minister husband/father to the Belgian Congo in 1959. Ill-prepared, the family struggles with Africa and themselves. The shift in narration between the women in this story really made the book.
The Time Traveler's Wife by Audrey Niffenegger (546 pages) – it seems to me that this was one of those books people either loved or hated. I remember recommending it to several people who didn't like it and I was shocked. For me, the premise of a man who moves around in time and the woman who loves him made for a fantastic read.
The Cider House Rules by John Irving (560 pages) – I loved Irving's brave story of Homer Wells, an orphan in the WWII era. After Homer becomes the assistant to the orphanage's physician (a man who also performs illegal abortions) his eyes are opened to the bigger world of life beyond the only home, the only people he's ever known.
Space by James Michener – I went through a long phase of reading and enjoying the very long, immersive books written by James Michener. Of all of them, Space proved to be my favorite. For 30 years, it follows four men and their families navigating life in the early years of the U.S. space program. Similar to Thomas Wolfe's The Right Stuff, only better!
The Invisible Bridge by Julie Orringer (624 pages) – To me The Invisible Bridge was historical fiction at it's very best. It followed Andras, a Hungarian Jew, as he set off for architecture school in Paris. His life there flourished, even as the rumblings of war began. Continuing on through the horrors Andras and his family went through during the war, this book was fantastic!
The Historian by Elizabeth Kostova (642 pages) – A woman on a quest to find out the truth about Vlad the Impaler (often thought to be Dracula) doesn't sound like my sort of book, but it most certainly was. The book was so different with the historical journey Kostova took her readers on combined with lots of adventure and mystery.
Cutting for Stone by Abraham Verghese (658 pages) – I resisted this book for a very long time. The premise of two orphaned brothers growing up at a mission hospital in Ethiopia just didn't appeal to me. Finally, one of my most trusted reading sources pretty much insisted I read it. She was SO right; it's a remarkable story!
The Goldfinch by Donna Tartt (784 pages) – For many years I had a self-imposed ban on Pulitzer Prize winning books. Too often, I'd struggled through them with little enjoyment. However, this Pulitzer Prize winning book ended my ban. I actually read The Goldfinch before it received the award, but probably would have read it anyway because it's from the author of The Secret History, one of my favorites.
The Stand by Stephen King (823 pages) – This one goes WAY back! When I started reading The Stand I became so confused by the many characters, that after about 50 pages I had to go back and make a diagram of the characters and how they were interacting. That helped and didn't last long. Then, I flew through King's dystopian/post-apocalyptic masterpiece.
London by Edward Rutherford (829 pages) – I will always think of London with great fondness. I read it during some of the worst days of going through a divorce and remember what peace I got from escaping into Rutherford's sweeping novel. The marriage of fictional characters with the history of London worked much better than my own!
What LONG BOOKS have been worth your time?
Disclosure: There are Amazon Associate links included within this post.