This post may include Amazon links. As an Amazon Associate I earn from qualifying purchases.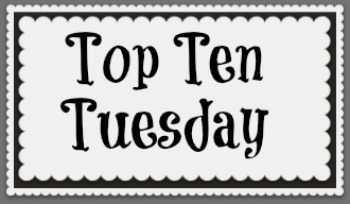 The theme of this week's Top Ten Tuesday, created and hosted by The Broke and the Bookish, is books for different types of book clubs. I considered many genres: historical fiction, mysteries, coming-of-age novels, but landed on stories with family at the core. Family is such an important part of so many books and also something everyone can relate to. So, I hope everyone can find a few titles here that you will enjoy. They all are among my favorites!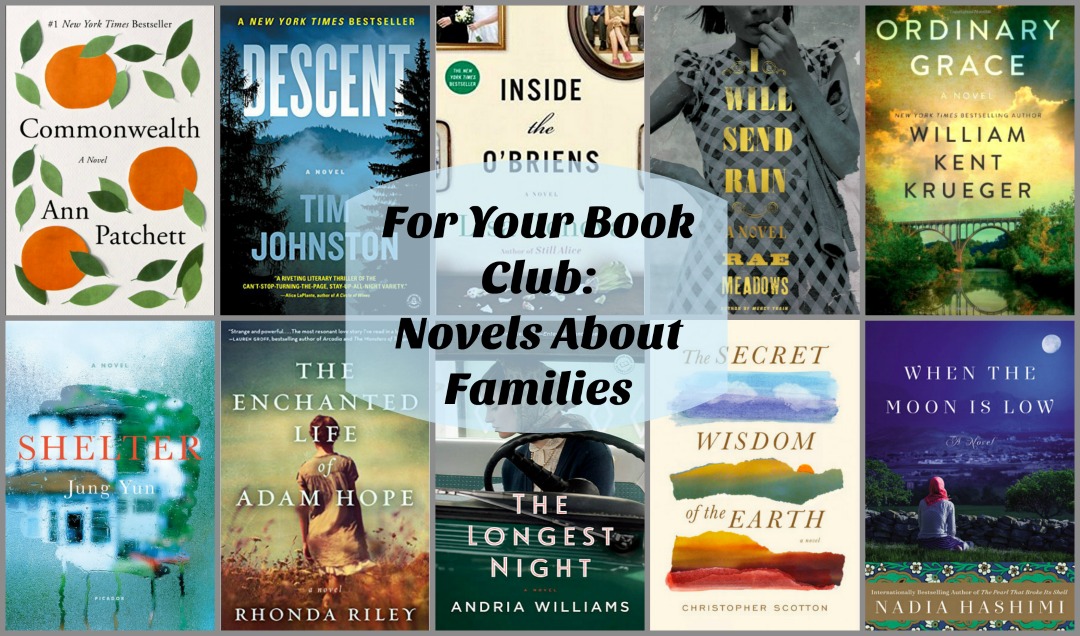 Commonwealth by Ann Patchett – An amazing story of two families whose fates were forever intertwined by an affair, a divorce and a new marriage. The six children's lives were toppled, as the parents looked on almost unaware. Some recovered better than others. To call this family dysfunctional would be an understatement, and yet you'll love them. Commonwealth is a beautifully told story of family and one of my favorite books this year.
Descent by Tim Johnston – I loved this book about a family whose 18-year old daughter is kidnapped while they're on a family vacation. It spotlights what each member of the family goes through as time passes and she is not found. Ultimately it's the story of how each lives their own private hell, how they cope, drift apart, and finally how they come back together. Much to discuss with this novel!
Inside the O'Briens by Lisa Genova – This is a book about a family coping with Huntington's disease. Joe O'Brien, tough Boston cop, is diagnosed as the book opens and his wife and three grown children watch in fear as his condition worsens. Adding another layer to the story is the fact that Huntington's is a genetic disorder. Each of Joe's children must decide if they want to know if they carry the gene or not. This is a sad, but uplifting novel. It will leave you talking for sure.
I Will Send Rain by Rae Meadows – Another of my favorite books from this year, I Will Send Rain is the story of a wheat-farming family each longing for different forms of escape. Set in 1934 Oklahoma at the start of the Dust Bowl, Sam, Annie, Birdie and Fred fight the wind and dust, but even more each battles the discontent that is growing in them and in their home. This is a wonderful character rich book with a powerful ending.
Ordinary Grace by William Kent Krueger – The story of 13-year old Frank and his family in the summer of 1961. Over the course of that summer Frank is faced with many adult situations, feelings, and most awful, the disappearance of his older sister. Frank, his preacher father, artist mother, and wise younger brother show the exact emotions you would expect of a family going through this horror. The writing in Ordinary Grace is stunning!
Shelter by Jung Yun – This was a book I wavered on reading, but then was so glad I did. It's an exceptional story of a young husband and father, Kyung, trying to cope with parents who never showed him kindness or love. When a bizarre act of violence leaves his parents unable to live on their own, Kyung must find a way to welcome them into his home. This proves to be almost impossible as feelings of hurt and anger toward his parents haunt Kyung. Great family discussions to be had from this novel.
The Enchanted Life of Adam Hope by Rhonda Riley – I'll start by saying that this novel may not be for everyone, but it's a beautiful story of love and family. The premise of the book is very different, and you just have to accept it to enjoy the story. Beginning in 1944 and spanning 60 years, the story of Adam Hope begins when he is found buried in mud on the farm that 18-year old Evelyn is caring for. The two build a strangely normal life under quite abnormal circumstances. I loved it and you'll be talking about it.
The Longest Night by Andria Williams – Nat, Paul and their two young daughters arrive in Sand Point, Idaho (1959) where Paul has been stationed to work art the nuclear reactor facility near by. Paul sees a lot that bothers him at the facility, but keeps it all from Nat. Nat is lonely and befriends a local young man causing a scandal among the Army community there. The couple has to fight to find a way back to each other, while keeping their family safe. Another favorite from this year!
The Secret Wisdom of the Earth by Christopher Scotton – This is a novel I cannot recommend highly enough. It's a beautiful and exciting story about 14-year old Kevin who has come to live with his grandfather, Pops, after the accidental death of his sister. Pops is exactly the sort of medicine Kevin needs to help him face his overwhelming grief. But all is not well in the rural Kentucky mining town they call home. Kevin and Pops face unexpected challenges and dangers as the summer goes on.
When the Moon is Low by Nadia Hashimi – I loved this story about a family's struggle to flee Afghanistan and reach family in England. The first half of this wonderful novel focuses on Fereiba as she manages to get her family as far as Greece. There her older son Saleem is arrested and sent to Turkey. The second half of the books is Saleem's story of determination to reach his mother and siblings in England. A gorgeous story that will make you think about refugees and the realities they endure.
Disclosure: There are Amazon Associate links included in this post.