This post may include Amazon links. As an Amazon Associate I earn from qualifying purchases.
Not Our Kind by Kitty Zeldis
Katerina by James Frey
Foe by Iain Reid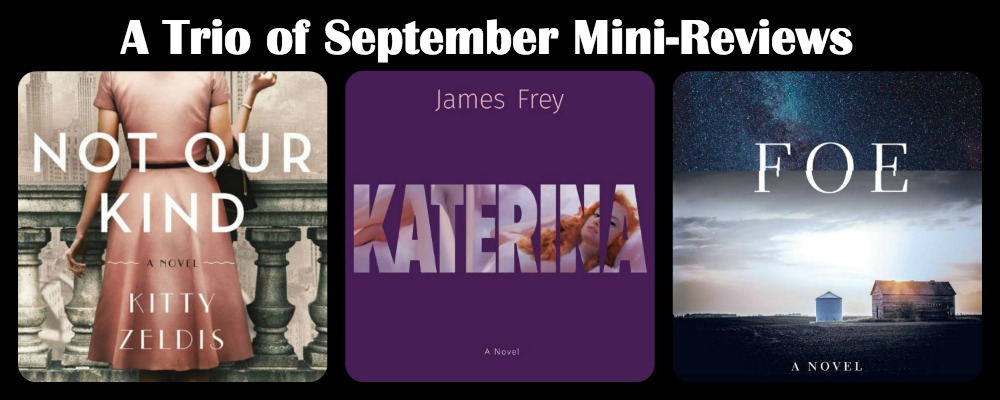 Sometimes your reading takes a turn that surprises you in a good way. That's exactly what has happened for me this month. I really liked two out of the three books I'm sharing today and NEITHER of those was originally on my radar for September.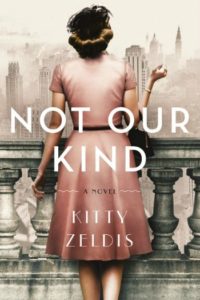 Not Our Kind by Kitty Zeldis
Publisher: Harper
Release Date: September 4, 2018
Length: 352 pages
Amazon
From the Publisher: "With echoes of Rules of Civility and The Boston Girl, a compelling and thought-provoking novel set in postwar New York City, about two women—one Jewish, one a WASP—and the wholly unexpected consequences of their meeting….Gripping and vividly told, Not Our Kind illuminates the lives of two women on the cusp of change—and asks how much our pasts can and should define our futures."
My Thoughts: At it's heart, Not Our Kind is the story of two very different women who in the early 50's become unlikely allies, but never quite friends. Eleanor Moskowitz was young, very bright, a little unsure of herself, and struggling against the biases towards Jews that ran rampant. Patricia Bellamy, mother to a 13-year old girl left crippled by polio, was beautiful, wealthy and in a marriage that had grown tired. After the women were thrown together by fate, Patricia was convinced that Eleanor was the perfect person to tutor young Margaux and perhaps turn the girl's fury into fight.
With nothing much surprising about the set up of Not Our Kind, I was hoping for some twists or a level of depth that would rescue it from just being an average historical fiction. I had to wait a long time for that to happen. In the first half of the book both women frustrated me and I grew a little bored. Yet, the story had enough promise to keep me going and I found myself rewarded in the second half. Not Our Kind ended up being a story with an old-school plot, that Kitty Zeldis wisely imbued with some modern touches. On more than one occasion I was reminded of the "Me Too" movement and I cheered as Eleanor and Patricia finally found their voices. Fans of lighter historical fiction and/or chick lit will enjoy Not Our Kind. Grade: C+
Note: I received a copy of this book from the publisher, Harper, in exchange for my honest review. Thank you!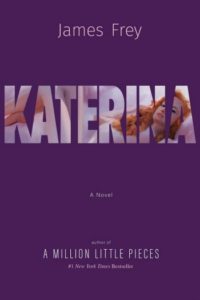 Katerina by James Frey
Publisher: Gallery/Scout Press
Release Date: September 11, 2018
Length: 320 pages
Amazon
From the Publisher: "A kiss, a touch. A smile and a beating heart. Love and sex and dreams, art and drugs and the madness of youth. Betrayal and heartbreak, regret and pain, the melancholy of age. Katerina, the explosive new novel by America's most controversial writer, is a sweeping love story alternating between 1992 Paris and Los Angeles in 2018."
My Thoughts: When Catherine from The Gilmore Guide to Books gave me her extra copy of Katerina, I was skeptical. Very skeptical. I thought the same thing you're probably thinking right now. "After the whole Oprah fiasco, can Frey even be trusted? Do I want to give any of my reading time to this book?" But, Catherine told me she really liked his second book (which I hadn't read), so I gave Katerina a chance. Good call. Very good call.
Katerina will definitely not be for everyone. Frey's writing style takes some getting used to and the main character couldn't be more flawed. At many points I was disgusted by him. Katerina has been touted as a semi-autobiographical novel and that becomes clear as you read. Near the end of his college career Jay's roommate gives him a copy of Henry Miller's The Tropic of Cancer. From the moment he finishes, Jay knows he's destined to be a writer and he knows he needs to go to Paris to experience life and walk in the footsteps of so many other great writers. Jay at 21, could never be called a likable young man. His hubris is off-putting and his vices extreme, but in much of the book Jay is in his forties, worn down and weary from both his successes and failures.
"My dreams had all come true.
And I had given them everything I was and everything I had and everything I could be, everything.
And I was empty.
Gone."
Katerina's alternating structure really won me over. In the present, Jay becomes involved in a weeks' long back and forth instant messaging conversation with a person from his days in Paris. The reader gets to know Jay both as he was then and how he is today as Jay recalls his Paris life. The two timelines meld beautifully, converging in a way I found just right. In the end, I want to say, "Thank you, Catherine! I'm so glad I took a chance on Katerina!" Grade: B+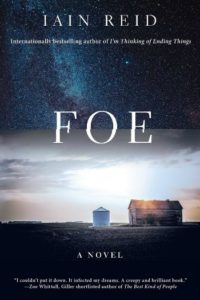 Foe by Iain Reid
Publisher: Gallery/Scout Press
Release Date: September 4, 2018
Length: 272 pages
Amazon
From the Publisher: "…Junior and Henrietta live a comfortable, solitary life on their farm, far from the city lights, but in close quarters with each other. One day, a stranger from the city arrives with alarming news: Junior has been randomly selected to travel far away from the farm…very far away. The most unusual part? Arrangements have already been made so that when he leaves, Henrietta won't have a chance to miss him…"
My Thoughts: As Foe opens, Junior and Henrietta are visited by a stranger named Terrance who tells them that Junior has been carefully selected to be part of the Installment, which will examine the effects of life on another planet. The questions began with that opening scene and they continued on even after I'd finished Iain Reid's sophomore novel. Much like I'm Thinking of Ending Things (my review), Foe will leave you with more questions than answers.
With only two books Reid has already proven himself to be a master at creating disequilibrium. At every turn of Foe I found myself asking, "Why?" and "How?" Set in the not too distant future, the world Junior and Henrietta inhabit is much like ours, but uncomfortably different. People no longer have animals, everyone has a screen linking them to the bigger world, and the couple isn't surprised or even very concerned when a stranger shows up at their door radically upending their lives. As Junior's preparation time goes on his already strained marriage becomes even more vulnerable. His wife is unhappy and Junior can't or won't see his own role in their problems.
All three characters feel a little off. Nothing ever rings quite true.
"I wasn't prepared to talk so much. But once in the chair, I couldn't stop myself. His questions, his silence. It's as if they were designed to make the information flow from me. The more I'm around him, the less I trust him."
You're constantly wondering if you can trust ANY of them. Reid layers on the uncertainty until the very end, and even then leaves just enough unanswered to keep engaged long after you've finished. Foe would make a fabulous book club choice. I know I need to talk about it with someone! (Did anyone notice how Reid changed up the way quotation marks were used at the very end? If you haven't read it yet, pay attention. There is something to be learned there!) Grade: B+
Have you found any surprising September releases?
Disclosure: There are Amazon Associate links included within this post.