This post may include Amazon links. As an Amazon Associate I earn from qualifying purchases.
I read four books this summer that I never did get around to writing a review for. With each book there were different reasons for my failure to write a timely review, and yet they were books I enjoyed, so as we approach the end of summer I'm going to give them each a mini-review here today!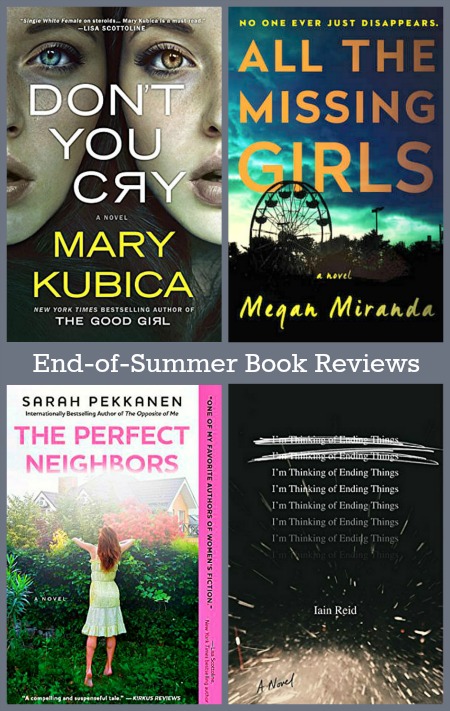 I'm Thinking of Ending Things – by Iain Reid (Galley/Scout Press, June 2016, 224 pages) – When I got to the end of this novel my first reactions was, "What??????" I didn't even know if I liked it or hated it and that's why I didn't review it for so long. But, I have thought about the story in I'm Thinking of Ending Things ALL summer long. It has stayed with me in a way that very few books do and that is the mark of a great story! The story begins as the narrator, and her boyfriend, Jake, are on a drive going to his parent's farm. This will be the first time she's met them and she's feeling a little nervous. On the drive, their conversations are strained, and the narrator is thinking back on their relationship, questioning to herself if she should "end things." It's all a little strange and then they get to the farm and it gets just plain weird! After the oddest of dinner encounters, the couple leaves to drive back home and the story moves into bizarre territory. Don't let my words – strange, weird and bizarre throw you off. This is a good story, full of mystery and nerve-wracking psychological suspense. The ending is not a neatly tied package. It will leave you wondering a little, thinking a lot, and wishing for the next book from Iain Reid. Grade: A
The Perfect Neighbors by Sarah Pekkanen (Washington Square Press, July 2016, 352 pages) – I downloaded this book with three minutes to spare before a long flight when I realized the book I was currently reading wasn't going to last the entire time. It's more or less chic lit and not the sort of book I usually read which made me a little reluctant to write up a review. That being said, I breezed through the novel and enjoyed it very much. The story is set in one of the "safest" neighborhoods in America, the perfect Newport Cove and yet, all is not perfect with the women who live there. Kellie has just returned to work and is dangerously flirting with a colleague. Susan is pining away for the husband who left her for one of her best friends. Gigi's teenage daughter seems to hate her and now her husband wants to run for office. And, the newest resident of Newport Cove, Tessa, is hiding something and it's something big! The novel is a little Stepford in the way the women are perfect, in how they are all so supportive of one and other, and in how the ending is very neat and tidy, but it was still a fun, fast summer read. Grade: B
Don't You Cry by Mary Kubica (MIRA, May 2016, 320 pages) – This was the first of two Audible books I listened to this summer. Don't You Cry is the story of a young woman, Esther, who disappears from her apartment in the middle of the night and leaves her roommate, Quinn, trying to figure out what has happened to her. At the same time, in a nearby town, a mysterious woman shows up and quickly becomes the unlikely crush of Alex, an 18-year old dishwasher stuck in his own life. Quinn and Alex, who both work to solve their own mysteries, tell the story in alternating chapters. I thought Kubica's last novel, The Good Girl, was brilliant, but didn't like this one quite as much. That's the reason I kept putting off the review. I wanted to love this novel and be as surprised by the ending as I was in Kubica's previous book, but I just wasn't. In my opinion Don't You Cry is definitely worth reading if you like mysteries, but I'd skip the Audible on this one.  Grade: B-
All the Missing Girls by Megan Miranda (Simon & Schuster, June 2016, 384 pages) – This story revolves around two missing girls from the same small town, but a decade apart. As the story opens, Nicolette is returning to the town where she grew up. The same town where 10 years earlier her best friend disappeared. Corinne was never found and though Nic, her friends and family were all suspects, there was never enough evidence to put the blame on anyone. Within a day of Nic's return another young woman disappears, and suddenly the same people are all suspect again. This story was told in reverse, from Day 15 to Day 1. I liked Miranda's use of this technique, but it also was confusing at times. Things I'd already read hadn't yet happened in the story. That made it too easy for me to put this book down. In the end all the loose threads came together, but for me the story just wasn't very compelling. I will add that many other reviews loved this book, so if you like mysteries, it's definitely worth a try. Grade: C
Disclosure: There are Amazon Affiliate links included within this post.