This post may include Amazon links. As an Amazon Associate I earn from qualifying purchases.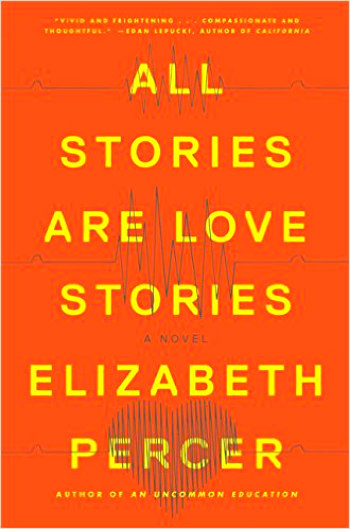 All Stories are Love Stories by Elizabeth Percer
Publisher: Harper
Release Date: March 22, 2016
Length: 373 pages
Buy on Amazon
Single Sentence Summary: When two devastating earthquakes strike San Francisco within a single hour three survivors fight to reunite with the ones they love.
Primary Characters: Gene – a professor at Stanford who specializes in earthquake prediction. His long-time partner is Franklin. Max – works in the arts and directs a children's choir. Vashti – the love of Max's youth and the woman he has pined for ever since. On this day she decided to seek him out.
Synopsis: On Valentine's Day two major earthquakes hit San Francisco within an hour of each other. When the first hits, Gene is in his car on the freeway driving home to meet his partner, Franklin, so the two can enjoy a nice dinner. Max (whose birthday it happens to be) is leading a children's choir practice in the Nob Hill Masonic Auditorium. Vashti is in a little shop near the auditorium, waiting to find Max and speak to him for the first time in many years.
After the first earthquake, the freeway is at a complete stop with many people injured. Gene sets out on foot growing more and more desperate to reach Franklin and to know he has survived. Max is helping to evacuate the many children from the auditorium while Vashti is making her way into the auditorium when the second quake hits. Max and Vashti become trapped under rubble when much of the Masonic Auditorium collapses. Gene is in the open, but still far from home. Following the second quake the three face many obstacles, both physical and human.
Review: The title, All Stories are Love Stories, might make you think that this is a mushy romance type story, but that would be so wrong. Instead this is the story of three people trying desperately to reunite with the people that matter most in their lives under extreme conditions. I think Elizabeth Percer paints a very honest picture of what really matters to us when life takes desperate turns.
Gene and Max were two very different men, but under the extreme devastation of two powerful earthquakes, both men could not resist the instinct to help others, even as they were terrified for the people they loved most. Both showed the humanity we'd all like to see in the world more often. These were characters that you really cared about and wanted desperately to be safely reunited with their partners. Isn't that what everyone wants in most difficult circumstances? Whether it is a natural disaster, a health crisis, a death or divorce we all want to be with, and know, that the people we love are safe and well. Sometimes we get that and other times we don't. Grade: A-
If you liked this book you might also enjoy:
Disclosure: There are Amazon Affiliate links included within this post.