This post may include Amazon links. As an Amazon Associate I earn from qualifying purchases.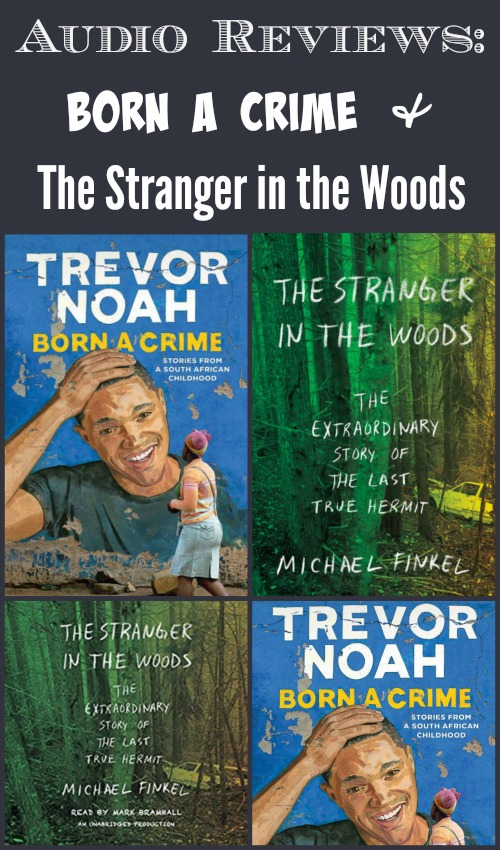 I've had a lot of success with audio books recently, especially when it comes to nonfiction. One thing I've learned is that the narrator can make or break the book. I recently started (and quit on) an audio book where the narrator was just so flat that it made the book dull. That definitely is not the case with either of these audio versions!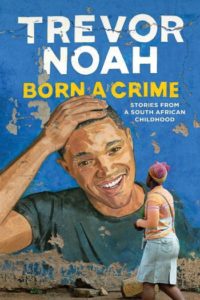 Born a Crime by Trevor Noah
Publisher: Spiegel & Grau
Audio Publisher: Audible Studios
Narrator: Trevor Noah
Release Date: November 15, 2016
Length: 304 pages (8 hrs. 50 min.)
Buy on Amazon
From the Publisher: Trevor Noah's unlikely path from apartheid South Africa to the desk of The Daily Show began with a criminal act: his birth…..Born a Crime is the story of a mischievous young boy who grows into a restless young man as he struggles to find himself in a world where he was never supposed to exist. It is also the story of that young man's relationship with his fearless, rebellious, and fervently religious mother—his teammate, a woman determined to save her son from the cycle of poverty, violence, and abuse that would ultimately threaten her own life.
Review: If you've ever watched The Daily Show, you already know that Trevor Noah is a great storyteller, so my expectations were high. With Born a Crime, Noah surpassed all expectation! The full title of his book is Born a Crime: Stories from a South African Childhood. That's exactly what was delivered. With a nod to the humor in all situations, Noah tells what life was like growing up in South Africa. Born to a white Swiss father and a black Xhosa mother, Noah was "colored," a sort of no man's land under the strict rules of apartheid. Until it was abolished (when he was 6), Noah couldn't be seen in public with his father OR his mother. Noah's stories move forward and back throughout his life covering school, friends, poverty, racism, fears, attempts at dating, and much more. He observes not only his own life, but the deeper political and social peculiarities of his country. In many ways Noah's life was typical of any poor black child growing up in South Africa, but for one thing: his mother. Born a Crime is a tribute to her and her unwavering commitment to making Trevor's life richer than anyone would have expected. Grade: A
"…the highest rung of what's possible is far beyond the world you can see. My mother showed me what was possible. The thing that always amazed me about her life is that no one showed her. No one chose her. She did it on her own. She found her way through sheer force of will."
Narration: It can be a risk when an author narrates his own book, but honestly no one but Trevor Noah could have read Born a Crime. First off, they're his stories and he knows just how to deliver them at the right pace, with the right amount of humor and/or seriousness. Even more, the power of language and communication are running themes in the book and Noah used his skills at both in his narration. As he recounts his stories, using snippets of different languages, Noah delivers a rich picture of his South African childhood. Grade: A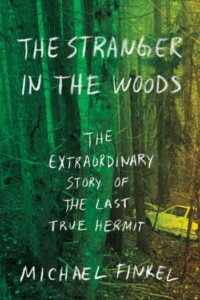 The Stranger in the Woods by Michael Finkel
Publisher: Knopf
Audio Publisher: Random House Audio
Narrator: Mark Bramhall
Release Date: March 7, 2017
Length: 224 pages (6 hrs. 19 min.)
Buy on Amazon
From the Publisher: In 1986, 20-year-old Christopher Knight left his home in Massachusetts, drove to Maine, and disappeared into the woods. He would not have a conversation with another human being until nearly three decades later, when he was arrested for stealing food. Living in a tent even in winter, he had survived by his wits and courage, developing ingenious ways to store food and water, to avoid freezing to death. He broke into nearby cottages for food, clothes, reading material, and other provisions, taking only what he needed, but terrifying a community never able to solve the mysterious burglaries.
Review: Michael Finkel did a wonderful job bringing Christopher Knight's incredible story of solitude to life. The Stranger in the Woods fully lives up to the rest of it's title, "The Extraordinary Story of the Last Hermit."  Of course with Knight he had some rich material to work with: 27 years lived completely alone. In the book Finkel challenged the reader to really think about that by asking, "What's the longest you've ever been truly alone?" He points out that many people couldn't even answer a full 24 hours, and an entire week would be rare. Compare that to the 27 years Knight lived as a hermit. It wasn't easy for Finkel to uncover the story of Knight. He visited the site where Knight lived, the cabins and people he stole from, and eventually was able to talk to Knight himself. From jail, Knight slowly and painfully shared stories of how he survived, why he stayed alone for so long, and how it felt to be back in the world of human interactions. Finkel successfully presented Knight's life without judgement or sentiment, yet with awe at a life lived like absolutely no other. Grade: A-
Narration: The Stranger in the Woods was very successfully narrated by Mark Bramhall. Told in first person from the perspective of Finkel, I really felt like the author was sharing this amazing story as he was uncovering more and more about it. Bramhall was especially good at changing up his voice when Knight was speaking. The hesitant, slightly raspy voice used for Knight really brought him to life. The pace was a little slow for me, so I listened to most of the book at 1.25 speed. That worked very well. I'd most definitely listen to other books narrated by Mark Bramhall. Grade B+
Disclaimer: There are Amazon Associate links contained in this post.