This post may include Amazon links. As an Amazon Associate I earn from qualifying purchases.
According to a Source by Abby Stern
&
Fitness Junkie by Lucy Sykes and Jo Piazza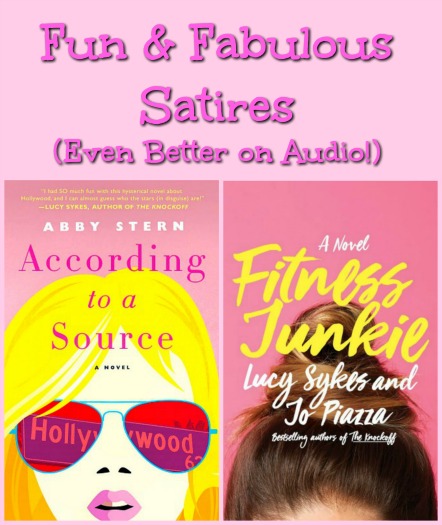 Sometimes light reading is just the way to go, but a good story is still essential. I'm not generally a fan of chic lit, and yet, I quite thoroughly enjoyed two in a row. Listening on audio added a lot to both stories because the narrators were great. I've grown to derive so much pleasure from someone telling me a story. It almost makes me feel like a kid again. If you haven't tried audio books, you might want to give one of these a shot!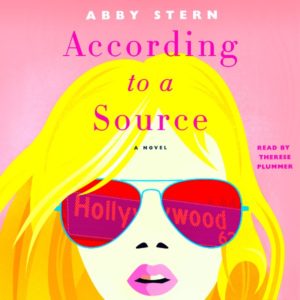 According to a Source by Abby Stern
Publisher: Thomas Dunne Books
Audio Publisher: MacMillan Audio
Narrators: Therese Plummer
Release Date: May 23, 2017
Length: 304 pages (11 hrs. 34 min.)
Buy on Amazon
From the Publisher: Ella Warren loves her job working for celebrity news magazine, The Life, as an undercover reporter. Her evenings are spent using her alias to discreetly attend red carpet events, nightclubs, and Hollywood hotspots like the fabulous Chateau Marmont, where her eyes are always peeled for the next big celebrity story.
When Ella's new Devil Wears Prada-type boss starts a not-so-friendly competition among the reporters to find an exclusive story or be fired, the stakes are higher than ever. But is being in Hollywood's elite inner circle worth jeopardizing her friendship with budding actress Holiday Hall and her relationships with her boyfriend and her family? As the competition grows fiercer, her life becomes intertwined in a public scandal that may cost her everything.
My Thoughts: Sometimes you get lucky and find the right book at just the right time. That's exactly what happened for me when I happened on According to a Source. A gossipy, chic lit story is NOT something I typically read, but I'd had a spat of books I couldn't finish and/or overly heavy stories. I hadn't even heard of this book, but when it popped up on my Audible feed, I impulsively decided to give it a try. From the first page, I was drawn to Ella Warren's crazy Hollywood world. As an undercover reporter for a gossip magazine, Ella led a very interesting life. She walked a thin line between right and wrong, not surprisingly, getting her into trouble along the way. The book was jam packed with Hollywood clichés. Instead of annoying me, as I would have expected, I found it incredibly fun! No matter how real or imagined, I liked being a Hollywood insider for a few days.
Abby Stern writes with authority being a freelance celebrity reporter herself. One of the things I liked best about the book was how she handled the stars that Ella encountered. Stern didn't use names exactly, but instead titles that gave very clear pictures of the celebrities behind her monikers.
"Southern Girl-Next-Door Movie Star"
"Older Multi-Oscar Winning Womanizer"
"Little Miss Goody Two-Shoes Country Singer"
"Not so Innocent Overly Sexualized Pop Star"
I could go on and on. Assigning actual stars to these titles was half the fun!
As one might expect in a chic lit type story there was a lot of drama, tears, fights and making up. Some things that happened in the story were a real stretch and the ending was very neat and tidy. Occasionally, some of that grew tiresome, but the breath of fresh air I got from According to a Source far out weighed anything else. If you're looking for a read that's pure fun, you must read According to a Source! Grade: B+
Narration: It might just be that Therese Plummer's narration was in fact the reason why I so thoroughly enjoyed this book. The story is told in first person, so Therese embodied Ella and beautifully told her story. She easily modulated her voice to cover other characters and keep the story engaging. I look forward to hearing more books narrated by Ms. Plummer! Grade: A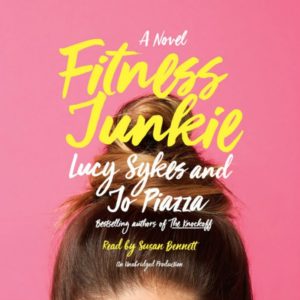 Fitness Junkie by Lucy Sykes and Jo Piazza
Publisher: Doubleday
Audio Publisher: Random House Audio
Narrators: Susan Bennett
Release Date: July 11, 2017
Length: 304 pages (9 hrs. 29 min.)
Buy on Amazon
From the Publisher: When Janey Sweet, CEO of a couture wedding dress company, is photographed in the front row of a fashion show eating a bruffin – the delicious lovechild of a brioche and a muffin – her best friend and business partner, Beau, gives her an ultimatum: lose 30 pounds or lose your job. Sure, Janey has gained some weight since her divorce, and no, her beautifully cut trousers don't fit like they used to, so Janey throws herself headlong into the world of the fitness revolution…A hilarious send-up of the health and wellness industry, Fitness Junkie is a glorious romp through the absurd landscape of our weight-obsessed culture.
My Thoughts: According to a Source so beautifully matched the mood I was in that when I finished I knew I needed another dose. Earlier in the month I'd read a wonderful review of Fitness Junkie by Catherine@gilmoreguidetobooks, and mentally filed it away for just that moment. Catherine read it in print, but I took a chance on the audio, which turned out to be a very good call.
Janey, our heroine, finds herself in a vulnerable spot. She's newly divorced and recently lost both parents, so when her lifelong friend and business partner tells her she needs to lose 30 pounds, Janey tries to do just that. And, that's where the fun begins! The writing team of Lucy Sykes and Jo Piazza did an incredible job of skewering the obsessive diet/exercise industry. Led by her best friend, C.J. and younger cousin, Ivy, Janey takes a wild ride in her quest to lose weight. Along the way Janey tries Sore Barre (a spin class where the instructor hurls insults at you), Free the Nipple Yoga (yup, topless), The Workout (a class so exclusive it's invitation only and moves locations every couple weeks), and Sweating through Boot Camp (led by former militants from Sri Lanka).
"This particular course involved carrying a large sandbag through a pit of mud, climbing a wall made of ropes, leaping off onto a trampoline over a trench filled with fire, belly crawling under dangling live wires, and then conquering a set of monkey bars. It was the playground from hell…"
Believe me, that's only the beginning. Janey's eyes are also opened to a weird world of diet fads: clay, white food only, pheasant poop coffee, broccoli infused water. On many occasions I found myself laughing out loud!
The star of Fitness Junkie is its snarky send-up of the fitness/diet industry, but it's also the story of Janey and her evolution as a woman at a crossroads in her life. I appreciated Janey's journey, even when the pieces didn't quite fit together for me. The book was so fun that it was easy to overlook that and other small flaws: fluff, clichés, and the hallmark of chic lit: the neat and tidy ending. But, please don't let those few negatives dissuade you because Fitness Junkie is another fun and fabulous book thatI highly recommend! Grade: B+
Narration: I found Susan Bennett's narration of Fitness Junkie to be excellent. The story had many characters and a lot of dialogue, which can be a challenge when listening to some books. That was not the case here because Bennett so smoothly shifted her voice when different characters were speaking. She gave each a different personality with her voice. At times, I'd wished the pace had been a bit faster, but that wasn't a big issue for me. I'm adding Susan Bennett to my growing list of superb narrators. Grade: B+
In the words of Cyndi Lauper, "Oh girls just want to have fun!"
Disclaimer: There are Amazon Associate links contained in this post.