This post may include Amazon links. As an Amazon Associate I earn from qualifying purchases.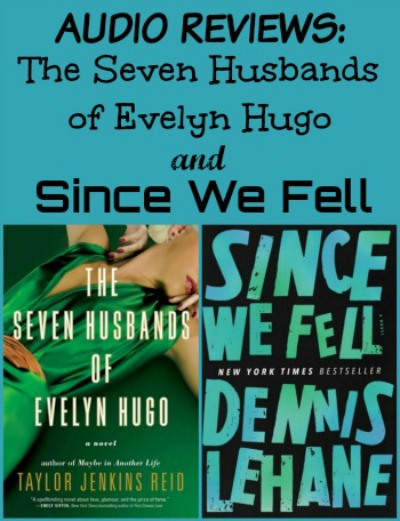 I've been listening to more and more audio books this year. It's gotten to the point where I almost can't stand to be without one. Like everyone else, I feel like the narrator can make or break the entire story. These two fun novels have it all: winning writing and marvelous narrators!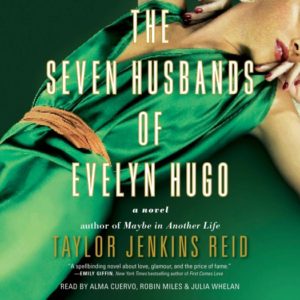 The Seven Husbands of Evelyn Hugo by Taylor Jenkins Reid
Publisher: Atria Books
Audio Publisher: Simon & Schuster Audio
Narrators: Alma Cuervo, Julia Whelan, +2 more
Release Date: July 13, 2017
Length: 400 pages (12 hrs. 10 min.)
Buy on Amazon
From the Publisher: Aging and reclusive Hollywood movie icon Evelyn Hugo is finally ready to tell the truth about her glamorous and scandalous life. But when she chooses unknown magazine reporter Monique Grant for the job, no one in the journalism community is more astounded than Monique herself. Why her? Why now…
…Summoned to Evelyn's Upper East Side apartment, Monique listens as Evelyn unfurls her story: from making her way to Los Angeles in the 1950s to her decision to leave show business in the late '80s and, of course, the seven husbands along the way.
My Thoughts: On the surface The Seven Husbands of Evelyn Hugo seems like an unlikely choice for me. Hollywood stories don't typically draw me in, but I had seen so many great reviews of this Taylor Jenkins Reid book that I could no longer ignore it. Am I ever glad I didn't! The heart of the story is aging Hollywood star, turned recluse, Evelyn Hugo, telling low-level journalist Monique Grant her amazing life story. Evelyn fought her way into the movie industry in the 50's, quickly rose to the top, and left in the 80's. Along the way Evelyn acquired seven different husbands and even loved a couple of them. I found all her marriages fascinating for different reasons and adored Evelyn's matter-of-fact, practical take on everything that happened in her life.
"Heartbreak is loss. Divorce is a piece of paper."
Sadly, the true love of Evelyn's life was not one of her husbands, but was a forbidden love that Evelyn fought to secretly fit into her life. As Evelyn unfurls her life, Monique develops a real admiration for the actress and may even be able to learn from her…except for the last secret Evelyn is holding. This was the weakest part of the story for me. I found the "connection" between Evelyn and Monique to be an unnecessary stretch. I'd have liked to see the story resolved in a different way. Nevertheless I found The Seven Husbands of Evelyn Hugo to be a wonderful story, perfect for summer reading! Grade: A-
Narration: In part I chose to listen to The Seven Husbands of Evelyn Hugo because of Julia Whelan. I had just finished Since We Fell and thought she was brilliant in that. Julia is the voice of tabloid articles that were interspersed throughout this book and Alma Cuervo, voiced Evelyn. Both were excellent, but the biggest kudos must go to Alma Cuervo as she carried most of the story. Her narration was so engaging that I couldn't stay away from this book. I put everything else aside to get back to Evelyn! Grade: A-
Since We Fell by Dennis Lehane
Publisher: Ecco
Audio Publisher: Harper Audio
Narrators: Julia Whelan
Release Date: May 9, 2017
Length: 432 pages (12 hrs. 2 min.)
Buy on Amazon
From the Publisher: Since We Fell follows Rachel Childs, a former journalist who, after an on-air mental breakdown, now lives as a virtual shut-in. In all other respects, however, she enjoys an ideal life with an ideal husband. Until a chance encounter on a rainy afternoon causes that ideal life to fray….By turns heart- breaking, suspenseful, romantic, and sophisticated, Since We Fell is a novel of profound psychological insight and tension. It is Dennis Lehane at his very best.
My Thoughts: I was in the mood for a little something different and Sarah  from sarahsbookshelves had raved about Since We Fell, so I decided to give the audio version a try. It turned out to be the perfect book: a little outside what I normally read, but fun, fast and extremely engaging. The heroine and narrator of the story is Rachel Childs, a woman who grew up with a wacky mother, but made a very successful life for herself as a journalist. Rachel was on a trajectory to make it to national news until a story got so under her skin that she had a major breakdown, becoming a near recluse. Her second husband, Brian, is nearly perfect: kind, understanding, helpful, encouraging. Too good to be true. On one of Rachel's first forays out into the big, wide world on her own she sees something that cannot be, and cannot be forgotten. Rachel's journalist background kicks in and she begins to investigate, becoming enmeshed in a dangerous web of lies and in a story that's in part her own. Like many psychological thrillers, Since We Fell required some suspension of disbelief. It got pretty far out-there at times, but I kept coming back. In fact, this was a book that I couldn't put down. I had to know how Rachel's story ended, and quick! Since We Fell was my first Dennis Lehane book and I'll definitely be reading more. Grade: B+
Narration: I found Julia Whelan's narration of Since We Fell to be brilliant. The story was told in first person so Julia was the voice of Rachel and she made the story for me. Julia beautifully modulated her voice when other characters were speaking and her inflections were perfect. I'll most definitely be keeping my eye out for other audio books narrated by Julia Whelan. Grade: A 
Disclaimer: There are Amazon Associate links contained in this post.